2005-2006 Regular Season Fight Card
From:
Caroline, AB Canada
NHL Fights: 6
Date/Time
For
Against
Opponent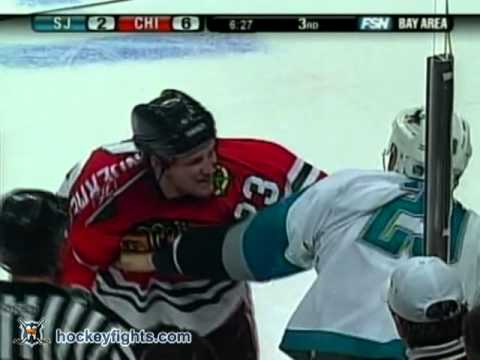 10/07/05
3 Pd 13:33
@CHI
SJS
Ryane Clowe
Date/Time For Against Opponent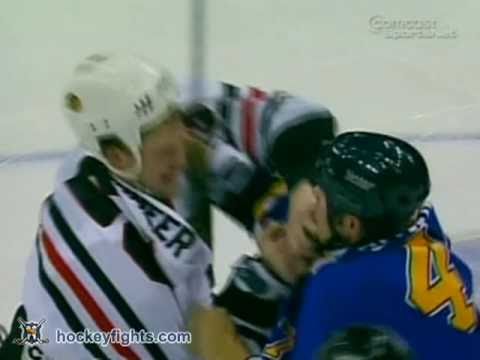 11/02/05
2 Pd 5:9
CHI
@STL
Aaron Downey
The camera comes in late and shows both guys trying to get loose. The announcer says that Downey had wrestled Vandermeer to the ice before the camera had gotten to the action. Downey lands four lefts on Vandermeer. Vandermeer comes back with a right. They struggle to get loose and Vandermeer lands four consecutive lefts. They then go toe-to-toe over about 20-25 seconds. They tie up and a linesman comes in to break it up but Downey pushes him away and proceeds to land a bomb. Downey then lands about 5-6 lefts. Vandermeer comes back with a right. Downey starts spinning Vandermeer around and lands about 3-4 lefts. Vandermeer has his right cocked and lands one. Downey lands a few short rights. Vandermeer has his right cocked again and lands a shot that sends Downey off-balance and to the ice.
Date/Time For Against Opponent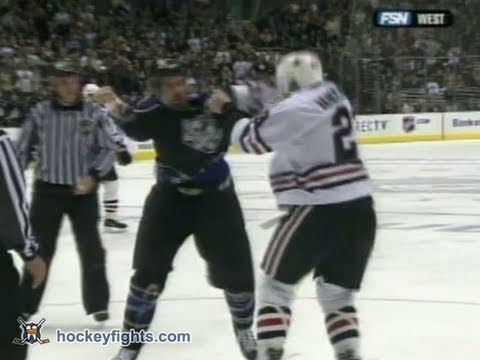 11/26/05
1 Pd 9:8
CHI
@LAK
Ryan Flinn
They drop the gloves in the corner and square off. Flinn tries to grab hold of Vandermeer and falls to his knees. He gets back up as Vandermeer throws a right with Flinn coming back with a right of his own. Flinn then throws a flurry of about ten right hands, knocking Vandermeer's helmet off. Vandermeer throws two rights of his own during the flurry as they skate towards the glass. Flinn misses with a right hook as Vandermeer connects with two rights and then throws Flinn to the ice. Flinn's helmet comes off on the way down and he hits his head on the ice hard. The Kings' medical staff quickly rushes to him. He remains conscious and is taken off the ice in a stretcher while giving the crowd a thumbs up.
Date/Time For Against Opponent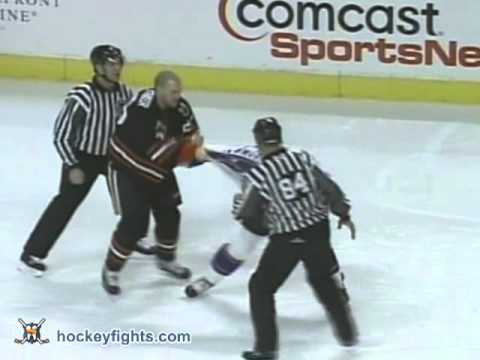 11/30/05
1 Pd 2:20
@CHI
LAK
Jeff Cowan
They drop the gloves behind the play and grab on. Vandermeer throws a right as Cowan throws a number of rights with Vandermeer putting his right arm up to block them. Cowan throws a right and Vandermeer knocks Cowan's helmet off and gets his jersey over his head. Vandermeer switches hands and starts raining down overhand rights on Cowan. Cowan throws a blind right in defense as Vandermeer continues to throw rights until the linesmen step in.
Date/Time For Against Opponent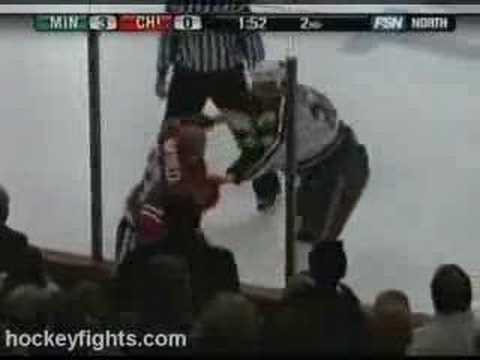 01/22/06
2 Pd 18:8
@CHI
MIN
Derek Boogaard
They get the sticks up and shove each other before dropping the gloves near the blueline. They grab on as Boogaard throws an uppercut, right cross, and two body shots while Vandermeer misses with a locked-out right. Boogaard throw four rights with of them landing as they wrestle up against the glass. Boogaard throws another right as Vandermeer connects with four jersey-jabs. Boogaard throws five more rights, connecting with three while Vandermeer is bent over. Vandermeer stands up straight and throws a left before Boogaard connects with a big right that sends Vandermeer to the ice.
Date/Time For Against Opponent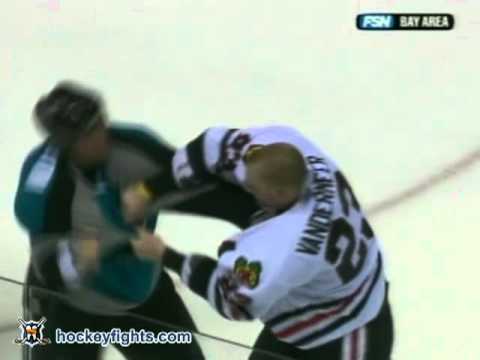 02/08/06
3 Pd 20:0
CHI
@SJS
Scott Thornton
As the horn sounds to end the game, a scrum develops in the corner. Thornton skates over to Vandermeer and they start pushing and shoving. Thornton drops his gloves and throws three quick rights, knocking Vandermeer's helmet off before Vandermeer is even able to drop his stick and gloves. They skate further down ice and wrestle in close quarters before Thornton gets free and throws two overhand rights before switching hands and landing two short lefts. Thornton switches hands again and throws a left-right hook combination as Vandermeer continues to try and get an arm free. Thornton lands two more lefts and an uppercut before connecting with two overhand rights to the back of Vandermeer's head. Vandermeer finally gets loose and lands a right as Thornton lands another right and misses with an uppercut. Thornton connects with a glancing left hook as they quickly exchange right hands. Vandermeer misses with two overhand rights before Thornton misses with a left as he loses his balance and falls to the ice. Vandermeer gets in two body shots before the linesmen separate the two. Other Penalties: Matt Barnaby received a cross checking.