2007-2008 Regular Season Fight Card
NHL Fights: 6
Date/Time
For
Against
Opponent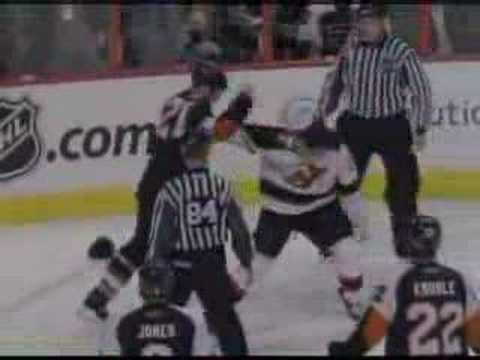 10/18/07
2 Pd 19:51
@PHI
NJD
David Clarkson
Date/Time For Against Opponent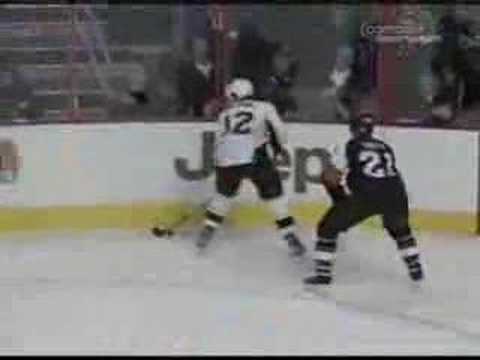 11/10/07
1 Pd 8:50
@PHI
PIT
Ryan Malone
Other Penalties: Daniel Briere received a high-sticking.
Date/Time For Against Opponent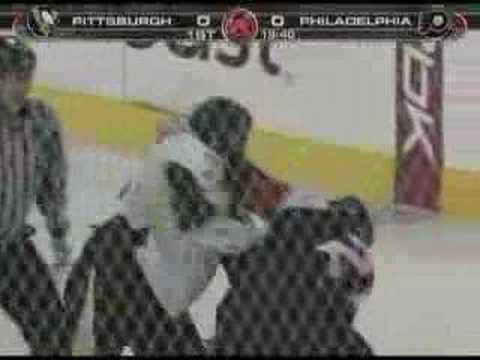 12/11/07
1 Pd 0:20
@PHI
PIT
Ryan Malone
Date/Time For Against Opponent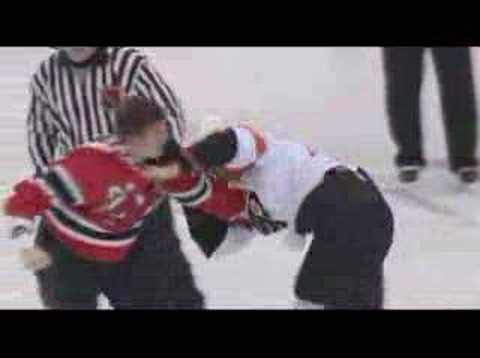 12/16/07
3 Pd 2:4
PHI
@NJD
David Clarkson
Clarkson takes a couple of extra whacks at Antero Niittymaki after he freezes the puck. Smith takes exception and shoves Clarkson on top of Niittymaki. Clarkson drops his gloves and grabs Smith who drop his mitts after a brief moment as well. They go back and forth with rights to start things off. Clarkson gets his left hand free and they spin around. Clarkson throws two short lefts while Smith struggles to get free. Clarkson then wrestles Smith to the ice and gets in a left while Smith is down.
Date/Time For Against Opponent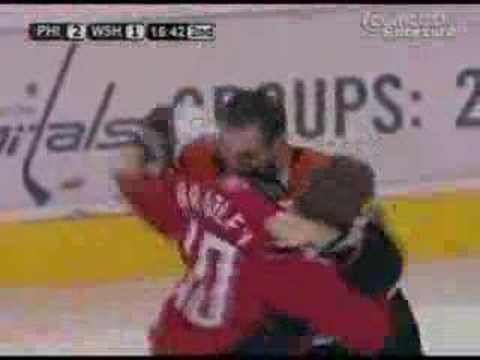 01/13/08
2 Pd 3:18
PHI
@WAS
Matt Bradley
Bradley nails Sami Kapanen along the boards, prompting Jason Smith to challenge Bradley. Bradley accepts and they drop the gloves. They grab ahold of each other and grapple for a bit. Smith gets in a right and they go up against the glass. Bradley throws some rights while Smith struggles to get anything going. They tie up and wrestle around until Bradley gets free and throws another right followed by an uppercut. Smith wrestles Bradley down to his knees. Bradley gets up and throws an overhand right that misses. Smith gets Bradley's jersey over his head and the linesmen are forced to move in and break things up. Other Penalties: Smith received an instigator and misconduct.
Date/Time For Against Opponent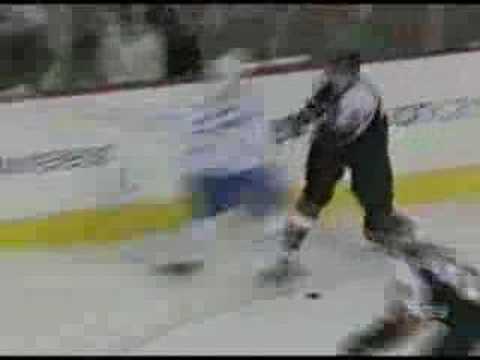 02/17/08
1 Pd 15:33
@PHI
MON
Steve Begin
Other Penalties: Begin received a charging.