1995-1996 Regular Season Fight Card
From:
Ville Ste. Pierre, QC Canada
NHL Fights: 4
Date/Time
For
Against
Opponent 10/27/95
3 Pd 11:24
DET
@CAL
Todd Simpson
Date/Time For Against Opponent 12/29/95
1 Pd 16:32
DET
@DAL
Derian Hatcher
Date/Time For Against Opponent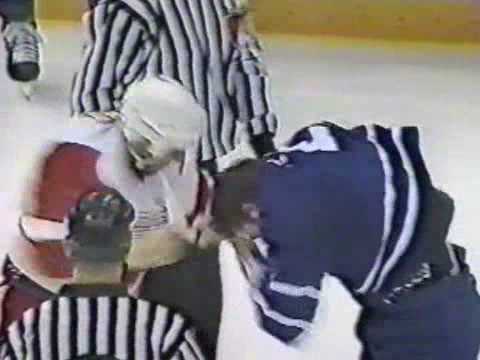 02/22/96
1 Pd 0:14
@DET
TOR
Kirk Muller
At the beginning of the game these two agree to go almost right off the bat. Lapointe throws a right to start and the two quickly start going toe-to-toe, Lapointe with the right and Muller with the left. Its clear Lapointe's shots are connecting well and square in the face and after half a dozen Muller topples over backwards.
Date/Time For Against Opponent 03/31/96
1 Pd 9:45
@DET
STL
Steve Leach