2003-2004 Postseason Fight Card
From:
Edmonton, AB Canada
NHL Fights: 3
Date/Time
For
Against
Opponent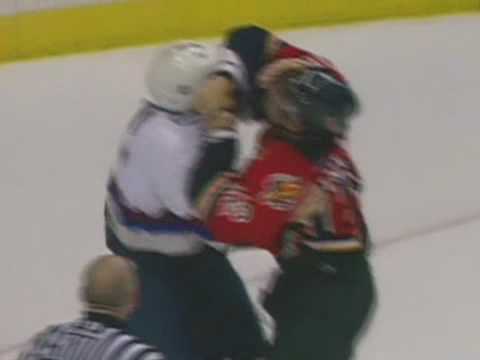 04/11/04
3 Pd 19:49
@CAL
VAN
Mattias Ohlund
Date/Time For Against Opponent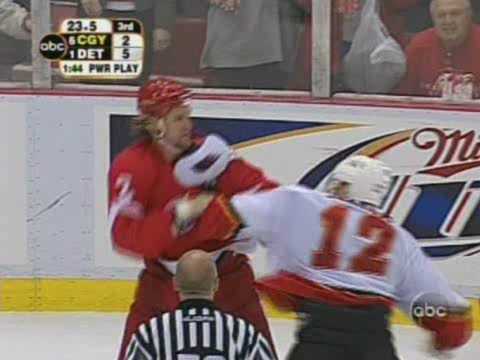 04/24/04
3 Pd 19:36
CAL
@DET
Derian Hatcher
Iginla slashes Hatcher and they both agree to go. As they drop the gloves Commodore tries to come in but is grabbed by McCarty and they scrap as well. Iginla still has his visor on, and lands a few on Hatcher who is a little off-balance. Hatcher gets Iginla's shield off, and through a lot of grappling they both get a few shots in with each hand. Hatcher tries to use his reach, but Iginla does a good job of getting inside. Iginla gets one more punch in and throws Hatcher down, then throws another punch on the ice. Other Penalties: Hatcher received a high sticking.
Date/Time For Against Opponent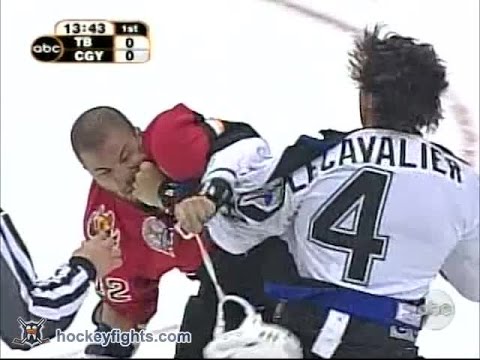 05/29/04
1 Pd 6:17
@CAL
TBL
Vincent Lecavalier
It starts deep in the Flames' zone. They're battling along the boards, both get their sticks up and they drop the gloves with Vinny being the aggressor. Lecavalier throws the first couple of punches, some glancing rights. Lecavalier slips and gets back up quickly. They grapple shortly and the linesmen come over. Before they can break it up Lecavalier throws a short right and Iginla answers with some good lefts. Vinny responds with a left of his own that Iginla ducks under. They each throw a couple of more overhand rights and then Iginla throws a bodyshot and Lecavalier slips to the ice and the linesmen come in as Iginla throws a couple of more.