2002-2003 Regular Season Fight Card
From:
Cranbrook, BC Canada
NHL Fights: 5
Date/Time
For
Against
Opponent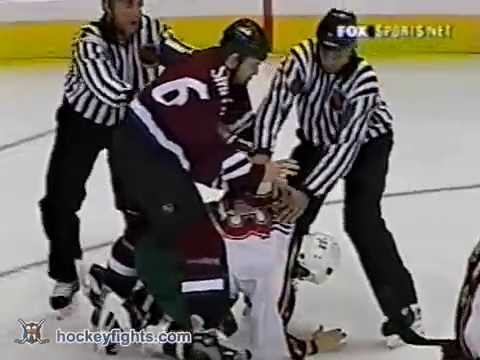 10/27/02
2 Pd 13:32
MIN
@COL
D.J. Smith
Date/Time For Against Opponent
11/12/02
2 Pd 6:42
@MIN
EDM
Ryan Smyth
Marshall was tied up, Smyth dropped them and started throwing them first. Looked like Carter was holding Marshall back. Then Marshall started to throw and Smyth went down. Other Penalties: Smyth received an interference.
Date/Time For Against Opponent
02/12/03
1 Pd 12:26
@MIN
PHI
Jim Vandermeer
Vandermeer hits Marshall in the corner, they push and shove and the gloves come off at the same time. Each grab with one hand and fire with the other. Both landed punches, Vandermeer landed the best one of the fight, a right square to the nose of Marshall, that bloodied him a little bit.
Date/Time For Against Opponent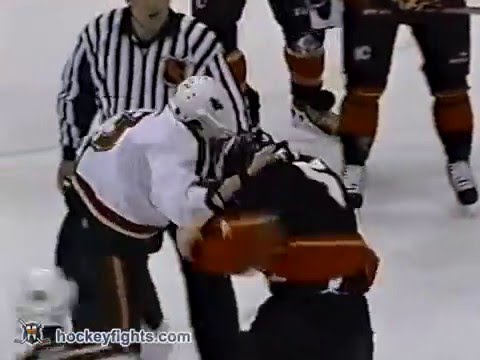 03/31/03
2 Pd 16:4
@MIN
CAL
Steve Montador
Drop em behind the net and jostle for position. Montador throws rights which are not connecting. Then they tie up a little bit and both come out throwing lefts to the side of each other's helmets. Looks like Montador was doing more damage with his lefts than Marshall. Marshall then goes for the takedown.
Date/Time For Against Opponent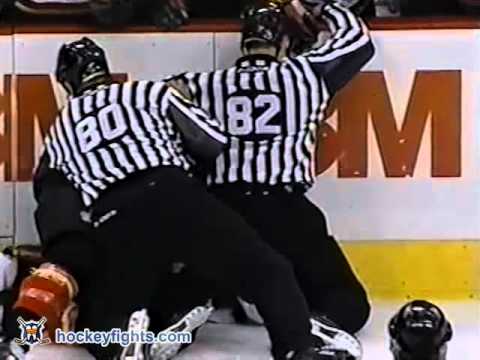 03/31/03
3 Pd 19:34
@MIN
CAL
Robyn Regehr
Long entertaining fight with both fighters landing some. Regehr gets the takedown in the end.