2003-2004 Regular Season Fight Card
From:
Colorado Springs, CO United States
NHL Fights: 4
Date/Time
For
Against
Opponent 10/18/03
2 Pd 18:52
@NJD
TBL
Ben Clymer
Date/Time For Against Opponent 12/26/03
2 Pd 12:24
@NJD
NYI
Arron Asham
Asham and Hale come together and exchange shoves and high-sticks on the near-boards. The Devils came out flat and trailed 2-0, so Hale tries to spark the team. He drops the gloves grabs on and finally Asham obliges. Asham throws a good uppercut that connects flush and then Hale lands overhand right. They each throw a few rights, both connecting at least twice. Asham lands the better shots, one very solid. Eventually Asham gets Hale over and he falls to a knee. Hale then gets back up and takes down Asham. Asham came away from the scrap with a bloody jersey, trickling down from a spot near his eye that was opened from a high stick right before the bout. Other Penalties: Hale received an instigator and misconduct.
Date/Time For Against Opponent
Voted winner: David Hale (26.1%) - Voted rating: 5.8
Mair bumps Brodeur and Hale comes over. Mair drops the gloves and catches Hale by surprise a bit, getting a few lefts in. Hale drops the gloves and starts throwing back. Mair goes with lefts, Hale throws rights. Lots of wild punches thrown, not much landing effectively. They fall down with Hale on top.
Date/Time For Against Opponent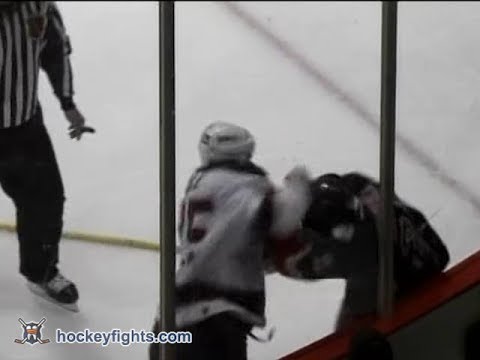 03/30/04
2 Pd 2:6
@NJD
NYR
Garth Murray
Voted winner: David Hale (18.2%) - Voted rating: 4.1
Camera gets there late. Murray comes up high on Hale some time after he gets rid of the puck. They talk a bit, then drop em. Both throw about three, not much landing. Murray tackles Hale hard to the ice at the end.