2002-2003 Regular Season Fight Card
NHL Fights: 11
Date/Time
For
Against
Opponent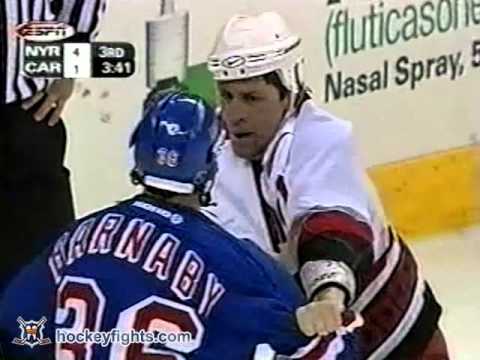 10/09/02
3 Pd 16:19
NYR
@CAR
Rod Brind'Amour
Date/Time For Against Opponent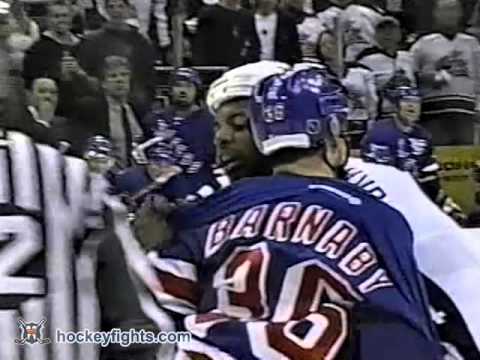 11/09/02
2 Pd 10:53
NYR
@CBJ
Jean-Luc Grand-Pierre
Decent fight. GP is more active and Barnaby doesn't do all the showboating he often does. Barnaby looks to be out of his league as JLGP just throws and lands more. No damage done and JLGP is gassed and just skates away. Other Penalties: JLGP received a slashing.
Date/Time For Against Opponent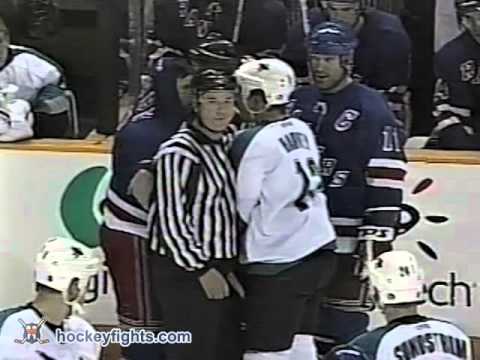 11/11/02
2 Pd 14:1
NYR
@SJS
Todd Harvey
Todd Harvey is looking for someone to fight right off the faceoff and Barnaby looks willing as he's yapping away. Well, turns out Barnaby wants no part of this one and he lets Harvey swing away with eight or nine punches that may of landed before the linesmen stepped in. Barnaby kept his gloves on during this whole time. Other Penalties: Harvey received an instigator, misconduct and game misconduct.
Date/Time For Against Opponent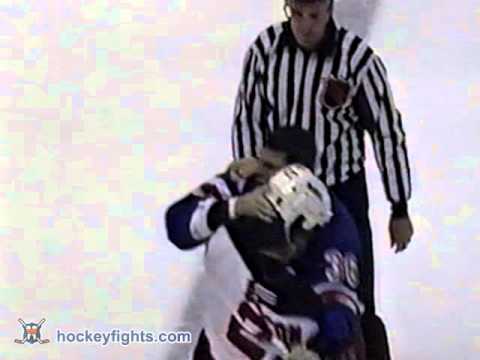 11/21/02
1 Pd 5:15
NYR
@NJD
Mike Danton
Danton slashes Barnaby and a few seconds later the two are face to face and Barnaby challanges him. Danton obliges and away go the gloves. Danton comes out swinging, but isn't landing a thing. He rips Barnaby's helmet off, but still isn't landing anything as Barnaby is just letting him tire himself out. Barnaby decides to throw a few finally, but he, like Danton, can't land a thing. Every punch in this fight was coming up short. They finally do exchange a few noggies and after an eternity of nothing, the linesmen come in and break it up. Danton was way more active in this fight easily throwing double the punches Barnaby did, too bad nothing was connecting.
Date/Time For Against Opponent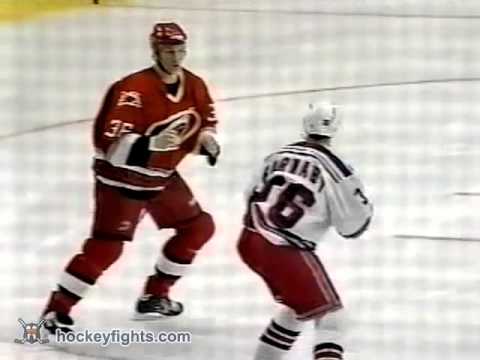 11/25/02
2 Pd 4:31
@NYR
CAR
Jesse Boulerice
These two decide to drop the gloves and square off. Boulerice is the aggressor and throws 3-4 rights at Barnaby hitting helmet with maybe one connecting to the forehead. Barnaby's jersey gets pulled over and the linesmen jump in.
Date/Time For Against Opponent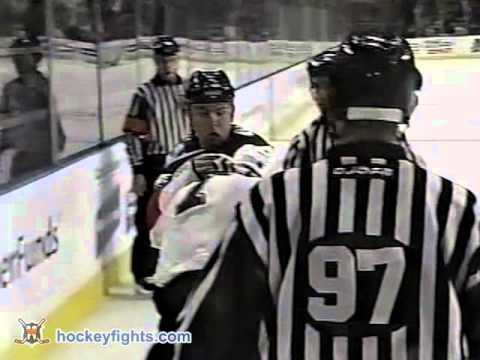 12/26/02
2 Pd 13:36
@NYR
PIT
Andrew Ference
This one started right off the faceoff after Ference got out of the box for a dustup with Lindros. Ference actually drops the gloves first expecting Barnaby to seek the revenge. They grab on strong to each other's rights and lock each other out. Both try to throw multiple rights, but can't reach. Barnaby starts to release the left and jab, but Ference does a nice job of throwing a right immediately, causing Barnaby to grab on again. Nothing of significance is landing. Andy then pins Barnaby against the boards and the refs look to jump in while Barnaby yaps "No!" as usual. Ference looks like he'd be content to end it here, but Barnaby spins off the boards and starts throwing the lefts. Ference responds with the rights. Both land grazing shots and tie up again. The linesmen jump in to end this.
Date/Time For Against Opponent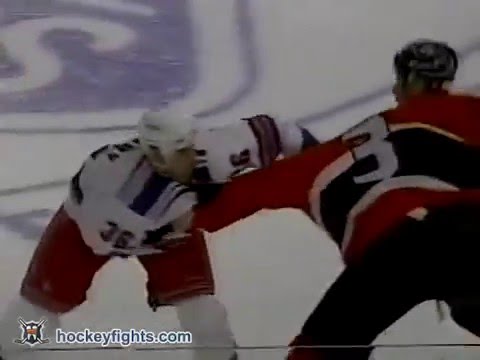 01/06/03
2 Pd 5:16
@NYR
OTT
Zdeno Chara
Barnaby wanted to go with Chara and Chara accepts willingly. They have a nice squareoff, then Barnaby dives in with rabbit punches that may have landed. Chara then throws some rights that may have landed. They start swinging around the ice like a merry-go-round and Chara lands a couple of punches before finally losing his balance and falling on Barnaby.
Date/Time For Against Opponent
Date/Time For Against Opponent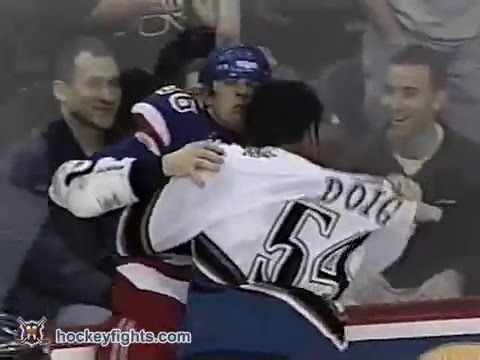 01/26/03
3 Pd 6:58
NYR
@WAS
Jason Doig
Doig touches up for the icing, but Barnaby gives him an extra shove. The fight was a hugfest with short punches doing nothing, Barnaby landed more of them. Barnaby Was crazy. The whole time he was screaming and laughing at Holik and telling the refs to back off.
Date/Time For Against Opponent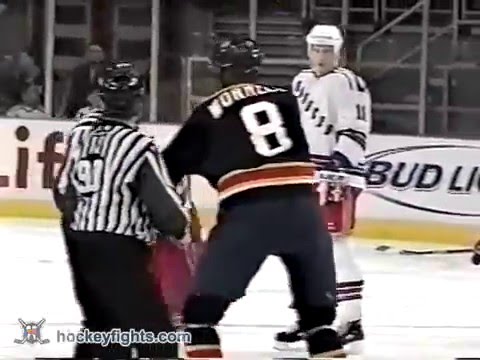 03/01/03
2 Pd 2:10
@NYR
FLA
Peter Worrell
The incident starts with Tetarenko dropping the gloves with Barnaby who immediately turtles. Tetarenko gets in one punch before the refs pull him away. Meanwhile, Lindros, Worrell and others start to scrum and Barnaby goes over to challenge Worrell. They both drop the gloves and get in close immediately. Barnaby throws a weak right, then Worrell connects with a decent right of his own. From here on, Barnaby is just trying not to get pummelled. Worrell tries to come over the top with some punches, but Barnaby does a good job of dodging them. Eventually Worrell connects with some weak shots, but no damage done. Other Penalites: Tetarenko recieved a double minor for roughing.
Date/Time For Against Opponent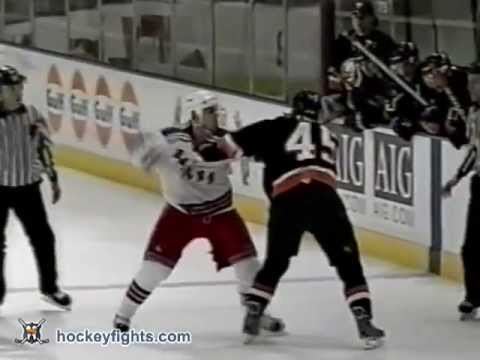 03/17/03
2 Pd 9:57
@NYR
NYI
Arron Asham
The two are talking before the faceoff and they drop em once the puck is dropped. They are over near the Isles' bench and Matt is jawing at them while Asham is swinging. A few punches that don't connect, then Barnaby decides to try to throw a few. When he opens up, Asham does the same and starts to hit him pretty good. They exchange with Asham definitely doing better, but nothing devestating. They go down with Asham on top.