2002-2003 Regular Season Fight Card
From:
Oakville, ON Canada
NHL Fights: 12
Date/Time
For
Against
Opponent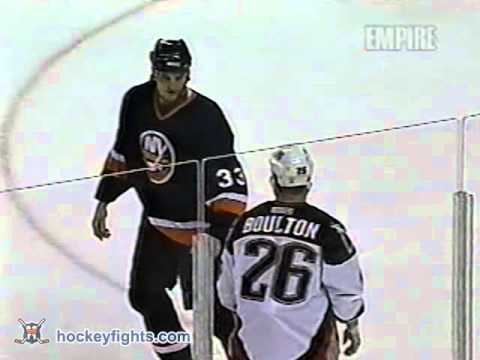 10/10/02
2 Pd 17:59
NYI
@BUF
Eric Boulton
Date/Time For Against Opponent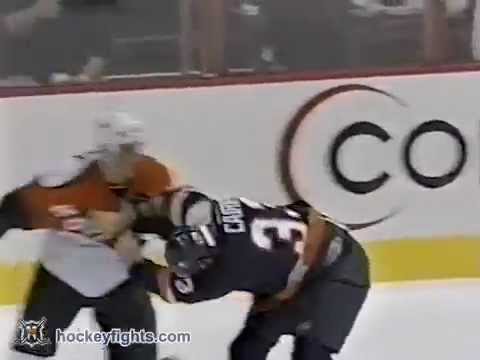 10/17/02
1 Pd 19:26
NYI
@PHI
Todd Fedoruk
Cairns threw 5 or 6 and the Fridge threw 2. Nothing really landed. Fridge then scored the takedown as Cairns was trying to get of Fedoruk's helmet.
Date/Time For Against Opponent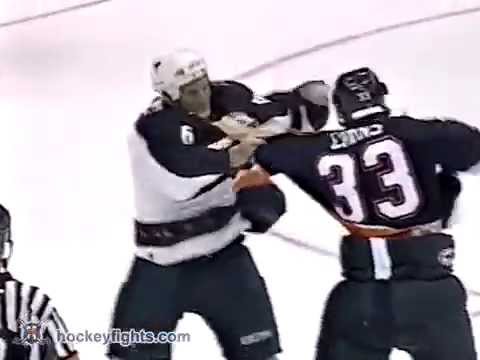 10/19/02
2 Pd 14:46
NYI
@ATL
Francis Lessard
There was a scuffle among players at the boards and away from that, Lessard and Cairns have a go. Cairns knocked him down with a right and waited for him to get up. Then both start landing haymakers at will. Cairns loses his balance, regains himself and continues trading punches with Lessard until they tire and the linesmen come in.
Date/Time For Against Opponent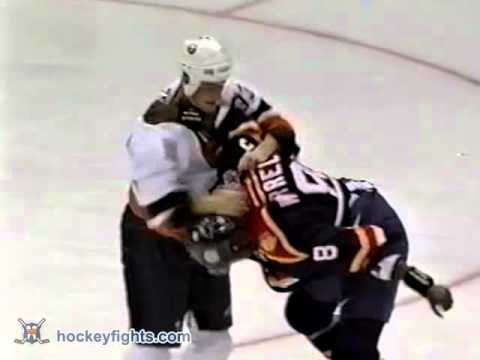 10/24/02
2 Pd 3:42
@NYI
FLA
Peter Worrell
Good heavyweight battle here. A hit by Worrell, an invite by Cairns and they shed the gloves and pads. Good, fair squareoff. They trade shots and Worrell's look like they might be a little better. Cairns slips, almost falls, regains his balance and they start throwing again. Now Cairns is throwing the good shots. There's open swinging and both guys are landing some good ones, although the haymakers all seem to miss (barely). Worrell gets a couple of good ones at the end (almost landed a great uppercut). Cairns slips again, goes to a knee and it's over. Good, open, even fight between two huge players.
Date/Time For Against Opponent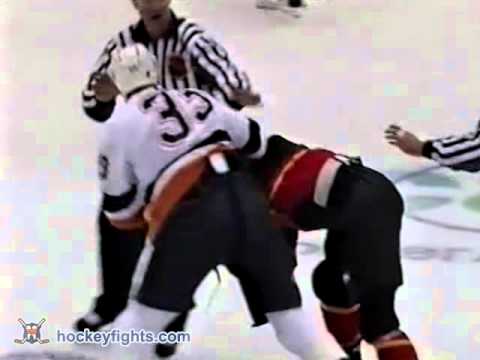 11/04/02
1 Pd 6:27
@NYI
CAL
Craig Berube
Early in the first period these two decide to give it a go behind the play. Nice fair square off they, lunge in and grab a hold of each other. Cairns lands a couple of grazers, then Berube lands a clean, straight-right to the chin of Cairns that didn't effect him at all. Cairns then uses his reach and "jerseys him" with the left. Berube's trying, but coming up short. The jersey comes over Berube's head and Cairns is ready to take over, throwing a couple of grazing rights with Berube twisted and bent over, but then the linesman comes in and its over. Cairns looks pissed off.
Date/Time For Against Opponent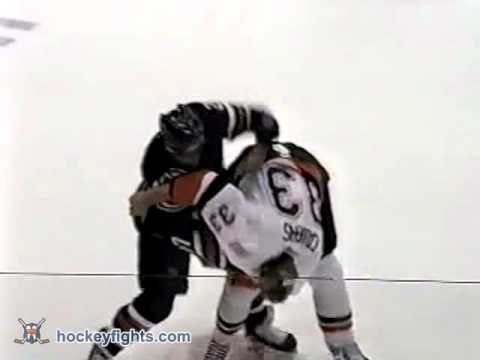 11/08/02
1 Pd 14:17
@NYI
EDM
Georges Laraque
Square off at Islanders blue-line. You can hear the anticipation in the crowd. The fight doesn't live up to expectations though. Cairns comes in first, and Laraque gets the helmet off and lands 3 lefts to the back and side of Cairns' head. Cairns goes to the ice off balance with Laraque on top.
Date/Time For Against Opponent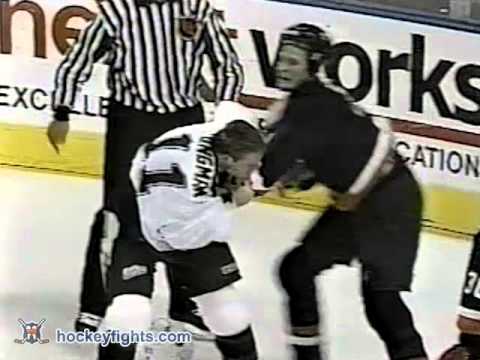 11/21/02
1 Pd 4:50
NYI
@TBL
Chris Dingman
Cairns looking for something, bumps a Bolt. Dingman is on the ice and goes right after Cairns. They grapple for position and Cairns is controlling the fight and throwing the only real punches. Dingman tries to answer, but comes up short. Cairns then lands a nice right hand that makes Dingman go to a knee. Other Penalties: Cairns received an unsportsmanlike conduct.
Date/Time For Against Opponent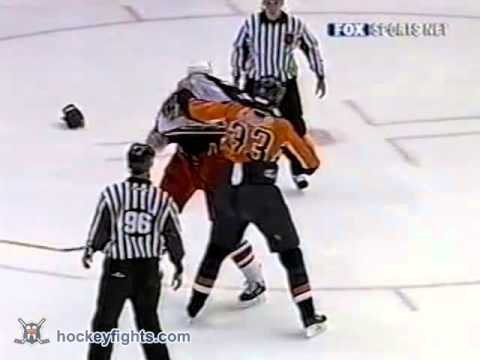 11/29/02
1 Pd 6:52
@NYI
CBJ
Jody Shelley
Cairns comes out in the Isles zone, where Shelley is lined up and moves to Shelley's wing. You can see/sense this a mile away. They drop the gloves have a nice square-off, Jody Shelley moves in first, grabs Cairns with the left and then Cairns grabs on. They now have their right hands cocked back, but start off with the jersey-lefts. Cairns then starts to throw right hands and Shelley answers back, but Cairns lands a clean shot to Shelley's face. They offer 1-2 more rights, Shelley stops punching, is bent over, the refs move in and you can see that Jody Shelley is pissed off. He is bloodied and goes straight to the lockerroom for repairs.
Date/Time For Against Opponent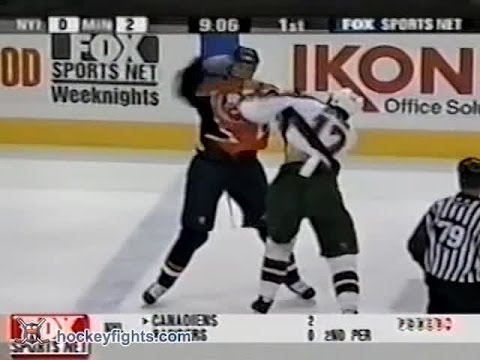 12/19/02
1 Pd 10:54
NYI
@MIN
Matt Johnson
Good square off and Matt opens with a right, Cairns seemed to have his right arm hung up in his jersey and elbow pad. Once he freed his arm both continued throwing hard rights. Matt left himself open and Cairns drops him with a solid left to the face.
Date/Time For Against Opponent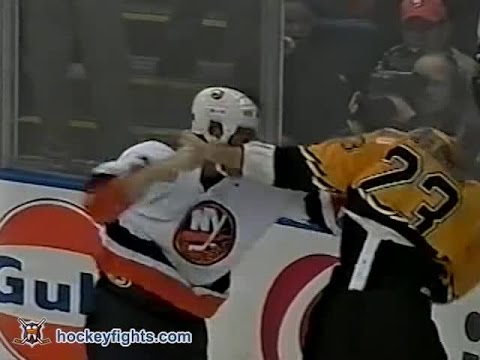 01/03/03
3 Pd 15:34
@NYI
BOS
Sean Brown
Late in the third Stock and Cairns are poking at each other in front of Isles' net, Brown comes in and off come the gloves. They lock out each other's lefts and start with rights. Cairns lands a couple early and Brown hangs in there, and throws a couple decent uppercuts. Cairns then takes over and starts to land a couple of heavier punches. Cairns lands the last couple of rights and Brown is now bent over. Linesmen come in to end it. Brown leaves the ice dripping a little blood.
Date/Time For Against Opponent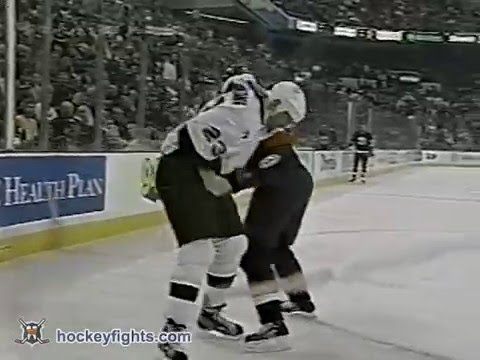 01/04/03
1 Pd 11:49
NYI
@PIT
Steve McKenna
Some talking and these two drop the gloves and grab on. McKenna throws two rights. First one hits shoulder, the second hits nothing. Cairns, holding on to McKenna's jersey with his left hand, gives him some quick left-handed jabs. They go to start swinging again and McKenna falls.
Date/Time For Against Opponent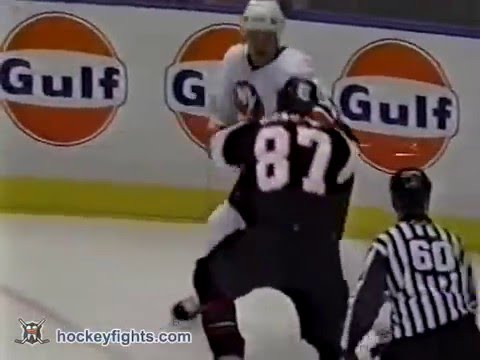 01/09/03
1 Pd 2:13
@NYI
PHI
Donald Brashear
Along the boards, Cairns checks Brash. He turns around, they give a look and drop the gloves. They take their time, shed the pads, pull up the sleeves, and squareoff. They grab on, Brash pulling in, Cairns pulling away. A punch by Cairns, and then Cairns gets Brash's jersey up over his head. He throws two more, before the linesmen rush in (because of the jersey).