2006-2007 Regular Season Fight Card
From:
Caroline, AB Canada
NHL Fights: 2
Date/Time
For
Against
Opponent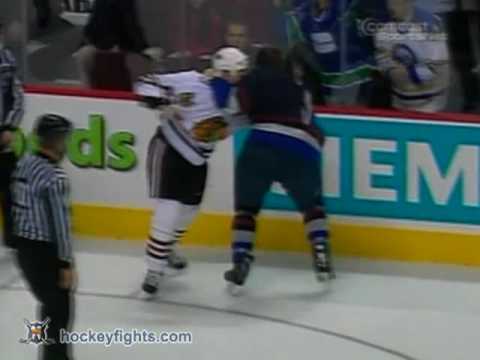 11/19/06
3 Pd 6:10
CHI
@VAN
Taylor Pyatt
Date/Time For Against Opponent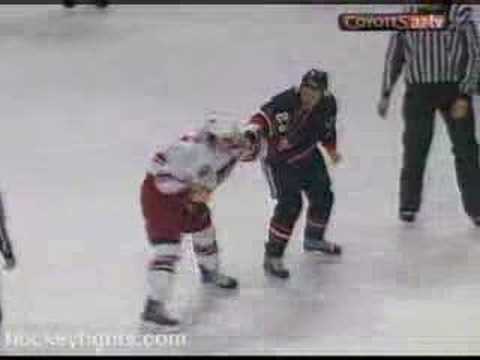 12/07/06
1 Pd 7:16
@CHI
ARI
Josh Gratton
The two drop the gloves and square off at the blueline. They grab ahold of each other and exchange jersey-jabs with Gratton following up in the form of two rights. Vandermeer throws a right and a jersey-jab in response. Gratton throws a right and an uppercut and the two start going back and forth with straight rights. They tie each other and Vandermeer is the first to get free, connecting with three right crosses while Gratton tries to stay on his feet. Gratton throws three rights of his own and they start going toe-to-toe with long rights. Vandermeer switches hands and throws four lefts with Gratton throwing two during the flurry. They exchange some jersey-jabs just before Gratton throws another right. Vandermeer returns fire with two lefts and throws two rights until he loses his balance and goes down to his knees, bringing Gratton down with him. The linesmen are there to pat the worn-down fighters on the back and end the fight.