2003-2004 Regular Season Fight Card
From:
Caroline, AB Canada
AHL Fights: 5
Date/Time
For
Against
Opponent 11/14/03
4 Pd 5:0
@LHV
CIN
Sheldon Brookbank
Date/Time For Against Opponent 12/28/03
3 Pd 16:10
@LHV
BIN
Brian McGrattan
Other penalties: McGrattan and Vandermeer each received a roughing and a game misconduct.
Date/Time For Against Opponent 01/10/04
1 Pd 0:47
LHV
@BIN
Mike Brown
Date/Time For Against Opponent 02/06/04
3 Pd 20:0
@LHV
ALB
Matt DeMarchi
Other penalties: Mike Peluso received a slashing.
Date/Time For Against Opponent 02/13/04
2 Pd 19:52
LHV
@HFD
Garth Murray
Other penalties: Peter Vandermeer received a double roughing; Jason LaBarbera a slashing.
NHL Fights: 9
Date/Time For Against Opponent
11/20/03
3 Pd 7:57
@PHI
MIN
Brad Brown
Voted winner: Brad Brown (37.3%) - Voted rating: 8
A huge hit on Zyuzin by Williams brings these two together and they square off for a while before grabbing one another's sleeves. After a few missed shots, Vandermeer connects with a right, followed by two bombs from Brad Brown. Brown starts to ragdoll him and the linesmen come in, but they back off as Vandermeer rights himself. After catching their breath, Vandermeer tries a few rabbit rights. Brown works to get his right out of his sleeve and lands some rights. At this point they are too tired to even hang on and start throwing slow, looping rights at one another. Vandermeer twists Brown down to end a marathon bout. Other Penalties: Justin Williams received an elbowing.
Date/Time For Against Opponent 12/18/03
1 Pd 0:16
@PHI
TBL
Chris Dingman
Dingman lays out Roenick. Roenick stays down, and Vandermeer makes a bee-line for Dingman. (You see a glove literally go flying to about the blue line.) These guys dance around a lot, with Dingman landing one and Vandermeer landing two, but these two are in really close. Vandermeer gets his left free and Dingman totally covers up.
Date/Time For Against Opponent 12/21/03
1 Pd 10:7
PHI
@ATL
Ron Petrovicky
Petro takes a 30-foot run at Vandy as the puck is cleared and Vandy gives Petro a little slash and off with the gloves. They have a short squareoff as they both taunt each other, asking to come in first. Finally they come together and Vandy takes control, landing two lefts. They tie up, Vandy switches to the right and throws about three, two landing, one hitting shoulder. Petro tries a right that is short. Then Vandy pops Petro with a left that sends him off-balance. As he falls to a knee Vandy feeds him about five more lefts as the linesmen come in.
Date/Time For Against Opponent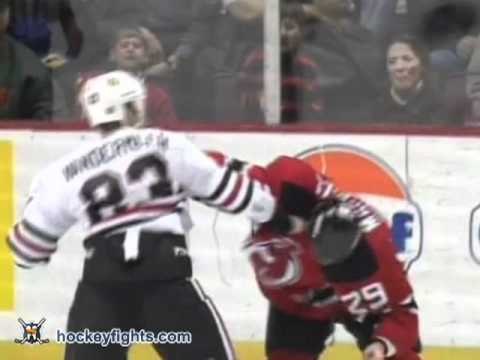 03/11/04
2 Pd 10:15
CHI
@NJD
Grant Marshall
After Leighton freezes the puck Vandy and Grant give a couple of love taps and then each guy quickly drops the gloves with Marshall throwing a good quick shot and Vandy responding with his own. Great long fight with each man getting in some solid shots to the face. Marshall landed two beauties on the button, but all Vandy did was smile and throw two harder ones back at Grant. Both men agree to stop to end it.
Date/Time For Against Opponent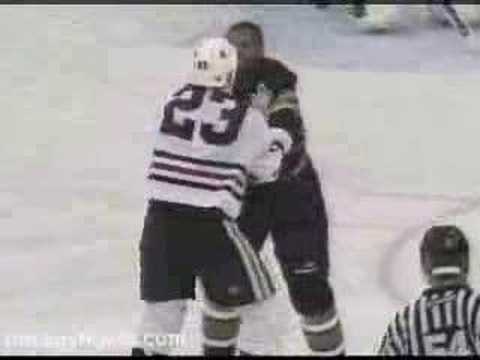 03/12/04
2 Pd 5:42
CHI
@WAS
Jean-Luc Grand-Pierre
Alexander Semin takes an extra jab at Adam Munro after he freezes the puck, prompting Mark Bell to give him a gloved punch to the back of the head. A scrum ensues and out of it come Vandermeer and Grand-Pierre already throwing punches. Vandermeer throws a right to start things off and Grand-Pierre returns fire with four straight rights. Vandermeer throws a couple of short rights and Grand-Pierre attempts two locked-out rights in response. Vandermeer counters with another right. Grand-Pierre misses with a right cross and Vandermeer takes advantage by throwing a flurry of five rights. They struggle to get loose for a moment until Grand-Pierre gets free and throws a right cross. Vandermeer returns fire with a right of his own to a smiling Grand-Pierre. They then go toe-to-toe with rights for a short while. Vandermeer throws two overhand lefts that come up short. Vandermeer then follows up with two right jabs and a left that connect just before the linesmen decide to intervene.
Date/Time For Against Opponent 03/14/04
3 Pd 18:51
@CHI
DAL
Shayne Corson
This started very slow as both guys grabbed on and it didn't look very spirited. Both were locked out and both were trying to throw short rights without letting the other guy get loose. They decide to open up and start chucking them, Corson lands a few weak rights and short shots and Vandermeer tags Corson with two solid lefts. Corson lunges at Vandy and maybe connects with a weak right that jars Vandy's helmet loose. They grapple some more, then they trade some big lefts, with Vandy's looking a lot more solid and one connecting to Corson's face and drawing blood from the nose. They trade a few more big rights and lefts that have little behind them, then they do a spin and stop throwing.
Date/Time For Against Opponent
03/25/04
3 Pd 10:50
@CHI
MIN
Matt Johnson
Vandermeer throws a gloved punch that connects, then connects with a solid right before Johnson is ready, and it definitely hurts Johnson. Vandermeer throws a few noogie lefts to the top of Johnson's helmet as he is bent over. Johnson finishes by forearming Vandermeer to the ice. You can see a nice pink shade to the left cheek on Johnson as he skates to the bench with his head hung down. Other Penalties: Johnson and Vandermeer each received a slashing.
Date/Time For Against Opponent
They grab on and Low has Vandermeer pretty well locked out. Low throws several punches, few, if any, connected. Vandermeer gets better position, but they still don't open up. They jockey for position and each throw a few, but nothing substantial connects. Vandermeer connected with two or three jersey-jab rights, and Low connected with some overhand lefts to the top of Vandermeer's head, but other than that, a lot of missed shots from Low. Long fight, they stop when they're too tired to continue.
Date/Time For Against Opponent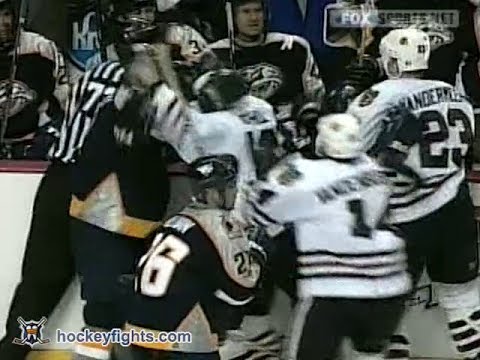 03/30/04
3 Pd 5:2
CHI
@NSH
Scott Walker
Other Penalties: Vandermeer received a roughing.