2002-2003 Regular Season Fight Card
From:
St. Catharines, ON Canada
AHL Fights: 3
Date/Time
For
Against
Opponent 10/27/02
2 Pd 19:37
CLE
@LHV
Jim Vandermeer
Date/Time For Against Opponent 01/31/03
3 Pd 4:30
@CLE
SAR
Brendan Walsh
Date/Time For Against Opponent 02/01/03
2 Pd 10:58
@CLE
SAR
Sean Gagnon
Other penalties: Rocky Thompson, Eric Beaudoin and Eric Laplante each received a roughing.
NHL Fights: 2
Date/Time For Against Opponent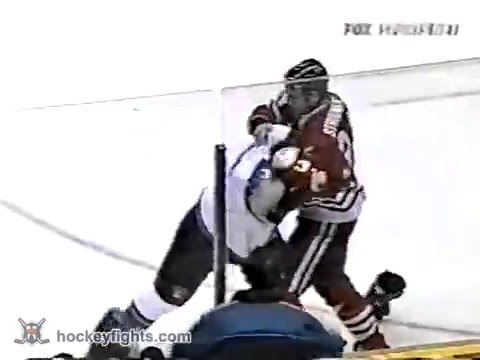 03/17/03
3 Pd 2:35
@SJS
CHI
Jason Strudwick
Camera gets there late. Apparently Strudwick just finished his forecheck along the far boards and Davison did not appreciate it too much. The camera returns to the action as Struddy is throwing his usual straight rights, hitting mostly helmet, and Davison is holding back not really throwing any counters. Davison then decides to join the fight and throws a wild one, not hitting, but got Strudwick off the offensive. At this point Strudwick regains himself and is now jockeying for position and decides to rip off the Davison's helmet and as he was doing so, loses balance and Davidson falls on top.
Date/Time For Against Opponent 04/02/03
1 Pd 11:15
SJS
@CAL
Chris Clark