2002-2003 Regular Season Fight Card
From:
Portage La Prairie, MB Canada
NHL Fights: 5
Date/Time
For
Against
Opponent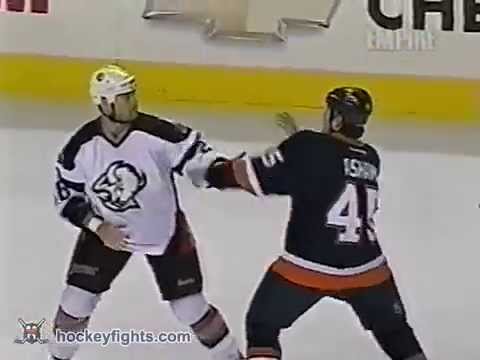 10/10/02
1 Pd 5:32
NYI
@BUF
Eric Boulton
Date/Time For Against Opponent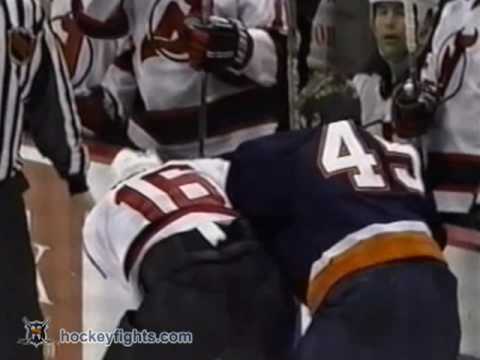 01/15/03
1 Pd 6:47
NYI
@NJD
Michael Rupp
Rupp and Asham drop em and grapple for position after a rather long squareoff. Rupp lands a couple. Asham comes back with a few lefts after he changes position. Rupp switches hands and lands a couple more. Now Asham gets Rupp turned around and pops him with some real nice shots against the bench. Rupp skates away a little bloody and has to go off for repairs.
Date/Time For Against Opponent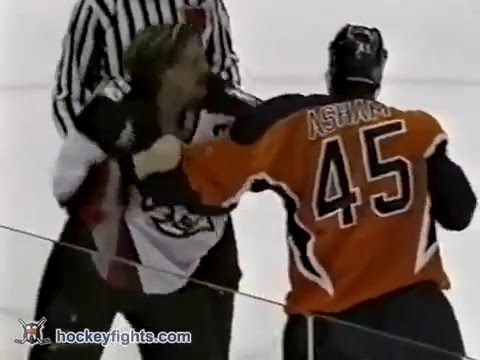 02/08/03
3 Pd 17:46
@NYI
BUF
Rhett Warrener
Asham starts off throwing those short jersey-grabbing-hand lefts, more annoying than doing any damage. They each throw a couple of bigger punches, looks like Asham lands a decent one. Rhett then takes over and starts throwing with good follow through. Asham got in one more decent right when Rhett missed on one of his rights, and from there it was all Rhett. Asham was ducking to the side as though he just wanted to stop. Nothing Warrener threw at Arron was devasting, but he got in a bunch of rights to the side of the head.
Date/Time For Against Opponent
02/13/03
1 Pd 13:1
NYI
@NSH
Scott Hartnell
Both players shed their gloves and helmets at center ice. Nice squareoff, then Hartnell lunges in with a wild right. Asham gets out of position while ducking Hartnell's right. Hartnell throws a two or three more rights, with maybe one landing. Asham throws a couple of rights that don't land. Hartnell misses with another right. Asham gets Hartnell's jersey over his head and throws an uppercut before the refs rush in. Couldn't tell if the uppercut landed. Entertaining fight, but not a lot landed.
Date/Time For Against Opponent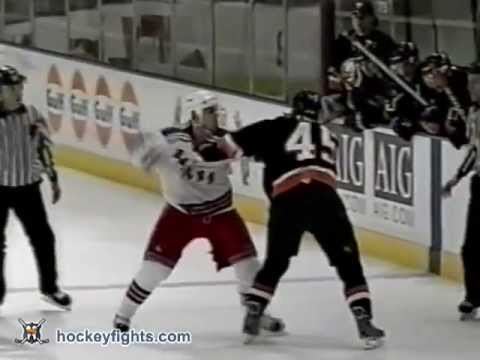 03/17/03
2 Pd 9:57
NYI
@NYR
Matthew Barnaby
The two are talking before the faceoff and they drop em once the puck is dropped. They are over near the Isles' bench and Matt is jawing at them while Asham is swinging. A few punches that don't connect, then Barnaby decides to try to throw a few. When he opens up, Asham does the same and starts to hit him pretty good. They exchange with Asham definitely doing better, but nothing devestating. They go down with Asham on top.