2005-2006 Regular Season Fight Card
From:
Kingston, ON Canada
NHL Fights: 3
Date/Time
For
Against
Opponent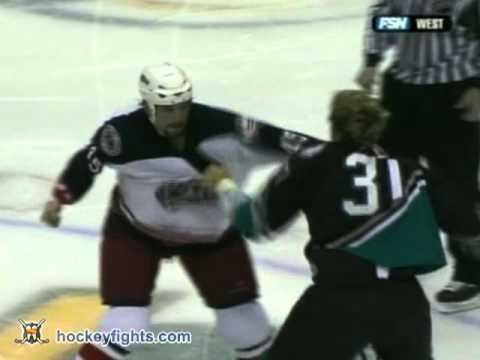 10/14/05
1 Pd 2:31
@ANA
CBJ
Jody Shelley
Date/Time For Against Opponent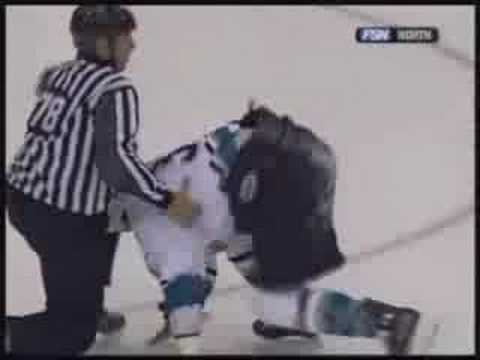 10/16/05
1 Pd 10:44
ANA
@MIN
Derek Boogaard
These two go right off of the faceoff. Boogaard starts with a big right that misses. They grapple and Boogaard locks out Brennan and throws a few that miss, but catches Brennan with a soft uppercut and another that might have connected. Boogaard switches hands and scores with a nice left. Brennan throws two that come up short. Boogard scores another left, then drops Brennan with a big right.
Date/Time For Against Opponent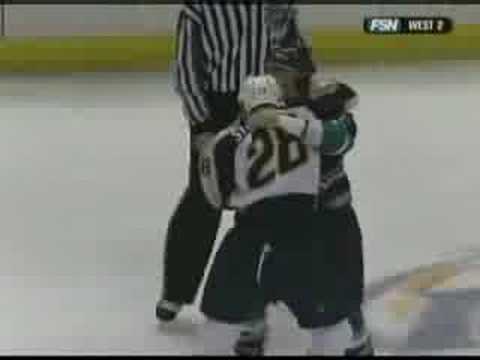 11/01/05
3 Pd 4:2
@ANA
NSH
Jeremy Stevenson
At center ice they drop the gloves a fair distance from each other and square off. They circle around a bit and grab on, each getting a hold of the other's jersey. They both miss with a right, then Stevenson gets Brennan in a head-lock as he goes down to one knee. They get back up are in close. A few punches are thrown, but both guys are on the defensive with nothing landing. They spin around and Stevenson falls to the ice and the linesmen come in.