2006-2007 Regular Season Fight Card
From:
Hamilton, ON Canada
NHL Fights: 10
Date/Time
For
Against
Opponent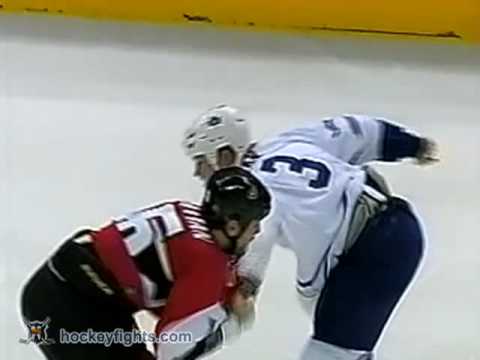 10/05/06
2 Pd 3:24
@OTT
TOR
Wade Belak
Voted winner: Wade Belak (16.7%) - Voted rating: 3.3
Date/Time For Against Opponent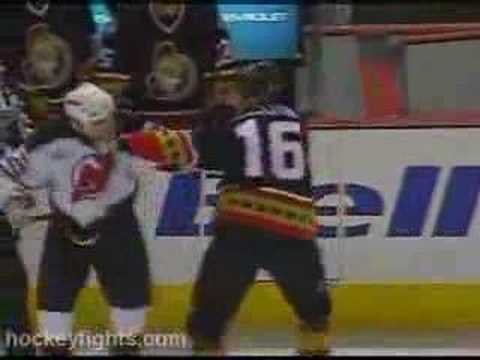 10/21/06
1 Pd 6:14
@OTT
NJD
Cam Janssen
The puck drops and these two send their sticks and gloves flying down the ice. They square off and McGrattan grabs Janssen with his left and throws a couple of rights to start things off. They're each holding on with the left, trying to shake their opponent off-balance while throwing some rights. McGrattan uses his reach to lock out Janssen, and Janssen is ducking away from McGrattan's punches as he attempts to get inside for each punch. They go back and forth, with a couple connecting until McGrattan lands a handful of consecutive rights to the back of Janssen's head. Janssen is able to respond with a couple of rights of his own and then a hard shot after McGrattan's lock loosens. They continue exchanging rights, with the time between each punch extended. Janssen is bouncing in his skates trying to wave off the linesmen, but they break up the fight after a pause in punching. McGrattan skates off bleeding from a cut under his left eye.
Date/Time For Against Opponent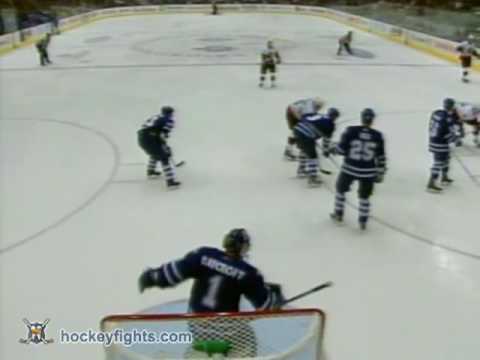 10/24/06
2 Pd 5:27
OTT
@TOR
Wade Belak
The two talk a little during the faceoff and drop the mitts directly after it. McGrattan throws a quick right while grabbing ahold of Belak. McGrattan throws four more rights and Belak responds with a couple of body shots. McGrattan misses with a right and Belak attempts an uppercut just before he falls to his knees. McGrattan connects with a right cross while Belak is returning to his feet and throws two more long ones while Belak is backing away. They then exchange a series of jersey-jabs and rights until McGrattan lands two rights to the back of Belak's helmet and the two fall to the ice. The linesmen come in and send them to the penalty boxes where McGrattan does some turtle symbols while Belak looks on.
Date/Time For Against Opponent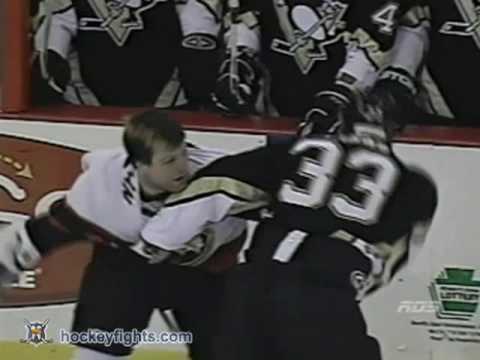 11/10/06
1 Pd 4:56
OTT
@PIT
Eric Cairns
Behind the play the two drop the gloves and square off from center ice to the blueline. They grab ahold of each other and exchange jersey-jabs until McGrattan fires away with two rights. Cairns continues to jab away at McGrattan, putting his opponent's jersey in his face while throwing left jabs. McGrattan answers with an uppercut and two rights before the two wrestle along the boards. McGrattan throws another right and Cairns throws a left uppercut, causing McGrattan to throw a flurry of four quick rights in response. The two then go back and forth with numerous rights for quite a while, each landing a few good ones. Cairns removes his mouthpiece and McGrattan then throws an uppercut just as the linesmen are coming in to separate the two. Cairns gets in a short right, but they are then sent to their respective penalty boxes.
Date/Time For Against Opponent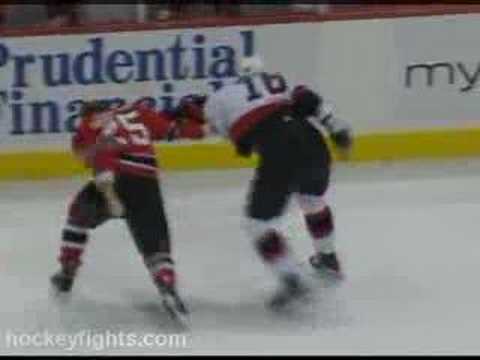 11/17/06
1 Pd 17:30
OTT
@NJD
Cam Janssen
Right off of the faceoff the two get tied up and Janssen shoves McGrattan. They then drop the gloves and quickly grab ahold of each other with McGrattan throwing a mix of nine straight rights and uppercuts while Janssen tries to get set up. Janssen throws a right that hits McGrattan's arm while McGrattan takes Janssen's helmet off. McGrattan throws ten unanswered rights and uppercuts before Janssen shakes his elbow pad off and finally throws a right in response. They exchange rights and McGrattan goes back to throwing with the right hand, connecting with two more right before Janssen lands a right. They exchange locked-out rights and Janssen switches hands, throwing two lefts. McGrattan comes back with a right cross and the two go back and forth with punches: McGrattan with rights, Janssen sticking with lefts, until the two get tied up and the linesmen move in to end the fight.
Date/Time For Against Opponent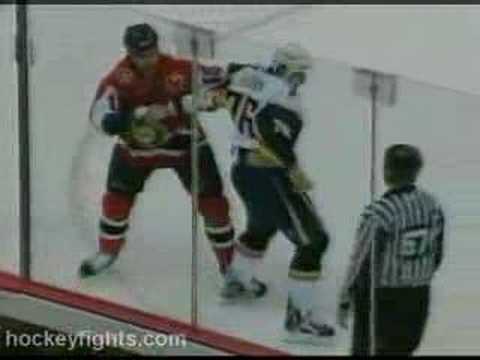 11/18/06
1 Pd 3:3
@OTT
BUF
Andrew Peters
Right after the faceoff the two spot each other and decide to drop the gloves. They grab ahold of each other and McGrattan starts things off with a series of seven jersey-jabs. Peters returns fire with a right and McGrattan throws two more jersey-jabs before coming over the top with a right. They go back and forth with rights and McGrattan makes sure to add in a few jersey-jabs during the exchange. McGrattan throws two more rights that hit Peters' helmet and Peters comes back with one of his own, but the linesmen are right there to skate on in and break things up.
Date/Time For Against Opponent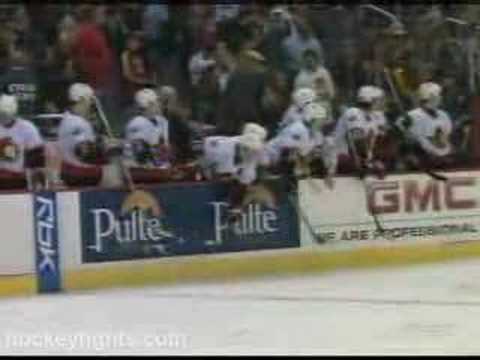 12/06/06
1 Pd 3:52
OTT
@WAS
John Erskine
Erskine runs into McGrattan along the boards and McGrattan returns the favor by knocking Erskine to the ice. Donald Brashear skates over and shoves McGrattan, but Erskine quickly gets up to his feet and drops his gloves, forcing McGrattan to do the same. Erskine throws a right cross to start things off, but McGrattan fires back with a right that sends Erskine falling to the ice. Erskine gets back up and throws a right. McGrattan follows with a series of jersey-jabs and Erskine answers with two rights to the back of McGrattan's head. McGrattan throws a right of his own and Erskine connects with two body shots just before they go back and forth with some rights. McGrattan then lands two hard rights that send Erskine down to a knee and the linesmen quickly step in to end the fight.
Date/Time For Against Opponent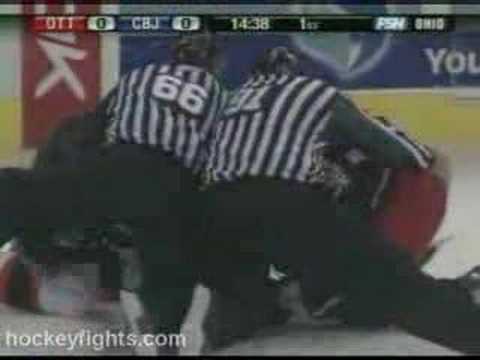 12/10/06
1 Pd 5:22
OTT
@CBJ
Jody Shelley
Other Penalties: McGrattan received a clipping.
Date/Time For Against Opponent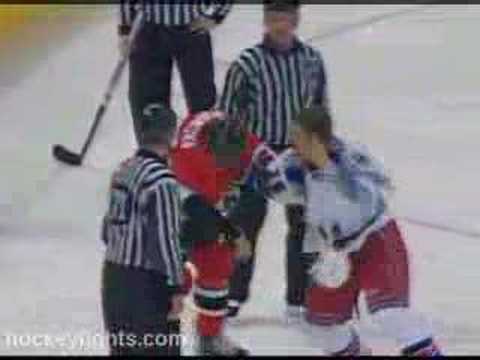 12/29/06
1 Pd 7:42
@OTT
NYR
Colton Orr
Voted winner: Colton Orr (35.5%) - Voted rating: 7.5
Date/Time For Against Opponent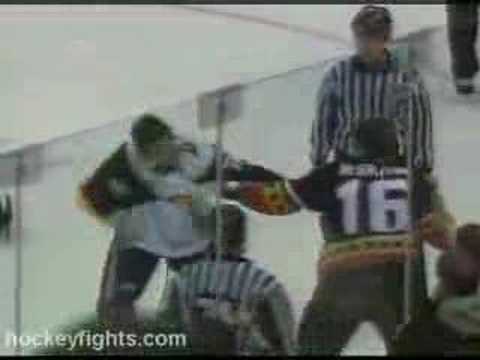 02/24/07
2 Pd 3:44
@OTT
BUF
Andrew Peters