2002-2003 Regular Season Fight Card
From:
Dearborn, MI United States
NHL Fights: 7
Date/Time
For
Against
Opponent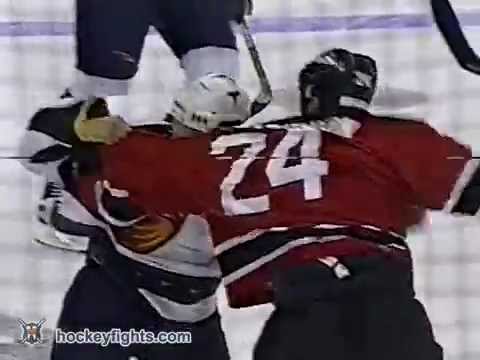 10/23/02
1 Pd 7:31
@ATL
NJD
Turner Stevenson
Date/Time For Against Opponent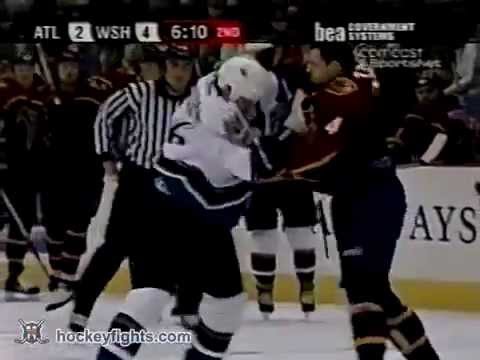 11/23/02
2 Pd 13:50
ATL
@WAS
Brian Sutherby
Starts behind the play as Tamer gave Sutherby a little rough ride. They yap a little and Sutherby sheds the gloves first. They both started firing a couple and Tamer's looked to connect a little better. Toe-to-toe for about 4 punches. Sutherby then takes over and fires 3 unanswered and Tamer goes down. Looked like a slip, not sure if any of Sutherby's shots landed flush.
Date/Time For Against Opponent
Low rides Cowan into the glass by the bench. Cowan goes down hard but starts to get up and starts skating towards Low. Tamer gets there first and they immediately throw down the gloves. Not a whole lot landed before both bodies head to the ground. Other Penalties: Tamer received an instigator and misconduct.
Date/Time For Against Opponent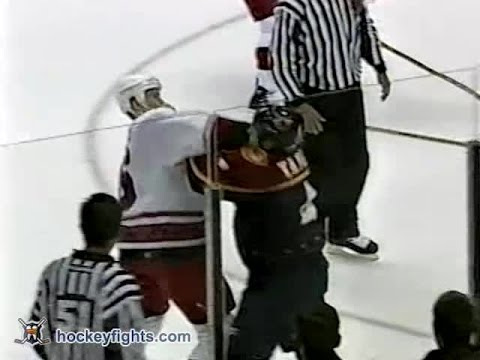 12/20/02
2 Pd 15:40
@ATL
CAR
Jesse Boulerice
Short square off, Jesse gets a good hold of Tamer, and connects with some short punches. Boulerice is controlling the fight, but Tamer throws a couple at the end, one of which may have connected.
Date/Time For Against Opponent
01/28/03
3 Pd 16:43
@ATL
NYR
Dale Purinton
After a shot on the Atlanta net and the Rangers losing badly, Purinton takes an extra poke at the goaltender. Tamer skates over to move Purinton away, but Purinton just drops the gloves and starts pounding away. He throws four or five punches, mostly to the back of Tamer's head as he tried to get away. The refs are immediately breaking it up, as Tamer was not fighting back. Other Penalties: Purinton received an instigator, misconduct and game misconduct; Tamer a roughing.
Date/Time For Against Opponent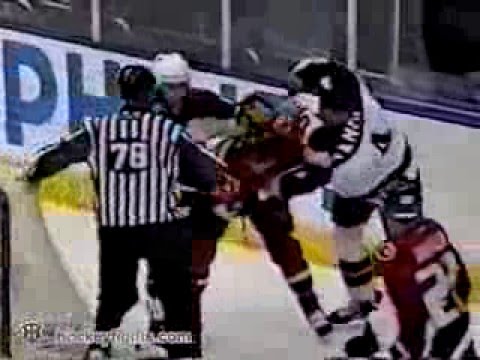 03/21/03
2 Pd 18:51
@ATL
OTT
Chris Neil
Starts at the side of the Atlanta net. Tamer comes out firing first. He fires off about 5 shots or so that go unanswered. Almost looked to hurt Neil. Neil comes back with a few, but Chris is between the camera and Tamer so it's hard to tell if anything was landed. Looked like a few shots perhaps and he pulls Tamer off-balance and he goes down while Neil throws another shot or two.
Date/Time For Against Opponent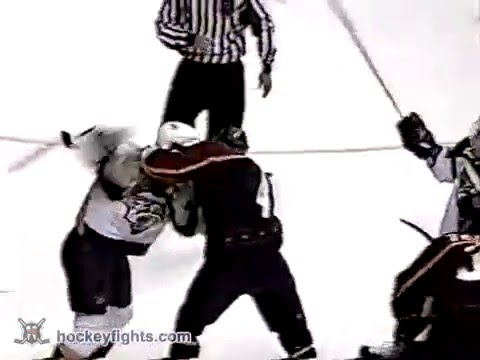 03/29/03
2 Pd 12:42
ATL
@NSH
Scott Walker
Tamer crosschecks Vladimir Orszagh across the face on the faceoff. Walker immediately goes after Tamer with the rights. Walker throws three rights, one connecting to the forehead of Tamer. Tamer throws two rights that come up empty. It's all Walker from here on. He throws three or four pretty good rights, connecting with Tamer's chin a couple of times. Tamer's jersey gets up over his face and he ducks his head. Walker throws about four more to Tamer's forehead and helmet, driving him to his knees. The linesmen come in and try to break them up and Walker throws two or three uppercuts that might have connected. Other Penalties: Tamer received an attempt to injure match penalty; Walker an instigator and misconduct.