2003-2004 Regular Season Fight Card
AHL Fights: 2
Date/Time
For
Against
Opponent 02/28/04
1 Pd 17:18
UTH
@MCR
Joe Rullier
Date/Time
For
Against
Opponent 02/28/04
2 Pd 11:7
UTH
@MCR
Ryan Flinn
NHL Fights: 10
Date/Time For Against Opponent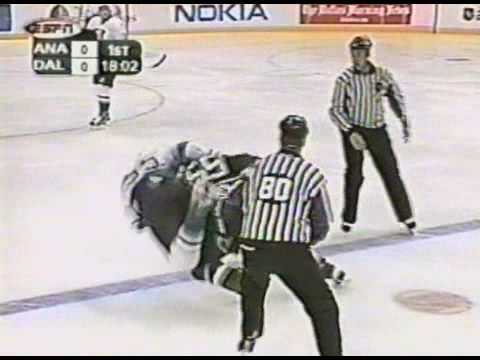 10/08/03
1 Pd 1:58
@DAL
ANA
Garrett Burnett
In between the blue line and the center ice line, by the penalty box, the gloves come off easy. They're each throwing heavy rights. After a couple, Erskine lands a nice one, but Burnett's helmet is still on. Erskine throws a couple more, Burnett's balance seems to be off from the get-go. While throwing Burnett is slipping and pulls Erskine down with him.
Date/Time For Against Opponent 10/19/03
3 Pd 12:35
@DAL
MIN
Matt Johnson
Right out of the box they meet up and drop the gloves, looked like Erskine was stretching as they were circling. They come together and grab on. They hold each other off with their right hands and throw over each other with nothing but bombs. Johnson gets the first couple, one real good one, and Erskine responds with a couple overhand rights that Johnson ducks under. Johnson then grabs Erskine's leg and tries to hit him while Erskine is off-balance, but Erskine dosn't fall and nails Johnson's forehead with a couple of overhand rights. They fall and Johnson throws some lefts at the end.
Date/Time For Against Opponent 10/25/03
1 Pd 6:38
DAL
@CBJ
Jody Shelley
Late camera as Spacek is laying on the ice after taking a puck to the leg. They finally get to the fight and Shelley and Erskine each exchange a right before Shelley throws him down while throwing another.
Date/Time For Against Opponent 11/02/03
2 Pd 13:48
@DAL
NSH
Jeremy Stevenson
Stevenson throws a big check on Erskine and they drop em. Good squareoff and they grab on. Erskine lands a right to the side of Stevenson's head. They both throw and miss, then Erskine starts connecting, putting Stevenson to a knee. Erskine then starts teeing off and the linesmen come in as Stevenson is clearly vulnerable.
Date/Time For Against Opponent 11/15/03
2 Pd 2:33
DAL
@COL
Chris McAllister
Erskine checks McAllister on an icing and they drop the gloves. McAllister startes with a bomb right and Erskine responds with one of his own. They trade a couple more each then Erskine tags McAllister and McAllister goes down.
Date/Time For Against Opponent 11/19/03
2 Pd 4:6
@DAL
ANA
Garrett Burnett
Erskine got a flurry of punches in at the beginning, and one at the end that cut Burnett on the inside of his left eye. Erskine looked like a wrestler they way he saddled Burnett on the ice. Other Penalties: Burnett received an interference.
Date/Time For Against Opponent 11/28/03
1 Pd 13:58
@DAL
NJD
Grant Marshall
They drop the gloves quicly and get right down to business with no attempt to remove the buckets, both throwing punches with mean intentions. They each connect with a couple of glancing rights, with the better shots being landed by Erskine which causes Marshall to go a little off balance. Erskine uses his height to take advantage of this situation and unloads with a bomb with his right hand sending Marshall down.
Date/Time For Against Opponent 11/28/03
2 Pd 10:56
@DAL
NJD
Grant Marshall
Marshall comes back for revenge against Erskine who is more than willing to oblige, but the linesmen decide they don't want to see this matchup. Once again there is no attempt to get helmets off, just both guys throwing big time rights. Only this time the linesman is the one on the receiving end and he takes a huge shot from Erskine.
Date/Time For Against Opponent 12/10/03
1 Pd 9:14
DAL
@ARI
Andrei Nazarov
Nazarov and Erskine bump in the corner and Erskine gives Naz the invite. Naz thinks about it briefly, drops his left glove and pops Erskine a couple of times. They grab on and Naz finally drops his other glove. They grapple for a bit, then Erskine gets his right free and throw a right-hand bomb and they go down.
Date/Time For Against Opponent
They come together to the side of the net get in a clinch. Low's trying to throw a punch, nothing going on and Erskine throws two big rights, one looked to land. Low then gets the takedown. After Low got the takedown it looked like Erskine threw a couple more punches at Low that may have landed.