2006-2007 Regular Season Fight Card
From:
Beauceville, QC Canada
NHL Fights: 3
Date/Time
For
Against
Opponent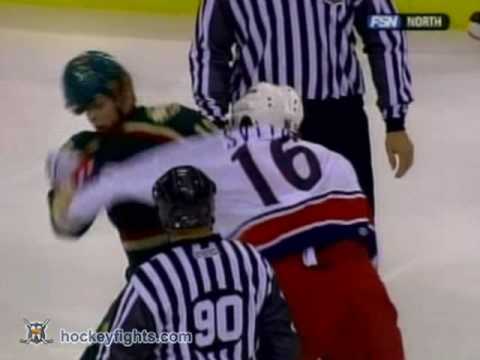 10/14/06
2 Pd 1:48
@MIN
CBJ
Alexander Svitov
Date/Time For Against Opponent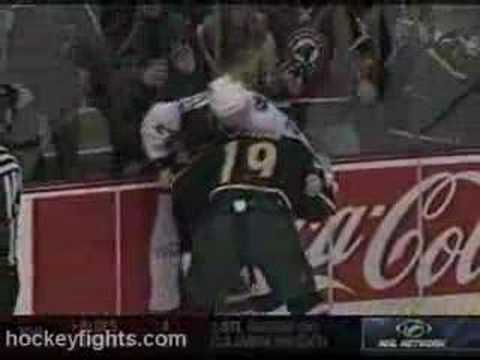 02/14/07
1 Pd 17:4
@MIN
VAN
Josh Green
Green takes runs at Nick Schultz and Petteri Nummelin along the boards, prompting Veilleux to give him a shot from behind. Green turns around and the two drop the gloves, grabbing ahold of each along the glass. They wrestle for a short while, each fighter trying to get loose while exchanging a body shot each. They continue to struggle to get free until Green lands a right to the top of Veilleux's head. Green locks Veilleux out again and they grapple until the linesmen come in and end the fight. Other Penalties: Veilleux received a cross checking.
Date/Time For Against Opponent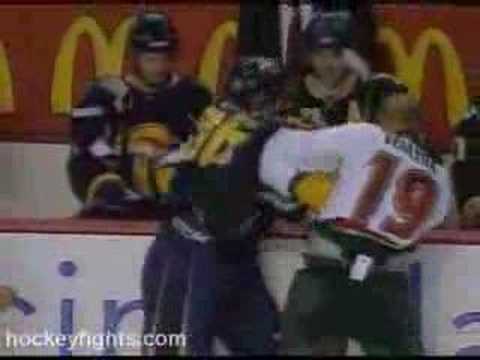 03/09/07
3 Pd 4:20
MIN
@BUF
Patrick Kaleta
A scrum develops along the boards near the benches and out of it come Veilleux and Kaleta. They grab ahold of each other and drop the gloves. Kaleta gets in an early left and then rips Veilleux's helmet off. Veilleux pins Kaleta up against the boards and throws three straight rights while Kaleta tries to move away and block the shots. They wrestle around until Kaleta throws a left to the back of Veilleux's head, allowing Veilleux to throw another right. Kaleta comes back with two overhand rights at a bent over Veilleux. Kaleta then gets in an uppercut just as they lose their balance and fall to the ice with the linesmen right there to grab them and end the fight.