2003-2004 Regular Season Fight Card
NHL Fights: 8
Date/Time
For
Against
Opponent 10/12/03
2 Pd 3:14
SJS
@MIN
Matt Johnson
Date/Time For Against Opponent 10/28/03
1 Pd 13:16
SJS
@CAR
Kevyn Adams
Smith checks Adams into the boards. Adams drops the gloves first and Smith follows. They tie up and Smith throws two rights that miss. Adams throws a big right that misses and they fall to the ice. Smith threw two more.
Date/Time For Against Opponent 12/26/03
1 Pd 12:4
@SJS
LAK
Sean Avery
Both guys squareoff and as Avery lunges in he gets tagged with a good right hand by Smith to the cheek area. Smith throws a couple more while Avery recovers from the first punch, with nothing much connecting. Avery mounts a comeback landing a good haymaker to the head of Smith. Smith responds with another big right that knocks Avery to a knee. Avery gets up and attempts to throw more rights, but Smith throws a barrage of punches and Avery falls off-balance and the linesmen break it up.
Date/Time For Against Opponent 12/27/03
1 Pd 8:13
SJS
@LAK
Sean Avery
Avery early, Smith late. Avery seemed to land the best punch of the fight, but Smith had one punch that could have stunned Sean. Avery's jersey came up over his head a bit and Smith took advantage and landed some good shots. The linesmen then stepped in.
Date/Time For Against Opponent 12/29/03
1 Pd 5:30
@SJS
NSH
Jeremy Stevenson
They were right in each other's face and Smith sheds his gloves and grabs on. Stevenson is hesitant, but drops his and grabs on too. Stevenson looked content with just holding on as Smith threw a right that came up short and then threw a left overtop that missed, They then get bent over and Smith tried to get Stevenson's helmet off, but Stevenson twists him to the ice in the process.
Date/Time For Against Opponent 12/31/03
1 Pd 2:18
SJS
@CBJ
David Ling
Off the faceoff after the Shelley-Parker fight they quickly shed the gloves and Ling grabs on. They're in-close and Ling tries a right. Smith has his head burried into Ling's chest as they try to throw punches, none of which land. Ling throws a left that wiffs and Smith comes out of his jeresey and falls to the ice.
Date/Time For Against Opponent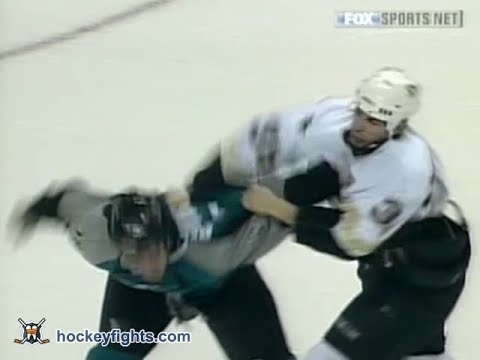 02/27/04
3 Pd 17:28
@SJS
PIT
Tom Kostopoulos
Voted winner: Mark Smith (26.9%) - Voted rating: 4.7
The puck drops on the faceoff and these two casually drop the gloves and square off. The grab on, neither steady, and they each throw a few rights, nothing damaging connecting. Smith throws a wild one that sends himself off-balance and while he's going to the ice Kostopoulos throws a punch or two that lands to Smith's back. Smith gets back up and tries a couple of lefts while Kostopoulos throws a right. Smith throws another wild punch and tries to lean on Kostopoulos for support, but Kostopoulos goes down with Smith on top and the linesmen come in.
Date/Time For Against Opponent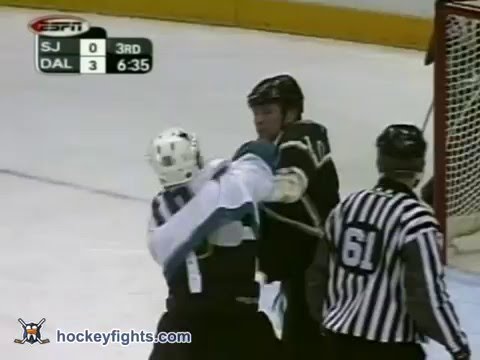 03/07/04
3 Pd 13:25
SJS
@DAL
Brenden Morrow
Off the draw, Smith goes after Morrow to answer for a questionable hit on another Shark player. Smith had it early with some rights while Morrow is tied up by Smith and in his jersey. Morrow gets loose and comes back with some weak rights, followed by a nice right, then they trade some punches and tackle each other. Good fight with a lot of swinging mixed with jockeying for position. Other Penalties: Smith received an instigator and misconduct.