2003-2004 Regular Season Fight Card
NHL Fights: 6
Date/Time
For
Against
Opponent

10/30/03
3 Pd 19:28
@NSH
DET
Darren McCarty
Date/Time For Against Opponent 11/02/03
1 Pd 1:35
NSH
@DAL
Rob DiMaio
When the camera got there Dimaio was using the left and Allison was going with right. They each throw about five punches, nothing doing any damage. Allison falls forward and Dimiao falls on top of him.
Date/Time For Against Opponent 11/07/03
1 Pd 6:59
@NSH
CHI
Travis Moen
Good toe-to-toe scrap at first, both landing a couple of glancing blows. Moen doesn't have great balance, as he slips a couple of times. Allison lands two sweet left hands and Moen slips again. Allison throws two more shots as Moen covers up on the ice.
Date/Time For Against Opponent 01/17/04
1 Pd 9:56
@NSH
EDM
Brad Isbister
Both are tied up against the boards. Allison lands lefts to the back of Isbister's head, then starts throwing some rights. Both tie up again. Isbister tries to throw, but can't get free. Allison throws a couple of more lefts. Isbister almost hits with a right and then they tie up again.
Date/Time For Against Opponent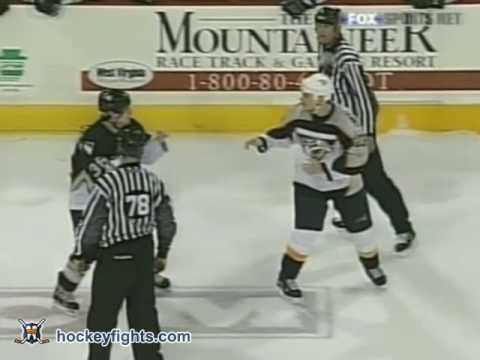 03/04/04
2 Pd 10:43
NSH
@PIT
Tom Kostopoulos
They talk by the benches and decide to drop em'. They square off, come together, but neither grabs the other's jersey, keep squaring off and finally come together. Kostopoulos punches Allison with a right that lands, but Allison immediately counters with a right that stuns Kostopoulos. Allison follows up with a few more rights, one landing, and knocking Kostopoulos down.