2002-2003 Regular Season Fight Card
From:
Shaunavon, SK Canada
NHL Fights: 3
Date/Time
For
Against
Opponent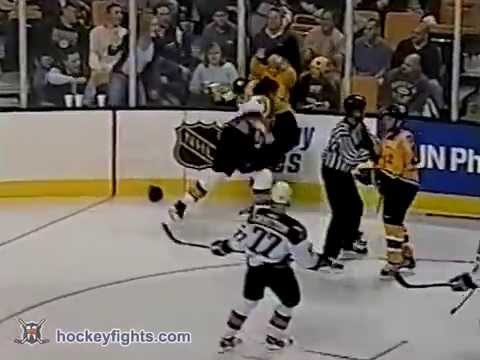 11/23/02
2 Pd 1:20
BUF
@BOS
Michal Grosek
Date/Time For Against Opponent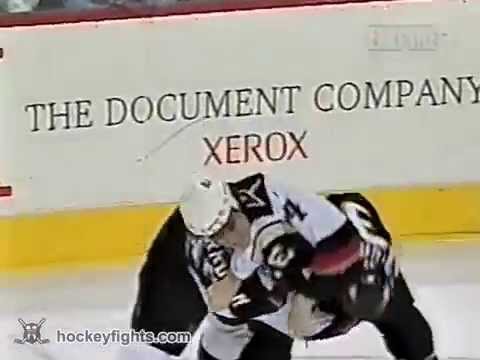 11/29/02
2 Pd 15:53
@BUF
PIT
Dan LaCouture
It starts in the faceoff circle to the right of the Buffalo net. LaCouture throws around three punches that land on the side of the head. Lots of grappling, Warrener gets his left free and throws a couple, either not landing or just to the side of the head. More wrestling, LaCouture tries a short right, Warrener gets his right free, throws a couple, landing on one, and pulls LaCouture down. A lot of wrestling with neither guy landing much.
Date/Time For Against Opponent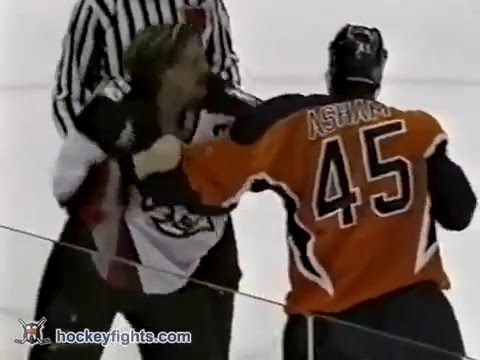 02/08/03
3 Pd 17:46
BUF
@NYI
Arron Asham
Asham starts off throwing those short jersey-grabbing-hand lefts, more annoying than doing any damage. They each throw a couple of bigger punches, looks like Asham lands a decent one. Rhett then takes over and starts throwing with good follow through. Asham got in one more decent right when Rhett missed on one of his rights, and from there it was all Rhett. Asham was ducking to the side as though he just wanted to stop. Nothing Warrener threw at Arron was devasting, but he got in a bunch of rights to the side of the head.