2006-2007 Regular Season Fight Card
NHL Fights: 8
Date/Time
For
Against
Opponent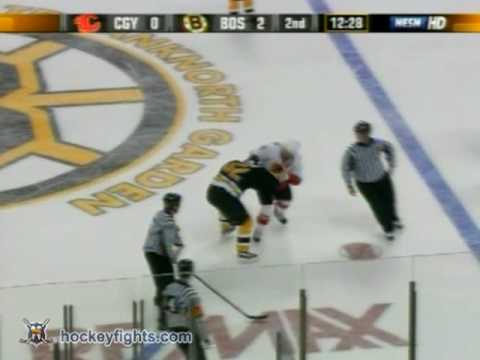 10/19/06
2 Pd 7:32
CAL
@BOS
Jeff Hoggan
Date/Time For Against Opponent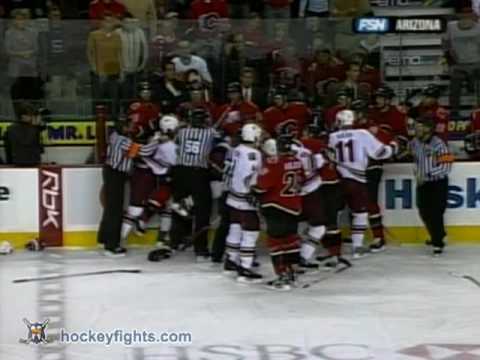 10/24/06
1 Pd 2:36
@CAL
ARI
Josh Gratton
Dion Phaneuf crushes Owen Nolan with an open-ice hit and has multiple Coyotes coming after him while he plays the puck up ice. Joel Perrault skates over and hits Phaneuf to slow him down, allowing Gratton to grab ahold of him. McCarty is directly behind Gratton and tears him off of Phaneuf. Gratton turns around and received a gloved right and a facewash from Phaneuf while McCarty gets back up to his feet. Gratton and McCarty tangle up with Gratton throwing an uppercut and a right. The two get bent over the benches and stay there until the linesmen come over and separate them. Other Penalties: Each player received a roughing.
Date/Time For Against Opponent

10/24/06
1 Pd 16:47
@CAL
ARI
Georges Laraque
Laraque gives McCarty a shot while he is skating by, causing McCarty to turn around. The two drop the gloves and quickly tie up. Laraque grabs ahold of the back of McCarty's jersey and throws two lefts. They exchange simultaneous lefts and Laraque continues to throw, sending McCarty down to his knees. Laraque lands another left and a long one to the back of McCarty's head while he flips him to the ice. The linesmen intervene shortly after.
Date/Time For Against Opponent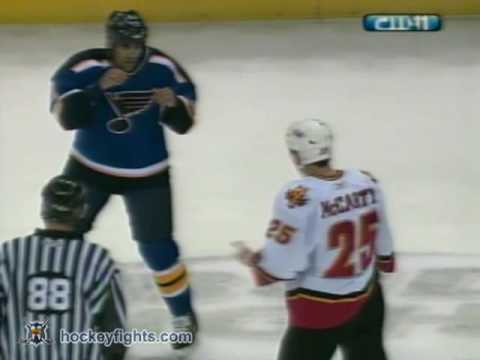 11/04/06
1 Pd 15:52
CAL
@STL
Jamal Mayers
Away from the play, the two drop the gloves and square off at center ice. After a lengthy staredown where McCarty gets frustrated and motions Mayers to get going already, the two finally grab ahold of each other as Mayers gets McCarty in a headlock. McCarty gets out of it and throws a quick left just before they grapple. McCarty gets free again and throws two lefts before Mayers falls to the ice. McCarty gets in two more while Mayers is down on the ice, forcing the linesmen to move in rather quickly.
Date/Time For Against Opponent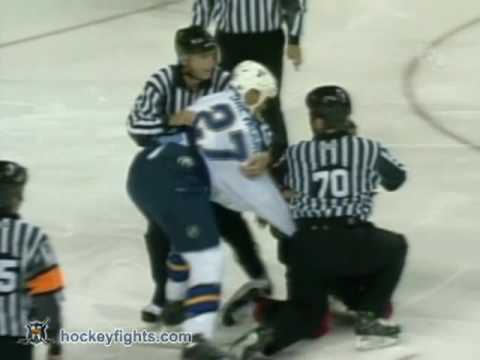 11/14/06
1 Pd 2:37
@CAL
STL
Bryce Salvador
McCarty nails Jamie Rivers along the boards while he plays the puck up ice causing Salvador to skate over and challenge McCarty. They drop the gloves and quickly tie up with Salvador throwing three rights to the back of McCarty's head shortly after. They then wrestle around for a while until both get loose and throw punches: McCarty with an inside right, Salvador with an overhand left. They fall to the ice and the linesmen come in to break things up.
Date/Time For Against Opponent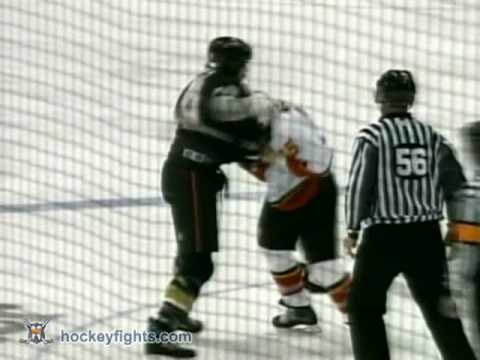 11/26/06
1 Pd 7:7
CAL
@ANA
George Parros
Date/Time For Against Opponent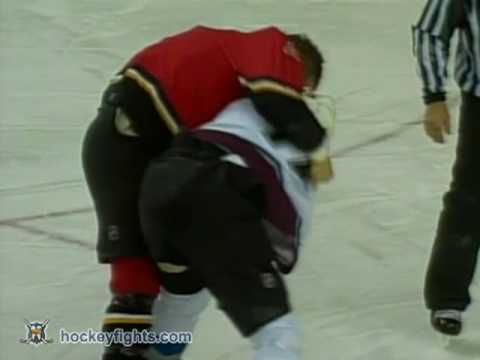 11/28/06
2 Pd 6:29
@CAL
COL
Ian Laperriere
McCarty is bumped off the puck in the corner and after the play moves away he spots Laperriere and the two drop the gloves. They tie up quickly and get into an awkward position. McCarty fans on a couple of short rights, and then switches hands, but never throws a left as they just can't straighten out. They eventually wrestle down to their knees, but get up before the linesmen can break it up. As they rise Lappy starts throwing rights, getting off a handful of them before they go down to their knees again and the linesmen come in.
Date/Time For Against Opponent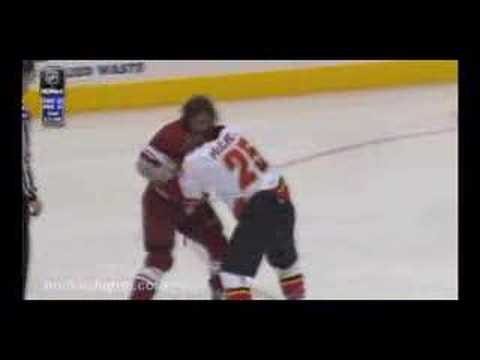 12/16/06
2 Pd 2:54
CAL
@ARI
Josh Gratton
Right off of a faceoff they drop the gloves and square off. McCarty's ready to go lefty, Gratton righty. They size each other up for a while. When they grab on they get in close and each one throws with the hand they were ready for. A quick toe-to-toe and then Gratton gets in a few uppercuts while McCarty tries to get into a better position. McCarty sneaks in a couple of rights as they start to grapple. McCarty quickly goes back to the left and gets in a few more before some wrestling and re-positioning. Gratton's able to get his right arm out from under his jersey. McCarty, trying to bury his head into Gratton's chest, takes off his own helmet and tosses it. Gratton tosses a couple of overhand rights to the back of McCarty's head as they skate into the boards. Gratton gets off a couple of more rights, looking like they have less on them than before and McCarty throws a tired left of his own in-between. McCarty then presses Gratton up against the boards and just as the linesmen as getting there McCarty taps Gratton on the head as if to say "good scrap" and they each skate away.