2003-2004 Regular Season Fight Card
NHL Fights: 6
Date/Time
For
Against
Opponent

10/18/03
1 Pd 18:20
DET
@PIT
Kelly Buchberger
Date/Time For Against Opponent 10/30/03
1 Pd 0:23
DET
@NSH
Jeremy Stevenson
Starts off the faceoff, when the camera gets their they are grappling for position. They both exchange three or four lefts with nothing landing. McCarty switches to the right and lands a right uppercut dropping Stevenson to his knee, but he is right back up. They exchange a few more punches, then Stevenson throws a right that McCarty ducks and Stevenson's momentum takes him to the ice with McCarty on top.
Date/Time For Against Opponent

10/30/03
3 Pd 19:28
DET
@NSH
Jamie Allison
The game spirals further out of control as these two drop the gloves and square off. McCarty opens with a jab right. They come together and briefly go toe-to-toe, McCarty with lefts, Allison with rights. After a brief tie-up, they resume toe-to-toe action. McCarty starts with the right and switches to the left while Allison throws all lefts. They then tie up to end this highly entertaining bout.
Date/Time For Against Opponent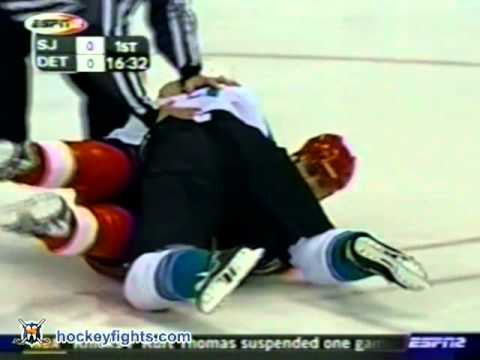 02/11/04
1 Pd 3:28
@DET
SJS
Rob Davison
When the cameras get to the scrap and they're both holding on and trying to get position. McCarty throws a couple of lefts that don't land, Davison throws one that misses. They grapple some more, with a punch or two that doesn't reach and then Davison body slams McCarty.
Date/Time For Against Opponent 02/24/04
1 Pd 19:9
DET
@VAN
Bryan Allen
McCarty gives Allen a hook and issues the challenge, and Allen responds by dropping the gloves and grabbing on. McCarty opens with a quick, pretty hard left and after that Allen ducks his head. McCarty snuck a couple weak shots after that in with a few weak uppercuts to the ducking Allen.
Date/Time For Against Opponent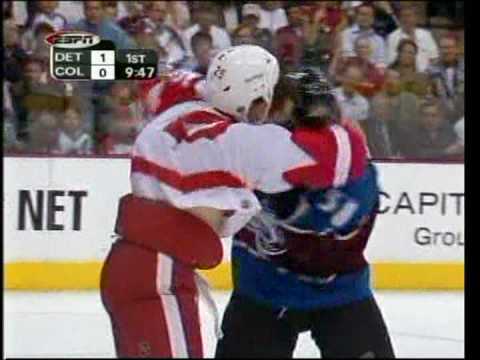 03/25/04
1 Pd 10:13
DET
@COL
Matthew Barnaby
They both drop em and start swinging. Toe to toe at the start and McCarty landed a wicked punch. It stunned Barnaby, they started to grapple, McCarty got a few more in, Barnaby tried to answer, and the linesmen stepped in. Barnaby was covered in blood.