2002-2003 Regular Season Fight Card
From:
Boston, MA United States
NHL Fights: 4
Date/Time
For
Against
Opponent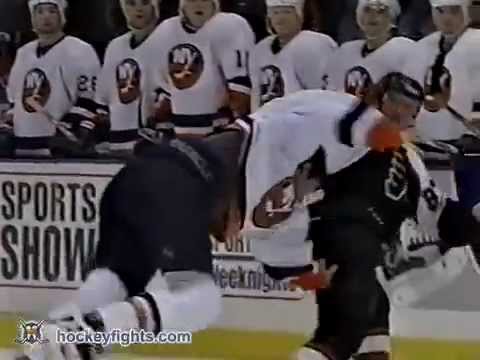 10/26/02
3 Pd 14:2
PHI
@NYI
Roman Hamrlik
Date/Time For Against Opponent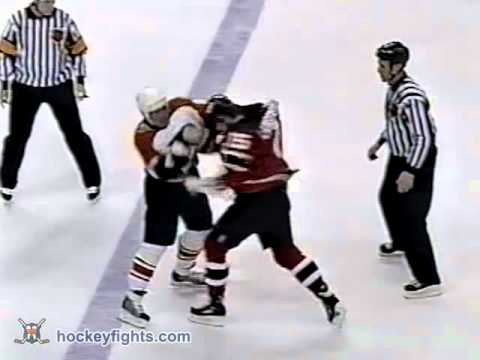 12/02/02
3 Pd 4:1
@PHI
NJD
Jamie Langenbrunner
Roenick goes after Tverdosky and creams him after a Recchi dive. Langenbrunner comes over after Roenick. Long nothing-fight, with Roenick landing two or three rights. Other Penalties: Langenrunner receives an instigator and misconduct.
Date/Time For Against Opponent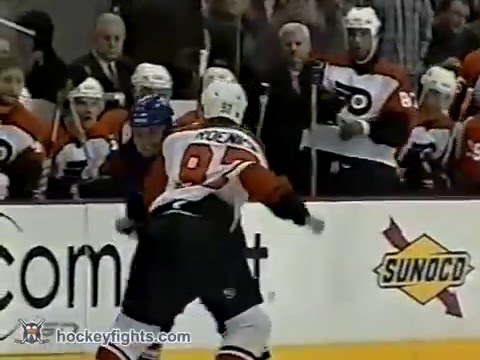 12/12/02
1 Pd 9:52
@PHI
TOR
Darcy Tucker
Roenick goes to Tucker as he is going off the ice and gives him a shot. Darcy stops and gets in Roenick's face and throws down. Roenick agrees and they grab on. Both are holding on, then Roenick and Darcy both throw one punch at the same time and Darcy hits him on the chin. Off balance to begin with, the punch sends Roenick down.
Date/Time For Against Opponent
Roenick drills Bell in the corner. Bell takes exception and wants to go. Roenick doesn't really want to go but doesn't back down. Bell drops the gloves and then shrugs to Roenick and gives the "are you gonna drop em" look. Roenick drops em and it's a pretty entertaining fight. Not much landing but a wild exchange. Bell rips Roenick's helmet off and it appears to cut Roenick. Roenick may of landed a wild one and Bell lands two good rights. One an uppercut and one a straight right. Roenick grabs onto Bell's leg and tries to take him down. Bell and Roenick are both smiling afterwards.