2005-2006 Regular Season Fight Card
From:
Bolton, CT United States
AHL Fights: 1
Date/Time
For
Against
Opponent 10/21/05
2 Pd 1:32
HAM
@TOR
Ben Ondrus
NHL Fights: 3
Date/Time For Against Opponent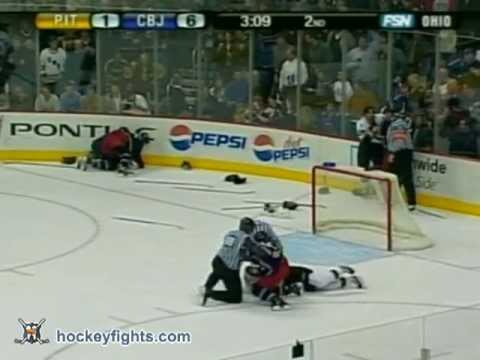 01/11/06
2 Pd 16:51
@CBJ
PIT
Colby Armstrong
Armstrong takes a run at Hainsey as Hainesy gives him an elbow in return before they drop the gloves. They wrestle along the boards until Hainsey gets free and throws three rights to the top of Armstrong's head. They come off the boards and wrestle some more as Armstrong briefly goes down to his knees and gets back up. Hainsey lands three more rights while Armstrong is bent over before Hainsey just pushes Armstrong to the ice and the linesmen come in. Other Penalties: Armstrong received an elbowing; Hainsey a roughing.
Date/Time For Against Opponent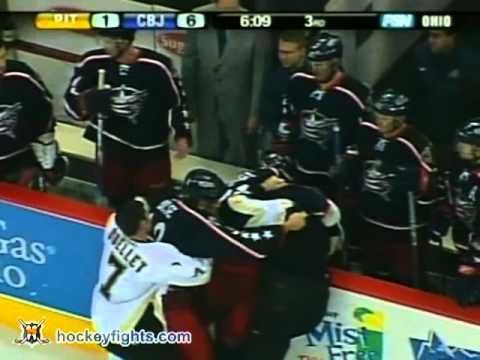 01/11/06
3 Pd 13:51
@CBJ
PIT
Lyle Odelein
As a scrum develops in front of the benches, Odelein grabs Hainsey and spins him to the ice. Hainsey gets back to his feet as Odelein throws three rights before Hainsey even has his gloves off. They wrestle around as Hainsey gets Odelein's jersey up and over his head. The linesmen intervene shortly after. Other Penalties: Odelein received an instigator and misconduct; Nikolai Zherdev an elbowing and holding; Sidney Crosby a holding.
Date/Time For Against Opponent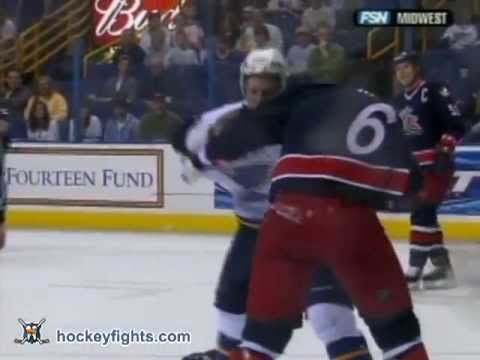 03/31/06
1 Pd 15:35
CBJ
@STL
Mike Glumac
Glumac knocks Hainsey down in front of the Columbus net. Hainsey gets up and gives Glumac a shot in retaliation. The two shove some more before dropping the gloves. They wrestle around in tight before Glumac throws an uppercut that misses the target. Glumac then tears Hainsey's helmet off while Hainsey attempts a locked-out right. The two grapple some more with Glumac attempting two locked-out overhand rights before the linesmen step in.