2006-2007 Regular Season Fight Card
From:
Brampton, ON Canada
AHL Fights: 2
Date/Time
For
Against
Opponent
Date/Time For Against Opponent 11/15/06
1 Pd 1:19
TOR
@MCR
Eric Werner
Other Penalties: Jay Harrison received a double roughing; Doug Nolan a roughing.
NHL Fights: 2
Date/Time For Against Opponent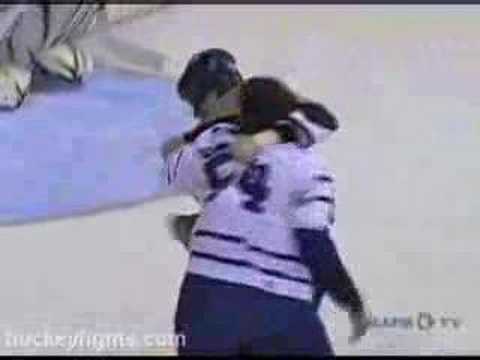 02/08/07
1 Pd 11:10
TOR
@NSH
Sheldon Brookbank
Newbury and Brookbank get tangled up along the boards for a moment, but quickly separate. Newbury chases after Brookbank, jabbing him with his stick. Brookbank turns around and the two quickly drop the gloves. They exchange right hands to start the fight and follow that up by going back and forth with rights until Brookbank is able to get Newbury bent over and tied up. Newbury's helmet comes off and he is able to stand back up. Brookbank then throws two overhand rights and an uppercut. Newbury answers with a right and they go back and forth with right hands once again for a short moment. Newbury gets Brookbank's jersey over his eyes and then gets him turned around, throwing three rights to the back of Brookbank's head. Brookbank comes back with a right of his own, but Newbury promptly flips him down to the ice. The linesmen jump in to break things up and Newbury gives Brookbank a good fight pat as they skate away.
Date/Time For Against Opponent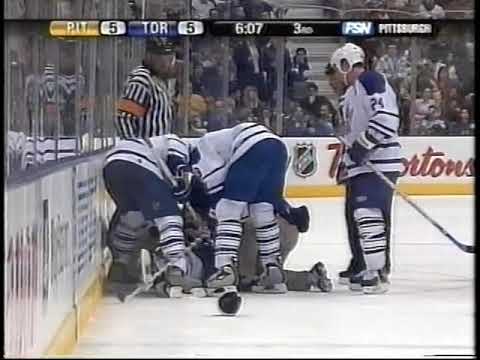 02/10/07
3 Pd 13:53
@TOR
PIT
Ron Petrovicky
Right off of the faceoff the two drop the gloves and grab ahold of each other at center ice. Petrovicky throws four quick rights while Newbury tries to duck away from the punches and get set up. Petrovicky throws a jersey-jab and then switches hands, exchanging simultaneous rights with Newbury. Petrovicky then connects with two straight right hands that put Newbury to sleep and send him to the ice. Newbury's head hits the ice hard and knocks him unconscious for a moment. The linesmen immediately jump in to get Petrovicky off of Newbury and wave for help. Doctors and team physicans rush out onto the ice and after a while, Newbury is loaded up on a stretcher and taken to a local hospital.