2003-2004 Regular Season Fight Card
NHL Fights: 3
Date/Time
For
Against
Opponent 12/29/03
2 Pd 7:48
STL
@CBJ
David Ling
Date/Time For Against Opponent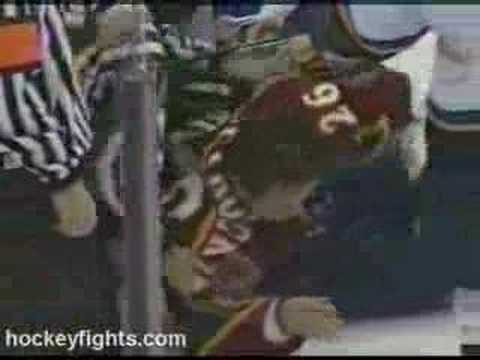 01/28/04
2 Pd 3:32
STL
@ATL
Ron Petrovicky
Drake crushes Serge Aubin with a big hit. Petrovicky goes after Drake, and they have a good slugfest. Both throwing, both landing some, but Petrovicky got the better of the shots. Petrovicky is cut along the bridge of the nose and Drake's left cheek and nose are busted open, he left for stitches.
Date/Time For Against Opponent
Voted winner: Adam Mair (95.5%) - Voted rating: 6.9
Drake takes out Zhitnik with a blind sided hit. Alexei went to the locker room and hasn't returned. Drake also scored the only goal of the game at this point. They go right off a faceoff with Mair landing two or three good lefts. Drake is off-balance a bit, steadies himself and throws one good right. Mair comes back with three to four big lefts before the linesmen come in.