2005-2006 Regular Season Fight Card
From:
North Vancouver, BC Canada
NHL Fights: 8
Date/Time
For
Against
Opponent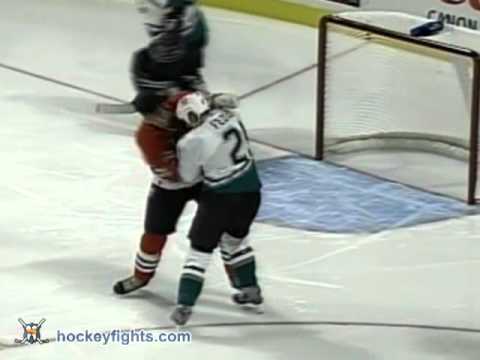 10/05/05
2 Pd 1:38
@CHI
ANA
Todd Fedoruk
Date/Time For Against Opponent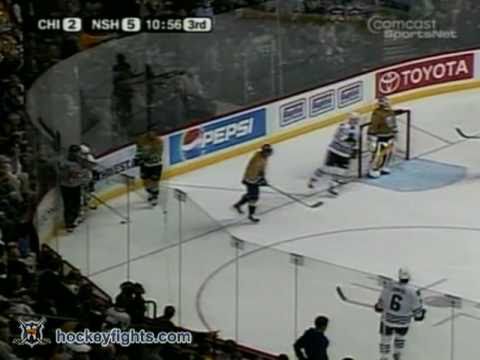 10/25/05
3 Pd 9:5
CHI
@NSH
Jeremy Stevenson
Stevenson throws a hit on Simpson after Simpson keeps the puck in the Preds' zone. They drop the gloves and grab on quickly. Simpson throws a right or two, neither doing much, and Stevenson tosses him to the ice, throwing a shot of his own while Simpson's on the ice. Stevenson falls onto Simpson and the linesmen jump in to break it up. A scrum starts in front of Vokoun, but no other majors come out of it. Other Penalties: Scott Nichol and Jaroslav Spacek each received a roughing a misconduct.
Date/Time For Against Opponent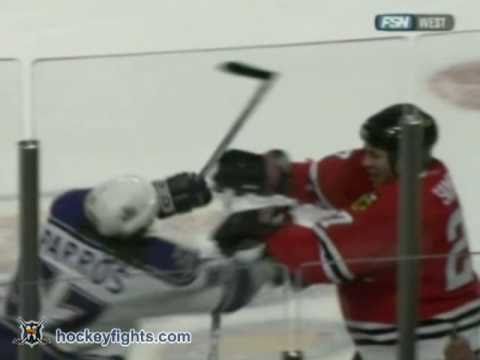 11/11/05
3 Pd 9:9
@CHI
LAK
George Parros
They start pushing and shoving after Parros hit Simpson into the boards and decide to drop the gloves. They grab on and Simson throws a jersey-jab. As Simpson throws another jab, Parros connects with a right to the side of Simpson's helmet that sends him to the ice. Parros throws another right when Simpson is down before the linesmen come in.
Date/Time For Against Opponent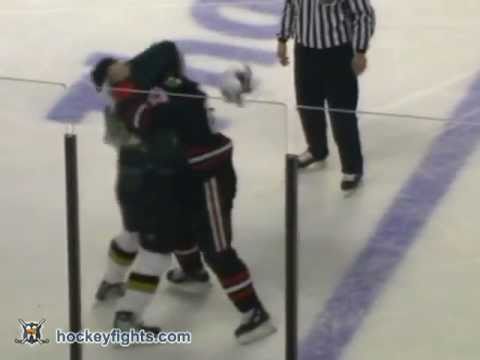 12/18/05
1 Pd 2:10
@CHI
DAL
Nathan Perrott
Behind the play these two drop the gloves and quickly grab on to each other. They're in tight and Perrott throws a few short lefts to Simpson's head. Perrott throws a right that goes over Simpson's head and then throws another that lands square to Simpson's head and sends him down with Perrott landing on top. Perrott gets in another quick right as the linesmen come in.
Date/Time For Against Opponent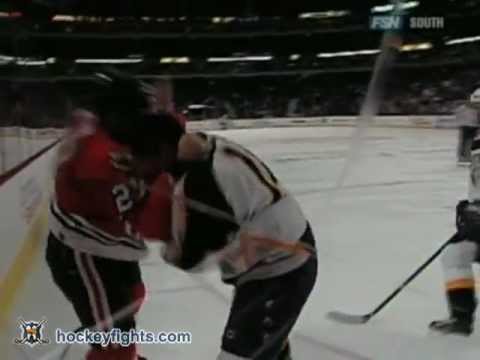 12/21/05
3 Pd 9:46
@CHI
NSH
Jordin Tootoo
Simpson knocks Tootoo's stick out of his hands as they are along the boards. Tootoo turns around to pick up his stick and Simpson drops his gloves and pushes Tootoo into the boards. Simpson throws two lefts, switches hands, and throws five rights as Tootoo just holds on. Darcy Hordichuk skates over and tries to get Simpson off of Tootoo as players from both sides gather. Tootoo skates back to the Nashville bench with a bloody nose. Other Penalties: Simpson received an instigator, misconduct and game misconduct.
Date/Time For Against Opponent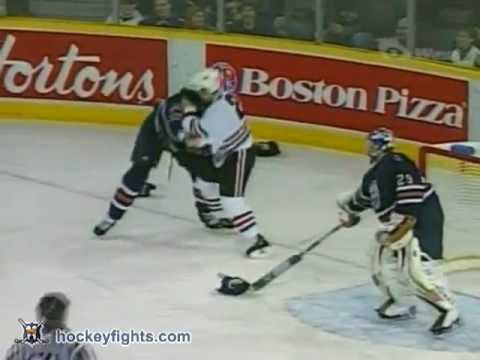 01/03/06
1 Pd 8:50
CHI
@EDM
Matt Greene
Greene knocks Simpson down to the ice with a hard hit along the boards. Simpson gets back up and gives Greene a shot before they drop the mitts. Simpson throws four lefts while Greene is bent over to begin the scrap. They wrestle around in tight as Greene lands a few rabbit punches to the face of Simpson before the two fall to the ice with Greene on top.
Date/Time For Against Opponent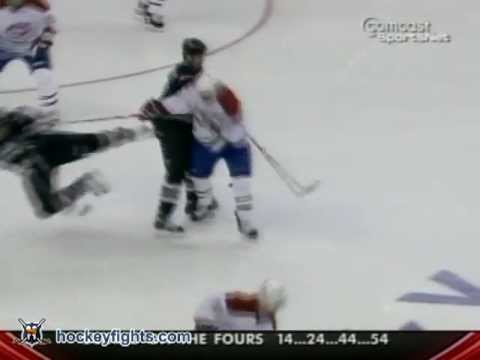 03/20/06
1 Pd 4:36
MON
@WAS
Ben Clymer
Date/Time For Against Opponent 04/13/06
1 Pd 10:13
MON
@BOS
Dan LaCouture
Behind the play the two drop the gloves and square off at the blueline, each player trying to grab ahold of one another. Simpson throws four lefts to the back of LaCouture's head while LaCouture tries to move away from the punches. LaCouture returns fire with a left and the two exchange a couple of quick lefts. Simpson connects with a right that knocks LaCouture's helmet off and lands two short uppercuts while LaCouture goes down to a knee. LaCouture returns to his feet, only to fall down once again just as Simpson throws a right. The linesmen then intervene and end the fight.