2002-2003 Regular Season Fight Card
From:
Boucherville, QC Canada
NHL Fights: 6
Date/Time
For
Against
Opponent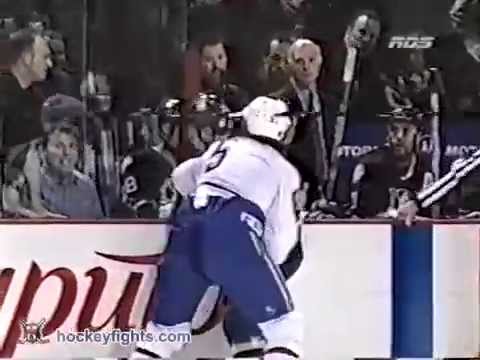 10/29/02
1 Pd 6:18
@MON
ANA
Kevin Sawyer
Date/Time For Against Opponent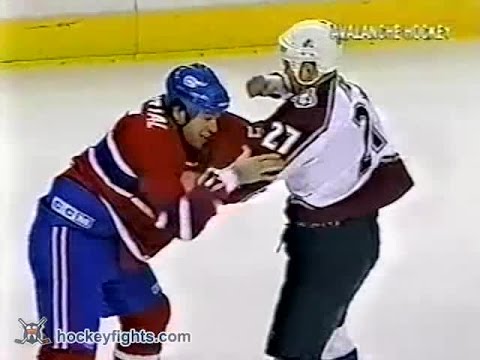 12/06/02
2 Pd 2:5
MON
@COL
Scott Parker
Parker goes to hit Quintal and gets his hands a little high. They bump again, and the gloves come off. Quintal doesn't waste time getting his off a few seconds before Parker. Quintal had a very nice grip on Parker's right for most of the fight. He held him at bay, but Parker did as well. Quintal threw more to begin with, then Parker ripped his helmet off, hit him with a few weak ones in the gut area, then switched to the left for a few. Right after he switched back to the right, he nailed Quintal with a pair (not back to back) of flush haymakers to the face. The second one causes Quintal to duck into Parker, and the refs come in, because both men are tired and Parker has Quintal in a semi-vulnerable spot.
Date/Time For Against Opponent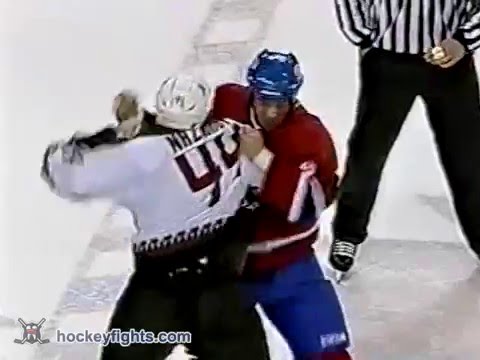 12/07/02
1 Pd 18:21
MON
@ARI
Andrei Nazarov
Right after Quintal scores, Naz skates towards Quintal and gently gives him a shoulder. The camera follows the play up the ice and then they start fighting. Naz starts by throwing the lefts that seemed to have a couple land and then SRC started to fade into a player on the Montreal bench and fade back into the fight. By then, Quintal throws a right uppercut that misses and a right cross that seems to hit and Naz falls back. After watching the replay, Naz started with the lefts which impeded Quintal's rights.
Date/Time For Against Opponent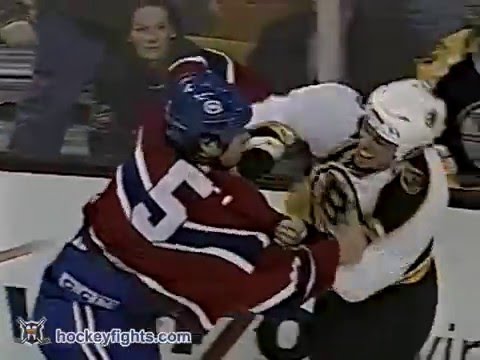 12/10/02
1 Pd 11:17
MON
@BOS
P.J. Stock
Voted winner: P.J. Stock (78.6%) - Voted rating: 8.1
After a couple of nice uppercuts by Quintal they slowed along the boards, that they were gonna end it, they both looked exhausted. It looked like the ref asked PJ if they were done. He shook his head and opened up with a big right then swiched to his left as Quintal was dropping big rights. They trade punch after punch, Stock with the left, Quintal with the right. Quintal switches up to his left and gets in a couple good shots then meets a hard right by Stock. Both players exhausted, Quintal sneaks in another uppercut and PJ tries throwing a couple more, but all the mustard's off of both players shots and its over.
Date/Time For Against Opponent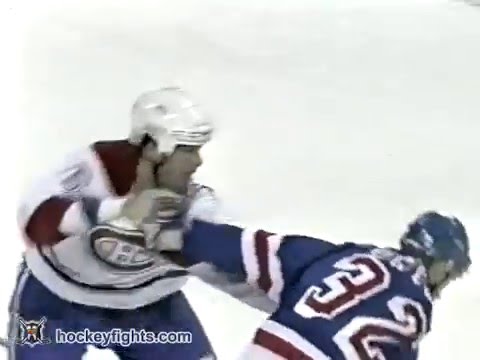 01/09/03
2 Pd 12:45
@MON
NYR
Gordie Dwyer
They rough it up along the boards and then after some glove wiggling and skating they drop them. Quintal gets the better grip and uses his reach to sort of lock out Dwyer and he quickly lands a nice right to the side of Gordie's face. Dwyer pulls in and they twist and turn a bit. Jerseys get stretched as they try to assert themselves. Both guys switch hands a couple of times, but it's hard to tell what is landing. Lasts around 25-30 seconds and it was fairly entertaining.
Date/Time For Against Opponent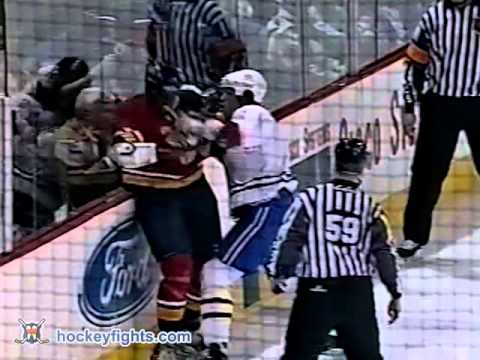 01/28/03
2 Pd 10:0
@MON
FLA
Peter Worrell
Worrell challenges a helmetless Randy McKay, who declines, and they each get roughing minors. On the first shift out of the box Peter takes a healthy run at Quintal and the gloves come off. Pretty even fight at the start as the two trade decent short jabs, but then the stronger Worrell knocks Quintal's helmet off and takes over with three or four solid, but not devestating rights.