2001-2002 Regular Season Fight Card
NHL Fights: 6
Date/Time
For
Against
Opponent 11/06/01
2 Pd 11:12
@STL
SJS
Scott Thornton
Date/Time For Against Opponent
Bryce Salvador and Brad May go at center ice with Salvador going after May. May drills Salvador with a big time right square on its target. Then they grab, wrestle a bit, trade a few more punches (that appeared clean). Salvador loses his balance and goes down on the ice with May on top. Salvador was cut pretty good by Mays right, the towel was full of blood while in the box. These two had a good fight last season.
Date/Time For Against Opponent 01/30/02
2 Pd 5:47
STL
@WAS
Chris Simon
Simon bumps the St Louis goalie, which looked inadvertant, and Salvador does the right thing by coming in to challenge Simon. The gloves kinda come off and both guys grab on. Salvador must be new to this because he still has his right glove on. Off it goes. Well, Bryce sneeks a short right in and it lands to Simon's face. Impressive. Simon wants to return a left, but it's tied up. As he switches to the right Salvador feeds him another right. Simon then pushes his fist up Salvador's face bending him sideways. There is some pulling and tugging then both guys get off balance and fall down. Although Simon's face never faced the camera he did wipe blood from his face on the way to the box. Other Penalties: Simon received a goaltender interference.
Date/Time For Against Opponent 01/30/02
3 Pd 13:4
STL
@WAS
Chris Simon
Simon clearly wants another go as he drills Salvador into the boards and drops the gloves immediately. Simon goes for the grab and fires a left which misses, but Salvador goes on the defensive and lowers his head. Simon lands a heavy left as Bryce straightens up which buckles his knees. That one hurt. Simon is mad. Salvador gets back up but his head is still down. He charges into Simon and tackles him. Both guys go down and this one is over.
Date/Time For Against Opponent 02/12/02
3 Pd 16:47
@STL
ATL
Jeff Odgers
Odgers goes after Salvador as he feels the need to avenge Pronger's dismantling of Slegr. The cameras missed most of the early part of the fight, but when they got there Odgers had Salvador's jersey over his head and was throwing his trademark right hand. Salvador was throwing straight rights too and they both quickly hit the ice rather violently. Other Penalties: Odgers received an instigator, misconduct, and game misconduct.
Date/Time For Against Opponent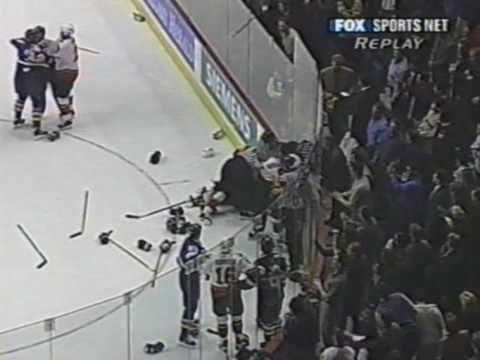 02/28/02
1 Pd 14:50
STL
@CAL
Clarke Wilm
Other Penalties: Both players received game misconducts.