2005-2006 Regular Season Fight Card
From:
Baudette, MN United States
NHL Fights: 7
Date/Time
For
Against
Opponent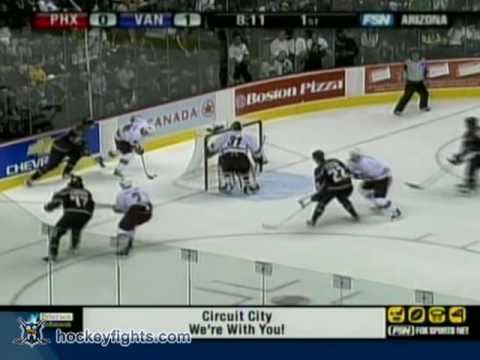 10/20/05
1 Pd 11:55
ARI
@VAN
Anson Carter
Date/Time For Against Opponent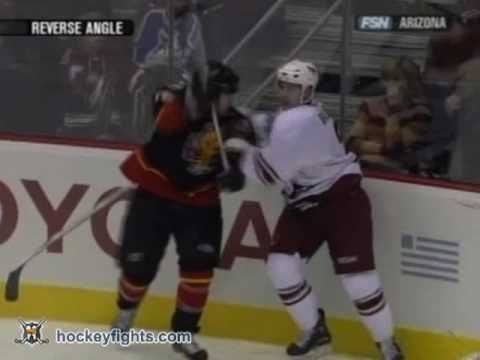 11/10/05
3 Pd 16:49
@ARI
CAL
Jarome Iginla
They start pushing and shoving along the boards and drop the gloves. Both fighters are wearing visors, but don't remove their helmets. They grab on and Ballard throws a short right, switches hands, and then throws two short lefts before Iginla wrestles him down to the ice. Ballard gets back up as Iginla misses with a right. Iginla rips Ballard's helmet off as Ballard is throwing rights. Iginla connects with an overhand right as Ballard attempts a body shot, but gets tied up. Iginla gets his left hand loose and starts raining down punches on Ballard while he is bent over. They tie up and Iginla throws a body shot. Iginla then throws a left that misses and knocks both players off-balance and to the ice. Iginla throws another left as they are falling.
Date/Time For Against Opponent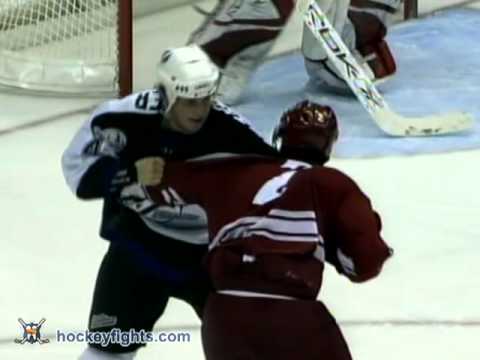 12/15/05
3 Pd 8:2
@ARI
TBL
Vincent Lecavalier
They start pushing and shoving as they skate towards the net. Lecavalier gives Ballard a slash from behind. Ballard gives Lecavalier a shot behind the play and the two drop the gloves. They tie up as Ballard throws a couple of locked-out rights followed by 4-5 jersey-jabs while Lecavalier struggles to get loose. Lecavalier then throws four short rights as Ballard just holds on. Lecavalier tries to rip off Ballard's helmet as the linesmen move in.
Date/Time For Against Opponent 12/29/05
1 Pd 1:44
@ARI
LAK
Sean Avery
Date/Time For Against Opponent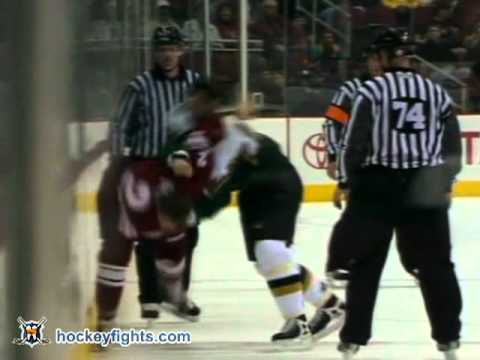 03/02/06
1 Pd 13:23
@ARI
DAL
Bill Guerin
Behind the play the sticks and gloves literally come flying down ice as the two shed their helmets and square off, skating down ice themselves. Guerin grabs ahold of Ballard along the boards and throws two rights and then the two grapple along the glass. Ballard tries a couple of locked-out rights as Guerin connects with two overhand rights to the back of Ballard's head before they fall to the ice.
Date/Time For Against Opponent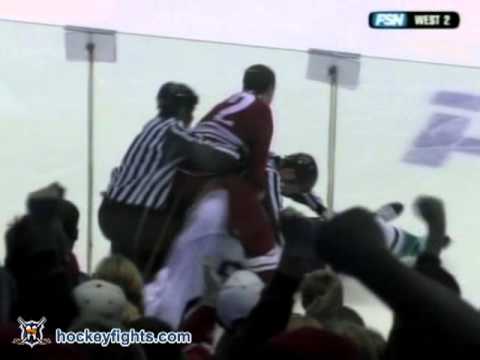 03/11/06
3 Pd 4:42
@ARI
ANA
Corey Perry
Derek Morris challenges Perry along the boards and players quickly step in and separate the two. Away from the action, Ballard and Perry talk a little bit before dropping the gloves, shedding the helmets, and squaring off. Perry grabs on as both players miss with overhand rights. Ballard switches hands and throws three lefts that come up short as Perry is able to turn his head away from the punches. Perry comes back with a right before he loses his balance and goes down to a knee. Perry slips again and Ballard throws two lefts that knock Perry back down to the ice. Perry gets back up as Ballard lands two rights and then Perry misses over the top with a right hook while the two spin around. Ballard grabs Perry by his jersey and throws him to the ice and the linesmen quickly rush in. Other Penalties: Derek Morris and Todd Fedoruk each received an unsportsmanlike conduct.
Date/Time For Against Opponent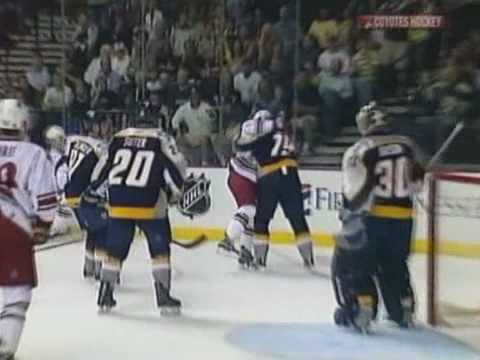 04/15/06
2 Pd 5:18
ARI
@NSH
Brendan Witt
Ballard breaks into the Preds' zone, squeezing between Witt and Ryan Suter. Witt gives Ballard a two-hander and then then shoves him into the boards. Ballard crashes pretty hard, gets up and goes right for Witt. They quickly drop the gloves and grab ahold of each other. Witt gets in a left, and Ballard ducks to avoid more. Witt's able to land a couple of more lefts as Ballard loses his balance and pulls Witt to the ice. Other Penalties: Witt received a slashing and a cross checking.