2005-2006 Regular Season Fight Card
From:
Downey, CA United States
AHL Fights: 1
Date/Time
For
Against
Opponent 10/29/05
3 Pd 8:25
@HFD
BRI
Kevin Colley
NHL Fights: 6
Date/Time
For
Against
Opponent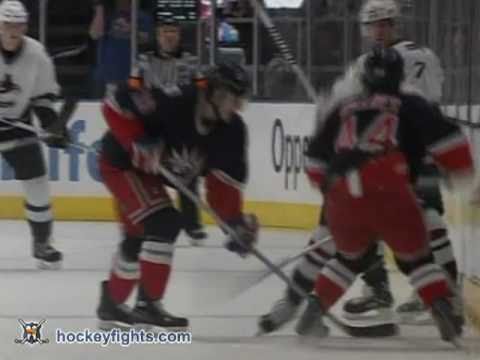 12/13/05
2 Pd 16:21
@NYR
VAN
Todd Bertuzzi
Date/Time For Against Opponent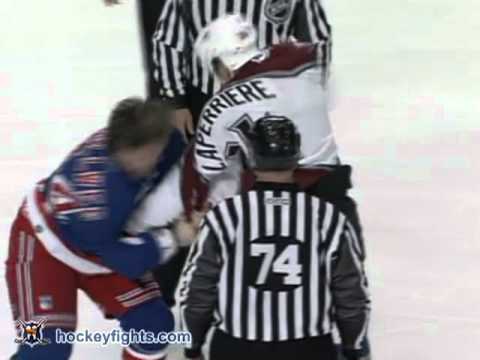 12/18/05
1 Pd 0:37
@NYR
COL
Ian Laperriere
They drop the gloves at the blueline and tie up. Laperriere rips Hollweg's helmet off and throws five straight unanswered rights. He grabs Hollweg's hair for a moment but quickly lets go before they grapple for a bit. Hollweg throws a left before Laperriere gets loose and misses with a big right. Hollweg misses with a left as Laperriere throws two rights to the back of Hollweg's head. Laperriere throws an overhand right before the two tie each other up and struggle to get loose. Laperriere attempts a right that is blocked by Hollweg before Laperriere gets loose and throws a few more rights. They then hold on until the linesmen come in.
Date/Time For Against Opponent
Eager gives Hollweg a couple of shots with his stick as they skate up ice before Hollweg turns around and they drop the gloves. Hollweg throws an early left as Eager connects with a left of his own. Both players struggle to get an arm free before Eagers throws four short, quick rights, two of them landing. Hollweg throws another left before they start wrestling around in tight. Hollweg lands an overhand right to Eager's helmet and then rips it off Eager's head. Hollweg gets Eager bent over and throws four lefts that cause Eager to fall to the ice. Hollweg skates away with a cut next to his right eye.
Date/Time For Against Opponent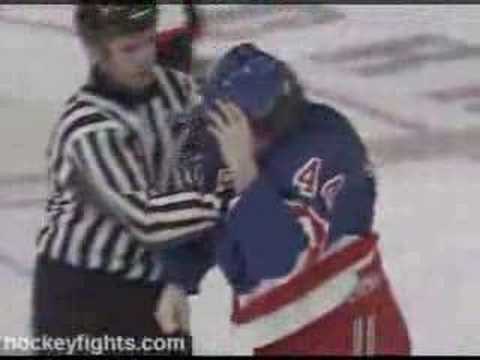 01/22/06
2 Pd 6:42
@NYR
NJD
Cam Janssen
They drop the gloves at center ice and square off. Hollweg throws a quick right before they grab on. Janssen then throws nine unanswered rights: six of them landing flush to Hollweg's face; three of them hitting the side of Hollweg's helmet. Hollweg loses his balance and falls to the ice as Janssen throws two more rights while Hollweg is falling. Janssen is given an ice pack for his knuckles in the penalty box.
Date/Time For Against Opponent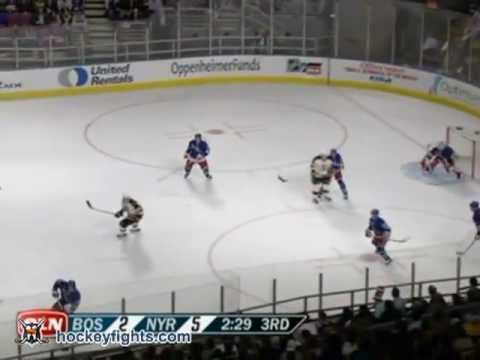 03/20/06
3 Pd 17:37
@NYR
BOS
Dan LaCouture
Date/Time For Against Opponent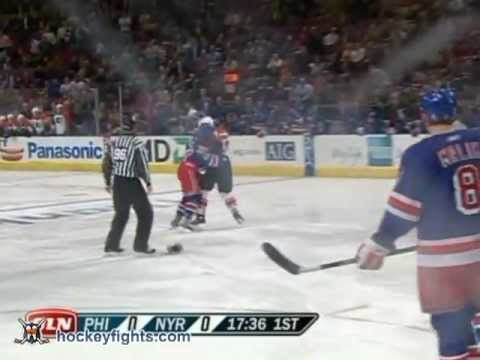 04/04/06
1 Pd 2:24
@NYR
PHI
Mike Richards
Behind the play the two drop the gloves and square off. They grab ahold of each other with Richards throwing two rights and two body shots before trying to take Hollweg's helmet off. Richards then lands two uppercuts and two rights crosses while Hollweg struggles to get loose. Hollweg returns fire with a left and the two go toe-to-toe with punches: Hollweg with lefts, Richards with rights. Richards goes down to his knees but quickly gets back up. The two then throw a couple of wild overhand rights before they fall to the ice.