2003-2004 Regular Season Fight Card
From:
Stirling, ON Canada
AHL Fights: 1
Date/Time
For
Against
Opponent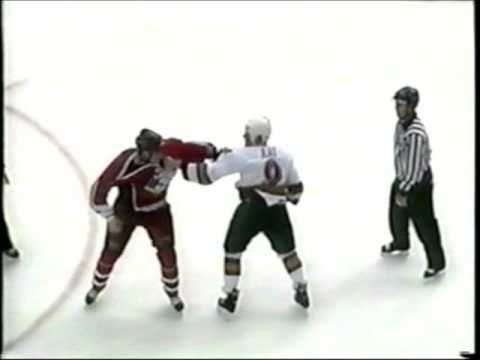 02/18/04
1 Pd 12:35
BIN
@SYR
Brandon Sugden
NHL Fights: 2
Date/Time
For
Against
Opponent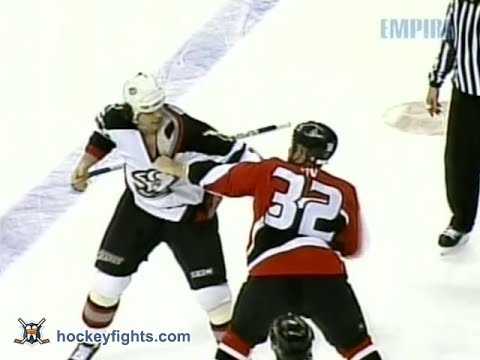 02/28/04
3 Pd 18:41
@OTT
BUF
Andrew Peters
Voted winner: Rob Ray (67.4%) - Voted rating: 6.8
Date/Time For Against Opponent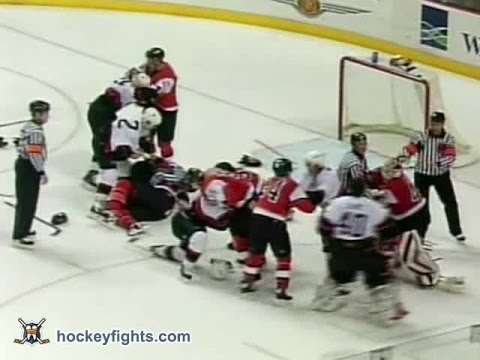 03/05/04
3 Pd 18:15
OTT
@PHI
Donald Brashear
Starts in front of the Philly net. Brash starts off with four lefts in close. The first three hit the back of Ray's helmet, but the fourth one connects flush to Ray's face. Ray tries two rights after Brash's left, but the first has little effect on Brash and the second comes up short. They start to grapple and Brash goes with a left uppercut, then a left hook. The uppercut looks like it came up short, but the hook grazed Ray's forehead. They grapple some more and Ray slips to a knee and Brashear tries two overhand rights that land. After Ray gets back up he tries a couple of rights that come up short. Brash then tries a right that comes up short, they tire and the linesmen come in. Other Penalties: Brashear received an instigator, roughing and misconduct.