1998-1999 Regular Season Fight Card
NHL Fights: 5
Date/Time
For
Against
Opponent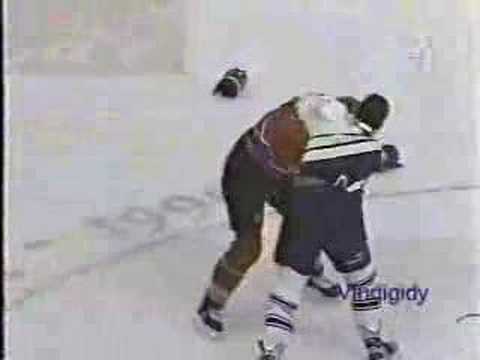 11/04/98
2 Pd 13:58
@TOR
COL
Rene Corbet
Date/Time For Against Opponent 12/02/98
1 Pd 15:31
@TOR
LAK
Ian Laperriere
Date/Time For Against Opponent 12/12/98
2 Pd 5:8
@TOR
PHI
Colin Forbes
Date/Time For Against Opponent 01/30/99
2 Pd 12:46
@TOR
WAS
Craig Berube
Other Penalties: Dale Hunter, Mike Eagles and Steve Sullivan each received a roughing; Berube an instigator and misconduct.
Date/Time For Against Opponent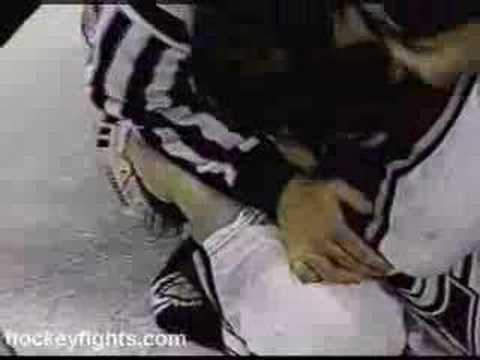 04/03/99
3 Pd 13:37
EDM
@COL
Adam Deadmarsh
Smith and Deadmarsh are locked and as Smith's gloves slowly roll off of Deadmarsh's back, they grab each other in close and are ready to go. Deadmarsh sneaks in a real nice left, connecting to Smith's right cheek, stunning Smith. Deadmarsh throws another left, but misses. Smith figures he better start throwin' 'em so he throws a half-hearted right that misses and at the same time, Deadmarsh is still throwin lefts. At this time, Smith lands a beauty of a right that appears to stun Deadmarsh which at this point, Deadmarsh loses his balance and Smith falls on top of Deadmarsh. Other Penalties: Roman Hamrlik and Deadmarsh received cross checkings.