2001-2002 Regular Season Fight Card
From:
Kimberly, BC Canada
NHL Fights: 13
Date/Time
For
Against
Opponent 10/04/01
1 Pd 16:33
FLA
@PHI
Keith Primeau
Date/Time
For
Against
Opponent 10/13/01
3 Pd 16:57
@FLA
PHI
Eric Weinrich
Date/Time For Against Opponent
Date/Time For Against Opponent 12/12/01
3 Pd 18:31
FLA
@CAR
Chris Dingman
Date/Time For Against Opponent 12/17/01
3 Pd 17:5
FLA
@NYR
Matthew Barnaby
Barnaby's first fight as a Ranger. Shortly after a faceoff, the two get together outside of the Rangers zone. Gloves drop and there's the squareoff (with Barnaby's awkwardly tilted skates). They grab and are trying to grapple for position while throwing some "armpit punches." Wiemer throws 2 short rights that connect and then a left that misses. Wiemer then gets Barnaby's helmet off with his left hand (a grab); as he's doing that Barnaby attempts a right that gets blocked by Wiemer's shoulder. Wiemer then rockets down two rights that land solidly to the side of Barnaby's head as he's hunched over. A third gets Barnaby's back, and a fourth misses. Barnaby is starting to yap and Wiemer throws two more rights that Barnaby seems to dodge. Barnaby finally counters with a left that lands ok, kinda slap style. He then throws another left putting all his weight into it and Wiemer falls with Barnaby on top of him.
Date/Time For Against Opponent 12/28/01
3 Pd 15:0
@FLA
BOS
Jarno Kultanen
Wiemer sort of pushes Kultanan into Dafoe. JK does the right thing by challenging him. Wiemer get of a quick shot and JK goes into Naz mode by tucking his head into Wiemers chest for protection. Wiemer lands a few shots. JK ends up with a cut on his head. Other Penalties: Kultanen received an instigator and misconduct.
Date/Time For Against Opponent
With the Leafs down 3-1, and after Weimer's elbow on Tucker earlier, Domi drops the gloves with Weimer. Domi got the left hand pumping away, as he threw about 5 to start off with. All of them landed pretty good, one hit Weimer right on the nose. Weimer was bloodied, but kept going. Jason tried to come back with rights, as he and Domi trade shots after Domi's first flurry of lefts. Weimer with about 4, Domi around the same. They stop throwing and start hugging when the linesmen step in to break this one up.
Date/Time For Against Opponent 01/05/02
3 Pd 14:12
FLA
@SJS
Matt Bradley
After Bradley just scored a goal, Weimer challanges him. Bradley didn't seem very interested as Weimer threw like 4 shots to Bradleys one or two. Bradley had the Gordie Howe hat trick.
Date/Time For Against Opponent 01/19/02
2 Pd 17:25
@FLA
ATL
Jeff Odgers
Odgers lands about three quick ones in front of his crease. Wiemer comes back with a few good ones of his own. Other Penalties: Odgers received a roughing.
Date/Time For Against Opponent 03/15/02
2 Pd 12:23
@FLA
BUF
Taylor Pyatt
It started in the Panther zone, along the boards. They both dropped em, no square-off, with Wiemer lunging in right away. Then they both exchange a few punches with nothing landing. Wiemer then takes control, basically picking punches. After throwing 3 quick shots to the neck/chin area, Weimer throws 2 solid shots, landing on one. They grappled and attempted to keep going, but as they came along the boards the refs came in. Other Penalties: Wiemer received a high-sticking.
Date/Time For Against Opponent 03/15/02
3 Pd 11:13
@FLA
BUF
Eric Boulton
Boulton looks to repay Weimer for his job done on Pyatt. Boulton lands good some punches. Nilson takes a slash at Boulton during the fight. Other Penalties: Boulton received an instigator and misconduct; Marcus Nilson a match penalty for attempting to injure.
Date/Time For Against Opponent 03/17/02
3 Pd 19:47
FLA
@OTT
Shane Hnidy
After the Panthers don't score on 5 minute PP (courtesy Neil) they feel it's payback time. Wiemer goes after Hnidy with 13 seconds left and they go at it. This is a pretty good fight for Wiemer who seems to handle Hnidy and connects with several punches.
Date/Time For Against Opponent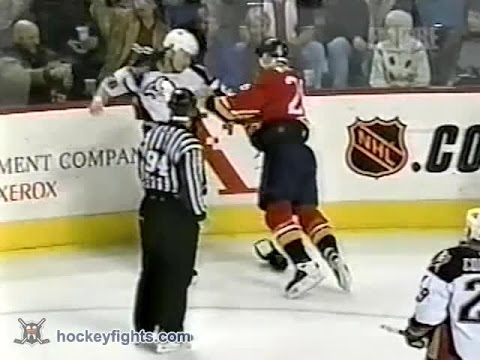 04/05/02
2 Pd 6:32
FLA
@BUF
Eric Boulton
They take one look at each other and off come the gloves. Boulton slips to a knee, but gets right back up. Both then throw a simultaneous right and Boulton absolutely smashes him! It's a 1-punch knockdown folks.