2005-2006 Regular Season Fight Card
NHL Fights: 5
Date/Time
For
Against
Opponent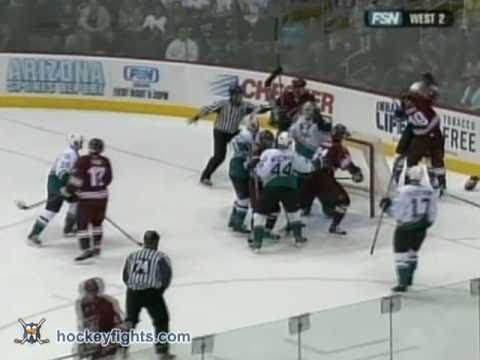 11/22/05
3 Pd 20:0
@ARI
ANA
Vitaly Vishnevski
Voted winner: Shane Doan (86.7%) - Voted rating: 3
Date/Time For Against Opponent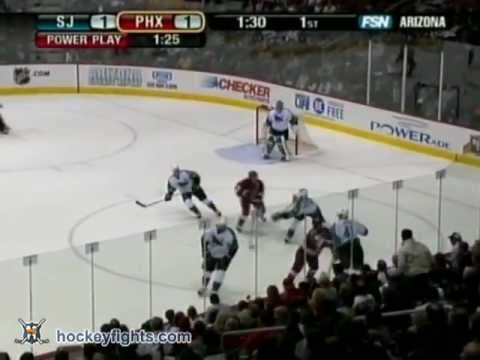 12/22/05
1 Pd 18:41
@ARI
SJS
Douglas Murray
Murray throws a bit hit on Doan. Doan gets back up and goes after him, dropping his gloves on the way. Murray gets ready for him by dropping his gloves and shedding the helmet. Murray grabs onto Doan and takes him down almost immediately. Doan tries to throw a punch from the ground, but Murray has him tied up well and the linesmen are already coming in.
Date/Time For Against Opponent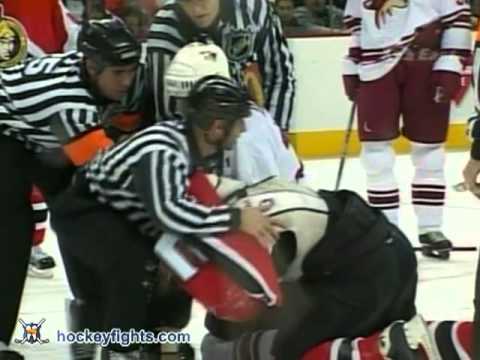 01/10/06
3 Pd 11:23
ARI
@OTT
Anton Volchenkov
Voted winner: Shane Doan (87.2%) - Voted rating: 3.1
Volchenkov takes a run at Ladislav Nagy and misses. Doan immediately goes after Volchenkov and drops his gloves. Doan throws about four uppercuts before Volchenkov even has his right glove off. Doan throws a couple of more before they spin to the ice and the linesmen dive on top. Other Penalties: Doan received an instigator and misconduct.
Date/Time For Against Opponent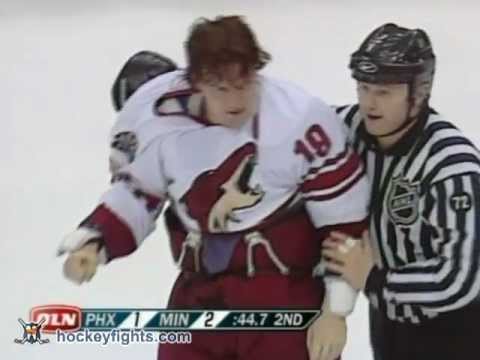 01/24/06
2 Pd 19:15
ARI
@MIN
Willie Mitchell
Doan checks Andrei Zyuzin hard into the boards as Zyuzin's face bounces off the glass. Zyuzin falls on the ice in pain, blood dripping from his forehead as the trainers rush out onto the playing surface. Meanwhile, Mitchell goes straight after Doan and they drop the mitts. They grab on as Mitchell throws two lefts to the side of Doan's helmet. They tie up and Doan misses with a right before Mitchell connects with a left hook. Mitchell loses his balance for a moment and returns to his feet as the two wrestle around. Mitchell throws two lefts as Doan is bent over before the linesmen intervene. Other Penalties: Mitchell received an instigator and misconduct.
Date/Time For Against Opponent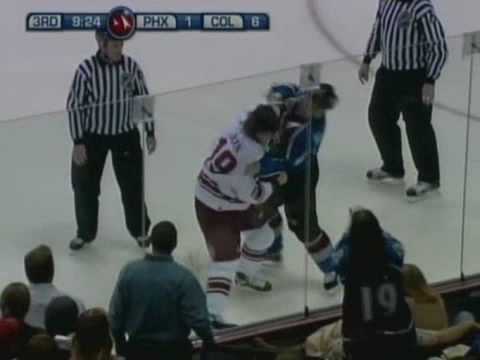 04/11/06
3 Pd 10:37
ARI
@COL
Ian Laperriere
Voted winner: Shane Doan (26.3%) - Voted rating: 5.3
Doan crushes Alex Tanguay with an open-ice hit near the side boards earlier. Later, Laperriere skates over and challenges Doan. They drop the gloves and immediately tie up, each fighter struggling to get an arm free. Laperriere takes Doan's helmet off just before Doan gets an arm free and throws three rights and an uppercut while the two skate into the glass. Doan throws a right cross and Laperriere is able to pull his arm out of Doan's grasp, proceeding to connect with four rights to the back of Doan's head. Laperriere throws another right to the back of Doan's head with Laperriere's elbow pad hitting Doan. They grapple some more and Doan throws a short right, an uppercut, and a left before he throws Laperriere down to the ice.