2002-2003 Regular Season Fight Card
NHL Fights: 3
Date/Time
For
Against
Opponent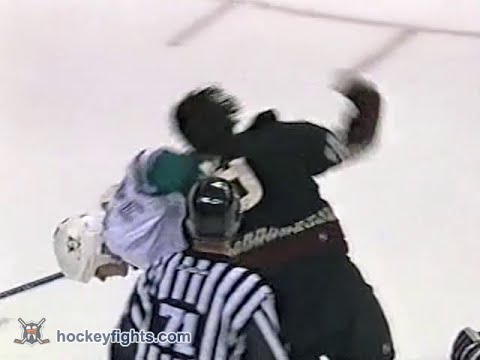 12/22/02
3 Pd 19:13
ARI
@ANA
Kurt Sauer
Date/Time For Against Opponent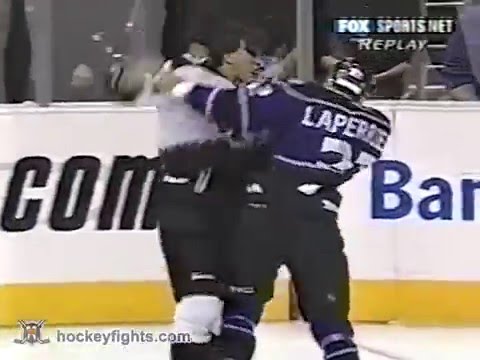 12/26/02
1 Pd 3:50
ARI
@LAK
Ian Laperriere
A few minutes after the Simpson-Brennan fight, these two hook up. Lappy goes for a big hit on Doan behind the LA net. Instead, Doan lowers his shoulder and drills Lappy. Lappy gets back up and goes after Doan. Doan shoves him back and the gloves come off. All grappling at first then Lappy tries a right which comes short. Doan gets free and throws a big right (which may have connected, not sure) and an uppercut which lands. Doan then tries throwing a couple more rights but Lappy got a hold of the jersey and none came close to landing. They exchange a few short rights and Lappy pins Doan against the boards. Lappy throw about 5 lefts at Doan (a few landing, nothing significant though) and they both wrestle to the ice, with Lappy on top.
Date/Time For Against Opponent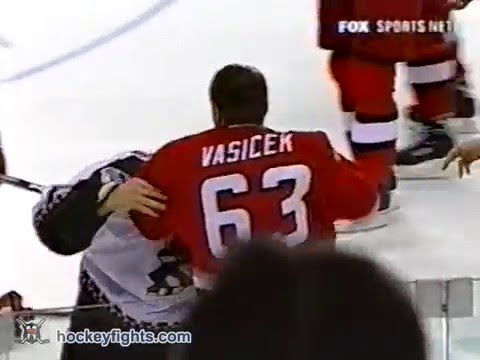 02/26/03
2 Pd 15:32
@ARI
CAR
Josef Vasicek
Both square off at center ice. They start off grappling and then trade rights. Vasicek then swings over Doan and gets bent over in a bad position. Doan throws two huge uppercuts knocking Vasicek back. Doan then slips and Vasi falls on top missing with a huge right. Vasicek has a bloody nose after.