2005-2006 Regular Season Fight Card
AHL Fights: 5
Date/Time
For
Against
Opponent 11/11/05
2 Pd 16:32
MTB
@ROC
Chris Thorburn
Date/Time
For
Against
Opponent 11/22/05
3 Pd 6:47
@MTB
GRG
Kent McDonell
Date/Time
For
Against
Opponent 11/29/05
1 Pd 16:52
@MTB
HAM
Jean-Francois Jacques
Date/Time
For
Against
Opponent 12/09/05
2 Pd 20:0
MTB
@WBS
Guillaume Lefebvre
Date/Time For Against Opponent 04/13/06
3 Pd 19:53
@MTB
CLE
Brad Staubitz
Other Penalties: Bieska received a game misconduct.
NHL Fights: 5
Date/Time For Against Opponent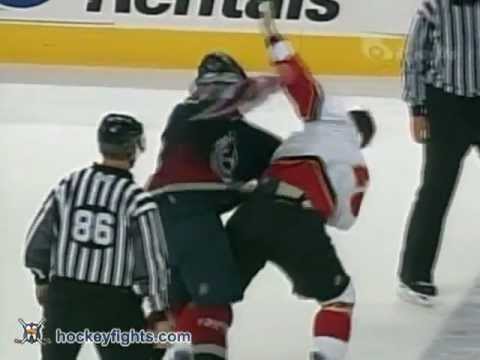 12/26/05
1 Pd 9:2
@VAN
CAL
Byron Ritchie
The two come together behind the play and drop the gloves at the blueline. They immediately start exchanging right hands, Bieska getting the better of the early exchange. Bieska throws another right as Ritchie misses with a wide one of his own, allowing Bieska to counter with another right. They go toe-to-toe for a short moment: Bieska with rights; Ritchie with lefts. Bieska throws another right before they grapple, both struggling to get a hand free. Bieska throws an elbow as Ritchie comes back with a right. Bieska throws another elbow before both miss with punches. Bieska then slams Ritchie to the ice as Ritchie's jersey comes up over his head.
Date/Time For Against Opponent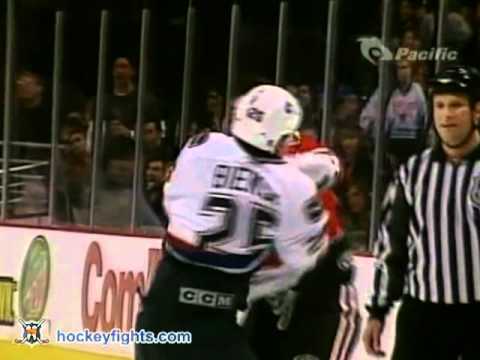 01/05/06
1 Pd 0:22
VAN
@CHI
Matthew Barnaby
They drop the gloves way behind the play and grab on as Barnaby throws a right before Bieska rips off Barnaby's helmet and throws a couple of rights of his own. Bieska gets free and throws a few overhand rights that Barnaby is able to duck away from. Bieska throws two short rights while they wrestle around, struggling to get free. Bieska misses with a big uppercut and then lands a right as Barnaby continues to just stand there. Bieska then throws Barnaby to the ice and the linesmen come in.
Date/Time For Against Opponent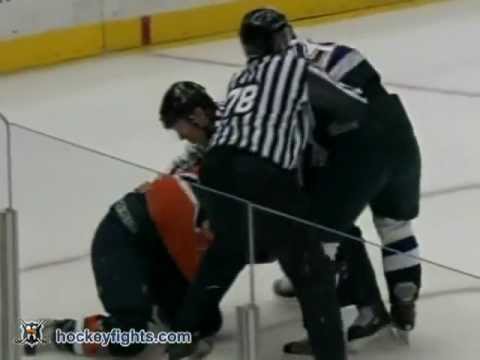 01/14/06
1 Pd 11:59
VAN
@NYI
Kevin Colley
Bieska gives Colley a cross check to the back as Colley plays the puck up ice. Bieska goes to play the puck up against the boards and is the victim of two consecutive checks from Eric Godard and Colley. Colley falls and drops the gloves with Bieska as soon as he returns to his feet. Colley throws a gloved right and two right crosses as Bieska throws four quick lefts with one or two landing. The two then go toe-to-toe with punches: Bieska with rights, Colley with lefts. Colley throws a left as he buries his head in Bieska's chest. Bieska throws a right and tries to get Colley's jersey over his head as Colley goes down to his knees. Bieska throws a couple of rights to the back of a kneeling Colley before the linesmen intervene.
Date/Time For Against Opponent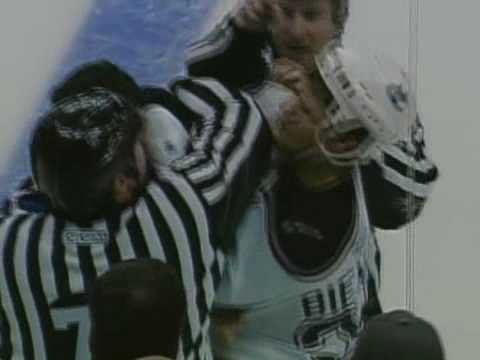 01/28/06
3 Pd 0:4
VAN
@COL
Dan Hinote
Right off of the faceoff, Hinote darts after Bieska, almost losing his balance. Hinote skates right up to Bieska at a faster than normal speed and Bieska tags him with a left. They spin around at arms-length as Bieska throws a jersey-jab while Hinote comes back with a long right that misses. The two then go back and forth with long rights that miss the target. Hinote throws two rights before the two go back and forth with rights once again. Bieska misses over the top with a right as both players continue to exchange wild rights that come up short for the most part. Bieska then connects with three quick rights and Hinote throws a right in response. They exchange right hands before they tie up and Bieska rips Hinote's helmet off just before the linesmen come in.
Date/Time For Against Opponent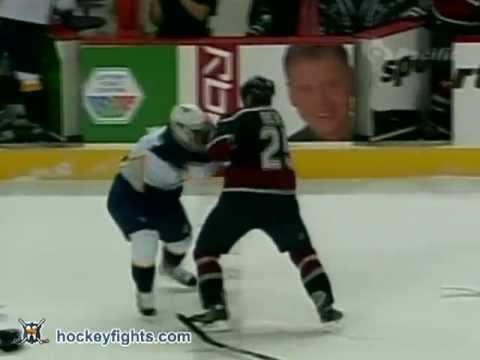 03/09/06
1 Pd 12:2
@VAN
NSH
Scott Nichol
Nichol bumps up with Bieksa along the boards. Nichol gives Bieksa a little stick to the back, Bieksa turns, and Nichol drops the gloves and throws an immediate right that Bieksa is able to avoid. Bieksa returns fire right away with a couple of rights. Nichol's in an awkward position and when Bieksa attempts to throw a right uppercut Nichol falls taking Bieksa with him. The linesmen immediately break it up.