2006-2007 Regular Season Fight Card
AHL Fights: 3
Date/Time
For
Against
Opponent 11/18/06
1 Pd 0:20
PRO
@WOS
Craig Valette
Date/Time For Against Opponent 02/02/07
3 Pd 15:54
@PRO
POR
Ryan Carter
Date/Time For Against Opponent 02/11/07
3 Pd 6:40
@PRO
LOD
Dan LaCouture
NHL Fights: 3
Date/Time For Against Opponent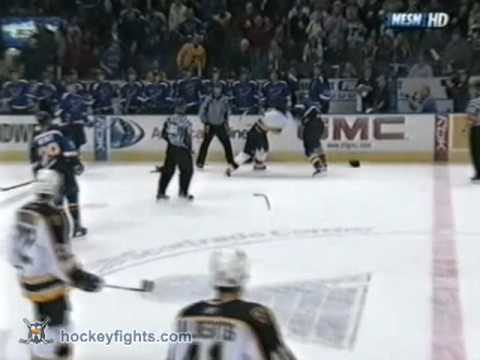 10/12/06
1 Pd 13:25
BOS
@STL
Bill Guerin
Behind the play the two drop the gloves and quickly grab ahold of each other only to fall down to their knees. They get back on their feet, but Hoggan loses his balance and goes to his knees once again, allowing Guerin to get in two right uppercuts. Hoggan works his way back up to his feet and Guerin throws an uppercut and two rights. Hoggan ties Guerin up and shoves him up against the side boards just before he throws three overhand rights. The linesmen are there to break things up immediately after. Other Penalties: Guerin received a roughing.
Date/Time For Against Opponent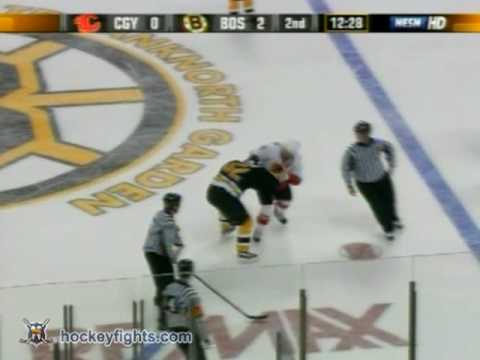 10/19/06
2 Pd 7:32
@BOS
CAL
Darren McCarty
Hoggan skates along the boards, hitting everyone in his path when he is challenged by McCarty. They square off at center ice with McCarty dropping his gloves and Hoggan waiting until the very last second to drop his before they grab ahold of each other. Hoggan puts his head into McCarty's chest and the two wrestle around until McCarty slams Hoggan down to the ice. The linesmen are right there to break things up.
Date/Time For Against Opponent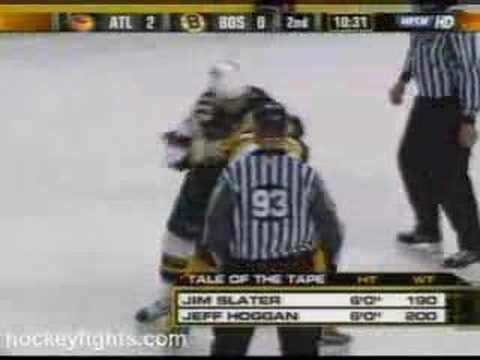 03/31/07
2 Pd 9:29
@BOS
ATL
Jim Slater
Voted winner: Jim Slater (43.9%) - Voted rating: 6