2003-2004 Regular Season Fight Card
NHL Fights: 5
Date/Time
For
Against
Opponent 11/02/03
2 Pd 4:14
@DAL
NSH
Dan Hamhuis
Date/Time For Against Opponent 11/08/03
3 Pd 12:43
DAL
@BOS
Jeff Jillson
They grapple along the boards and then entice each other to drop the gloves after a quick glove wash to the face by Morrow. Not much going on except holding, then Morrow starts to give Jillson some noggies. Jillson is in tight and Morrow tries to get Jillson's helmet off. Jillson has his face buried in Morrow's chest, so Morrow tries some uppercuts.
Date/Time For Against Opponent 11/30/03
2 Pd 0:45
@DAL
LAK
Sean Avery
Morrow tries to get his team pumped up and lighlty bumps Avery against the boards. They both look at each other and drop the gloves immediately. They dive in after an extremely short squareoff. Avery throws two left punches, the second one landing right on the money. Avery's head is now under Morrow's arm and Avery tries throwing one more, catching helmet and air. Avery gets his head out from under Morrow's arm and each of them throw one, with Morrow's landing better. Avery tries to throw one more, as does Morrow, and they both come up short and both fall. Afterwards you can see that Morrow was bleeding in the box, looked like it was from Avery's second punch.
Date/Time For Against Opponent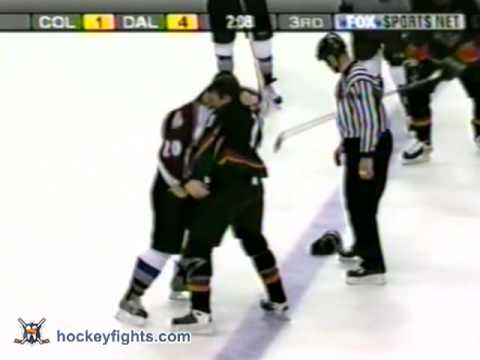 02/20/04
3 Pd 17:52
@DAL
COL
Cody McCormick
The Stars are on the power play and McCormick and Morrow decide to have a go. It starts off at the blue line with no square off. Each player grabs on and starts grappling for position. Morrow finally decides to start throwing and starts off with two rights that don't have much on them and come up short. McCormick then comes back with two lefts that are more like shoves, but he does take Morrow's helmet off during the exchange. They do some more spirited grappling. Morrow then comes with four over hand rights. Two come up short and two hit the side of McCormick's head. McCormick responds with two lefts to the side of Morrow's head. They grapple some and Morrow throws a right to the back of McCormick's head. They grapple some more and Morrow lands a weak right to McCormicks back or neck. They continue to grapple, and finally get some separation. They exchange simultaneous punches, McCormick connects with a straight left and Morrow hits McCormick's shoulder with a right. McCormick then jerks Morrow off-balance and McCormick tries one more left while Morrow is going down to his knees and hits Morrow's ribs or back. The linesmen come in after that.
Date/Time For Against Opponent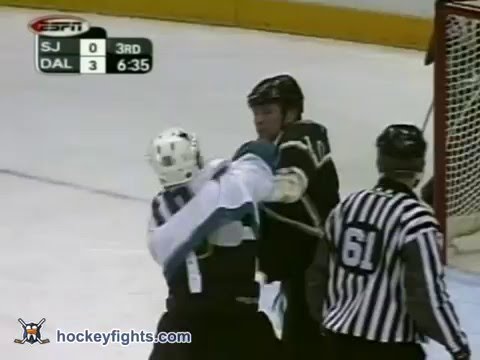 03/07/04
3 Pd 13:25
@DAL
SJS
Mark Smith
Off the draw, Smith goes after Morrow to answer for a questionable hit on another Shark player. Smith had it early with some rights while Morrow is tied up by Smith and in his jersey. Morrow gets loose and comes back with some weak rights, followed by a nice right, then they trade some punches and tackle each other. Good fight with a lot of swinging mixed with jockeying for position. Other Penalties: Smith received an instigator and misconduct.