2002-2003 Regular Season Fight Card
From:
Lloydminster, SK Canada
NHL Fights: 4
Date/Time
For
Against
Opponent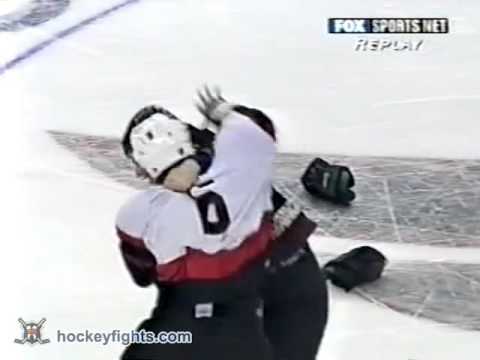 10/15/02
2 Pd 9:17
@OTT
ARI
Mike Johnson
Date/Time For Against Opponent 10/24/02
2 Pd 7:53
OTT
@BOS
Michal Grosek
Redden lost his stick and was trying to play the puck with his feet when Grosek just drilled him into the boards. The camera panned away from the action momentarily and when it came back to the two players, the gloves were off. The fight didn't last long as Grosek landed the only punch that was a glancing blow causing Redden to lose his balance. Grosek threw a few more on the way down scoring the takedown.
Date/Time For Against Opponent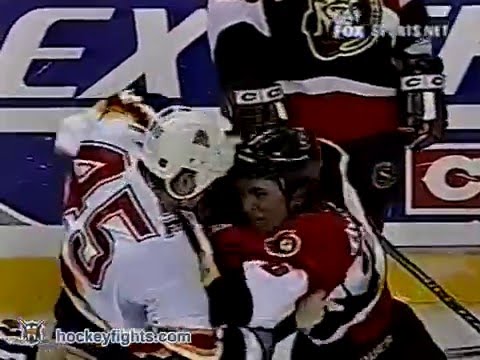 01/22/03
1 Pd 16:4
OTT
@FLA
Brad Ference
Date/Time For Against Opponent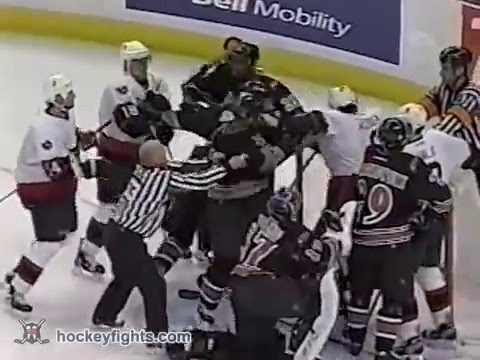 03/28/03
1 Pd 9:7
@OTT
WAS
Jason Doig
On the Sens' power play Doig and Redden get some shoves in after the whistle and Doig drops em and starts throwing, not landing anything great. Redden trys to throw, but fell. Other Penalties: Both players each received a slashing.