2001-2002 Regular Season Fight Card
NHL Fights: 9
Date/Time
For
Against
Opponent 11/03/01
2 Pd 9:56
@STL
WAS
Trent Whitfield
Date/Time
For
Against
Opponent 11/13/01
2 Pd 3:45
STL
@CBJ
Lyle Odelein
Date/Time For Against Opponent 01/23/02
1 Pd 14:27
STL
@BUF
Chris Gratton
They're in the corner, both players drop 'em. Mayers gets in some quick shots and then there's a bunch of grappling. As they're grabbing and shoving, Mayers throws a bunch of quick "rabbit" punches while still holding Gratton's jersey. Gratton then gets Mayers hunched over and throws a couple of shots. One looked to be a huge uppercut that put Mayers down. If so, late TKO in what would have been a loss for Gratton. If it didn't hit, then just an ok late showing for Gratton.
Date/Time For Against Opponent 02/07/02
2 Pd 6:13
@STL
EDM
Scott Ferguson
They lock up agianst the boards and when they get away from the boards they start to throw punches. Ferguson lands a few weak glancing blows with the left and Mayers responds with some nice rights that force Ferguson to duck his head and let the zebras come in.
Date/Time For Against Opponent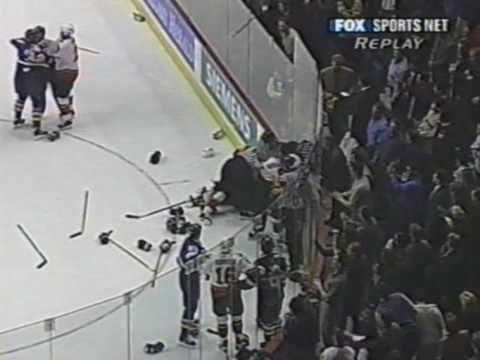 02/28/02
1 Pd 14:50
STL
@CAL
Dave Lowry
Other Penalties: Mayers received a misconduct; Lowry a double game misconduct.
Date/Time For Against Opponent 03/19/02
1 Pd 3:2
@STL
NSH
Nathan Perrott
Perrot leveled MacInnis, so Mayers jumped him. They went to the ice almost immediately with Perrott landing some weak stuff after they went down. Other Penalties: Mayers received an instigator and misconduct.
Date/Time For Against Opponent 03/22/02
1 Pd 11:3
@STL
ANA
Dan Bylsma
none yet
Date/Time For Against Opponent 03/28/02
2 Pd 19:11
@STL
BUF
Rhett Warrener
JP Dumont elbows Mayers, who then belts JP with a gloved right, knocking JP into his normal turtled position. Rhett and Gratton make a beeline for Mayers. After they drop em Gratton and Afingenov are both pulling at Mayers from behind. The refs do a good job of clearing them outta there. Mayers throws a right to Warrener's neck. They pull each other around some, then Warrener throws a big right just missing. Mayers throws 3 hard rights to the back of Rhett's neck. Then they both throw at same time - Mayers misses his, while Warrener lands a forearm or elbow to Mayer's jaw, rocking his head back pretty good. Jamal regains himself, throws an over the top right, that rhett blocked. They get tangled and fall. Other Penalties: Warrener received an instigator and a game misconduct; Mayers received a roughing.
Date/Time For Against Opponent
Both drop the gloves right off the faceoff. They have a nice long square-off, and Mayers starts off with a left that missed. May counters quickly with a right that didn't connect. Then May got Mayers real good with a right uppercut. Both fighters get off balance and Mayers lifts May's leg up and they fall to the ice. May looked to land a quick left on his way back to his knees. Mayers was possibly stunned by that right, he had a cut on his lip.