2002-2003 Regular Season Fight Card
From:
Montreal, QC Canada
NHL Fights: 2
Date/Time
For
Against
Opponent
03/17/03
2 Pd 3:47
@NSH
EDM
Jason Smith
Date/Time For Against Opponent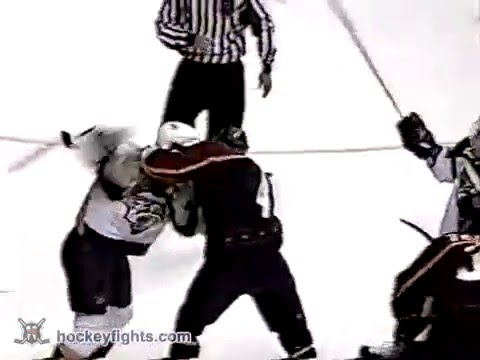 03/29/03
2 Pd 12:42
@NSH
ATL
Chris Tamer
Tamer crosschecks Vladimir Orszagh across the face on the faceoff. Walker immediately goes after Tamer with the rights. Walker throws three rights, one connecting to the forehead of Tamer. Tamer throws two rights that come up empty. It's all Walker from here on. He throws three or four pretty good rights, connecting with Tamer's chin a couple of times. Tamer's jersey gets up over his face and he ducks his head. Walker throws about four more to Tamer's forehead and helmet, driving him to his knees. The linesmen come in and try to break them up and Walker throws two or three uppercuts that might have connected. Other Penalties: Tamer received an attempt to injure match penalty; Walker an instigator and misconduct.