2006-2007 Regular Season Fight Card
AHL Fights: 4
Date/Time
For
Against
Opponent 10/13/06
3 Pd 12:51
@NOR
SPR
Zdenek Blatny
Date/Time For Against Opponent 12/08/06
2 Pd 10:45
NOR
@BIN
Bobby Robins
Other Penalties: Robins received a boarding.
Date/Time For Against Opponent 03/16/07
2 Pd 10:28
@NOR
BRI
Rick Berry
NHL Fights: 1
Date/Time For Against Opponent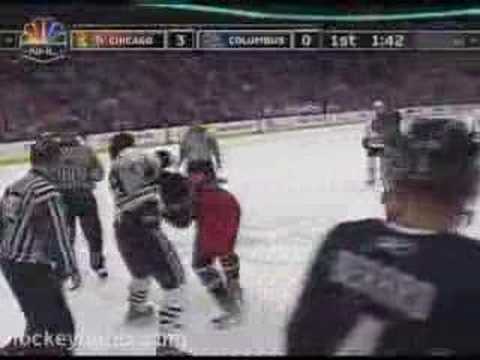 02/11/07
1 Pd 18:18
CHI
@CBJ
Manny Malhotra
Brouwer knocks Gilbert Brule to the ice with a hit along the boards, prompting Malhotra to drop his gloves and go after Brouwer. Brouwer drops his mitts as well and the two grapple until Malhotra gets free and throws a right that brings along his helmet with it. Brouwer throws three short rights followed up a body shot and two right crosses. Malhotra pushes Brouwer up against the boards and then flips him to the ice. The linesmen then jump on top and break things up. Other Penalties: Malhotra received an instigator and misconduct; Brouwer a boarding.