2003-2004 Regular Season Fight Card
From:
Montreal, QC Canada
NHL Fights: 11
Date/Time
For
Against
Opponent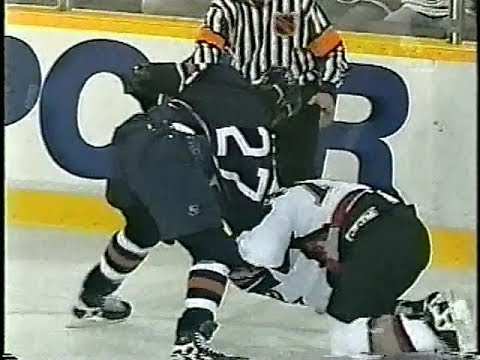 10/16/03
1 Pd 6:23
@EDM
BUF
Andrew Peters
Date/Time For Against Opponent 10/25/03
1 Pd 0:2
@EDM
CAL
Krzysztof Oliwa
Opening draw, they fire the gloves off and squareoff fair. Oliwa slips and looks terrified getting up, but Georges is fair and lets him up without hurting him. They come together with each looking to land maybe one or two, Georges with the lefts and Oliwa with rights and they fall.
Date/Time For Against Opponent 12/12/03
2 Pd 3:23
EDM
@ARI
Andrei Nazarov
Early in the second, Laraque drills Freddie Sjostrom hard into the boards. Nazarov skates over and issues the challenge. Nazarov starts off with a right that misses and he immediately tucks his head into Laraque's chest. Georges gets his left free and starts punching the back of Nazarov's head. The wrestle around for a few seconds and fall to the ice a few times, and then finally they stay down for good. At the very end, after both Laraque and Nazarov fell to the ice and the linesmen stepped in, Nazarov landed a nice left to the back of Laraque's head.
Date/Time For Against Opponent 12/18/03
1 Pd 9:27
@EDM
MIN
Matt Johnson
Long sqaureoff as Moose appeared to want to stay open and not grab a hold of Laraque. They finally get together with Laraque getting a few punches off before Johnson loses his balance.
Date/Time For Against Opponent
Canucks go up 1-0. On the next shift Laraque invites May to go. May hesitates, then nods. Laraque drops his gloves as the linesman tries to get in there, but he moves aside as May drops his gloves. Laraque goes for the grab, and May starts throwing lefts. He threw two, which didn't land as Laraque is pawing at May's helmet. May throws a couple of more lefts. At this point, Laraque stops going for May's hat and throws a few big lefts, about three or four, landing a couple. May loses his and goes to the ice.
Date/Time For Against Opponent 12/30/03
1 Pd 14:42
@EDM
MIN
Matt Johnson
Laraque issues the challenge off the faceoff and off come the gloves. Laraque rips Johnson's helmet off and both guys are loading up the bombs. Standing at arm's length, with Laraque's left and Johnson's right both free, Johnson tries a couple of haymakers which miss. Johnson begins to lose his balance when Laraque throws three lefts to the back of Johnson's head and down to the ice goes Johnson. These two fight all the time, with little result.
Date/Time For Against Opponent 01/29/04
1 Pd 17:27
@EDM
CHI
Shawn Thornton
They start off in-close with Thornton throwing about three or four lefts. Laraque counters with a couple of lefts of his own. Laraque throws two more, and loses his footing. Thornton throws a right, and takes Laraque to the ice.
Date/Time For Against Opponent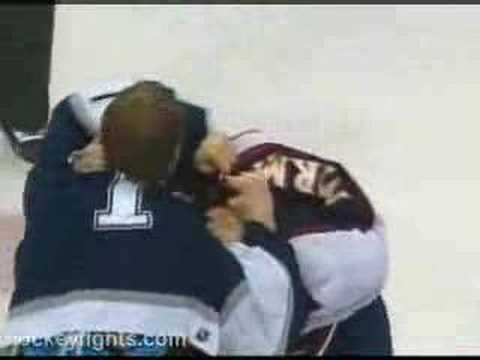 02/11/04
3 Pd 18:11
@EDM
ATL
Francis Lessard
Lessard tries desperately to get Laraque to drop his gloves while chaos ensues, but Laraque is intent on getting Jeff Cowan off of Jason Chimera. After a short while Lessard gets Laraque to stand back up, but the two just wrestle around until the linesmen come over and separate them. Other Penalties: Each player received a game misconduct.
Date/Time For Against Opponent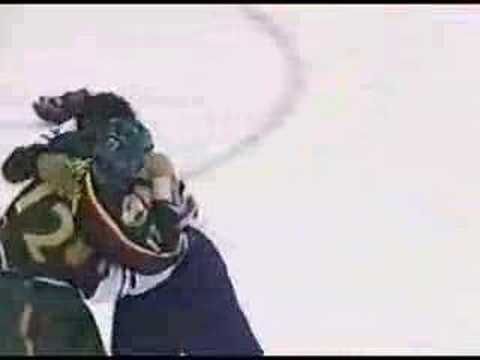 02/13/04
2 Pd 9:41
EDM
@MIN
Matt Johnson
Johnson and Smith come together, and Laraque cuts in. They grab on and MJ is throwing early, landing a good one that seems to hurt Laraque. Laraque half-goes down from trying to avoid additional connections and has a hard time coming back, but eventually gets himself together and trades a few with Johnson, none of which seem to connect, then they go down.
Date/Time For Against Opponent

02/15/04
2 Pd 9:35
EDM
@NSH
Jeremy Stevenson
The guy that should've went for revenge against Stevenson in the first place, Laraque goes right after Stevenson and they chat a bit. They drop the gloves and it's all Laraque. Stevenson gets in-tight, so Laraque throws about four lefts over the top and Stevenson hits the ice. They get back up and Laraque throws three more lefts over the top and down they go again. That's Stevenson's third FM of the game, so he's gone for good. Other Penalties: Stevenson received a game misconduct.
Date/Time For Against Opponent 02/18/04
2 Pd 4:55
EDM
@COL
Peter Worrell
They go off the faceoff and jockey for position. Worrell gives Laraque a bit of a ride around the ice as they spin-cycle a little, trying to get set up. Lots of noogies, Worrell got at least three rights in and Laraque answered with two possibly connecting, mostly hitting helmet. Fight ended by the Colorado bench, both still on their feet.