2003-2004 Regular Season Fight Card
AHL Fights: 2
Date/Time
For
Against
Opponent 12/27/03
2 Pd 9:54
@ALB
BIN
Wade Brookbank
Date/Time
For
Against
Opponent 01/03/04
1 Pd 15:32
ALB
@SYR
Shawn Limpright
NHL Fights: 4
Date/Time For Against Opponent 01/27/04
1 Pd 14:58
NJD
@CBJ
Jody Shelley
Devs take a 3-0 lead and you know something is about to brew. Shelley hits Sean Brown behind the net and challenges him. Both are throwing rights. Shelley tries with a huge uppercut and misses. Looks like Brown tagged him once since Shelley is bleeding above the lip. It really didn't look like anyone landed any solid punches, but Brown landed at least that one.
Date/Time For Against Opponent
Voted winner: Brad May (33.3%) - Voted rating: 3.2
With the Devils now down 3-0, Brown jumps into the play and as the puck is cleared out of the zone he doesn't retreat. He meets up with May, and the gloves fly. Long squareoff. They both dive in and grab a hold of each other. They both throw a couple of lefts that either come up short or do very little damage. Brown comes with a quick right that lands decently and gets both of them off-balance. Brown then pulls the falling May, but May is able to keep his footing and falls atop Brown to end the fight.
Date/Time For Against Opponent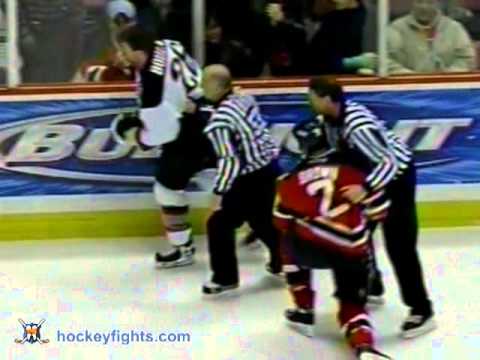 02/25/04
3 Pd 4:28
@NJD
BUF
Eric Boulton
Voted winner: Sean Brown (53.3%) - Voted rating: 2.2
They square off right after the Hale-Mair fight. Boulton falls over, Brown lands a right, misses a second, and Boulton just stays down.
Date/Time For Against Opponent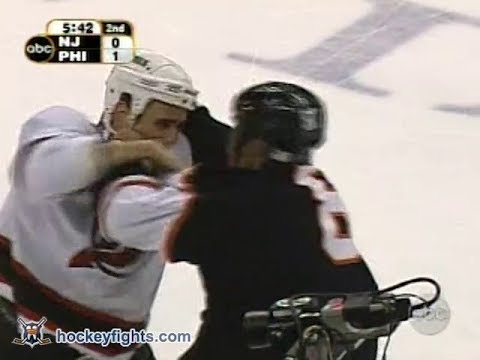 03/13/04
2 Pd 14:18
NJD
@PHI
Donald Brashear
Brashear crushes Brylin with a check into the boards and Sean Brown goes after him. Mostly hugging at first by Brown, who's trying to stay in-close. Brown throws one or two weak rights that connect but do little damage. Brashear gets loose near the end and feeds him 4-5 nice uppercuts and rights before the linesmen break it up. Other Penalties: Brown received an instigator and misconduct; Brashear a boarding.