2002-2003 Regular Season Fight Card
NHL Fights: 11
Date/Time For Against Opponent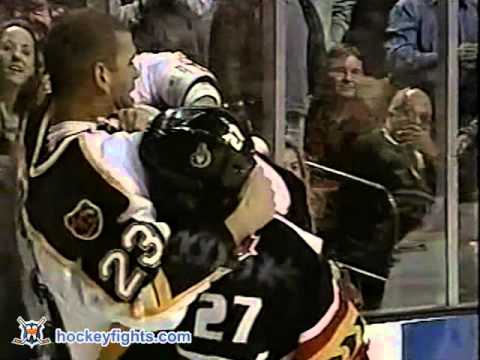 10/24/02
1 Pd 18:34
@BOS
OTT
Dennis Bonvie
Gloves came off before the ref could drop the puck for a face off in the Senators end. Good even square off. Brown had the early edge landing a pretty good right to the face of Bonvie. Bonvie obviously had the strength advantage as he pretty much ragdolled Brown all the way to the boards and scored the take down. Long, yet not so entertaining battle. Also, both guys were given misconducts for starting the fight before the ref dropped the puck. Old time hockey. Other Penalties: Both players received misconducts.
Date/Time For Against Opponent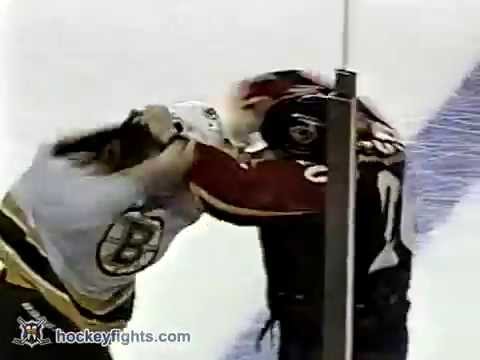 10/26/02
1 Pd 5:10
@BOS
ATL
Jeff Odgers
Odgers is mugging Brown in the neutral zone after the Bruins score an early goal. Both drop em and we're off. Both are throwing fast and hard, each landing about four or five to the mug. Brown's helmet comes off as they continue throwing. Brown goes down on top of Odgers. As they skate off Odgers nose is bleeding. Pretty even fight. Spirited opening to the game.
Date/Time For Against Opponent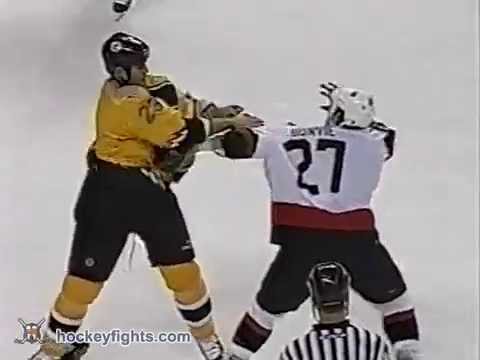 11/09/02
2 Pd 9:48
@BOS
OTT
Dennis Bonvie
The puck is dropped and Brown throws a high cross check on Bonvie and they drop em. They square off and Brown starts it off with a nice right catching Bonvie as he was reaching in to grab Brown's jersey. Brown lands as few more good rights as most of Bonvie's are coming up short. Brown throws a huge right which barely misses and spins Bonvie around and loses his balance as Bonvie lands on top of him and throws a late shot or two while Brown is down. Bonvie got up and yelled at the ref about the cross check (which Brown got tossed for). Other Penalties: Brown received an attempt to injure match penalty.
Date/Time For Against Opponent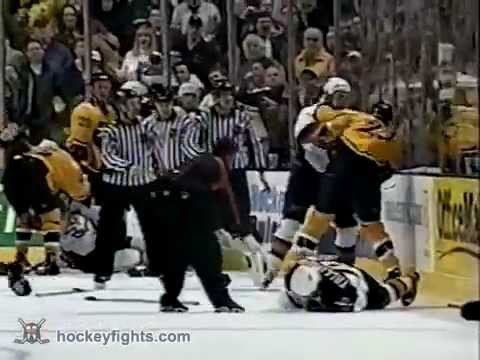 11/23/02
3 Pd 8:57
@BOS
BUF
Chris Gratton
Brown nails Henrik Tallinder into the boards. Gratton immediately skates over and drops the gloves. Everyone piles in, and the two come out of the pile. Gratton is throwing the right quickly, looks like quite a few landed. Brown throws some rights back, landing a couple. Grappling, more rights from both fighters, Brown tries the left to no avail. Right uppercut from Gratton finds the mark and Brown answers with a decent right. The linesmen step in shortly after. Other Penalties: Gratton received an instigator and misconduct.
Date/Time For Against Opponent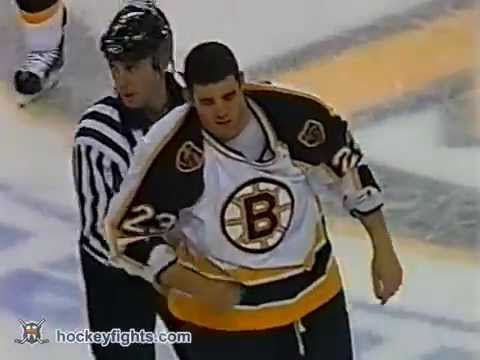 12/05/02
1 Pd 13:5
@BOS
ATL
Jeff Cowan
The Thrashers get a 2-man advantage and score two goals and over-celebrate a bit. On the ensuing faceoff Brown goes right after Cowan. Cowan throws a couple of lefts, which appear to miss, and then Brown lands a couple putting Cowan to the ice.
Date/Time For Against Opponent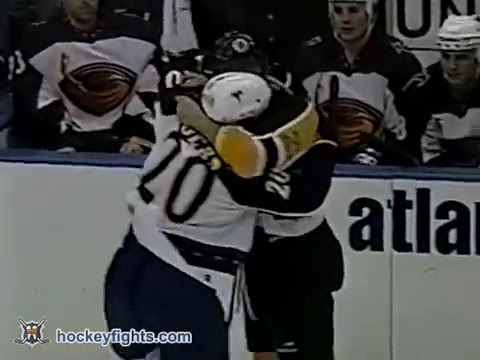 12/28/02
2 Pd 5:14
BOS
@ATL
Jeff Odgers
These two drop them of a faceoff in the second. They both throw and land a few rights, Odgers' were straight, Brown with about three uppercuts, and then they go to the ice with Brown on top.
Date/Time For Against Opponent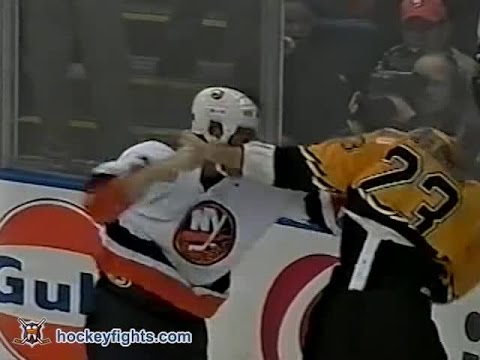 01/03/03
3 Pd 15:34
BOS
@NYI
Eric Cairns
Late in the third Stock and Cairns are poking at each other in front of Isles' net, Brown comes in and off come the gloves. They lock out each other's lefts and start with rights. Cairns lands a couple early and Brown hangs in there, and throws a couple decent uppercuts. Cairns then takes over and starts to land a couple of heavier punches. Cairns lands the last couple of rights and Brown is now bent over. Linesmen come in to end it. Brown leaves the ice dripping a little blood.
Date/Time For Against Opponent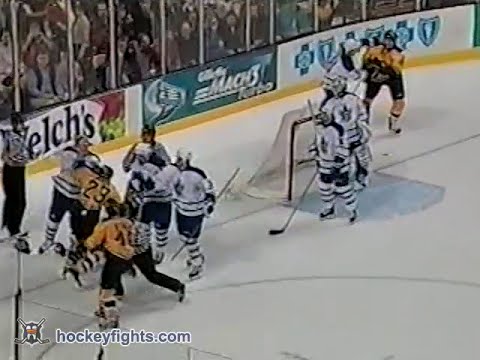 01/11/03
2 Pd 8:36
@BOS
TOR
Wade Belak
Occurs after a scrum in front of the net. They pair off, linesmen let em go. Off come the gloves and Belak nails Sean Brown with two nice hard rights. Brown goes down, tries to get up but loses his balance and goes down again.
Date/Time For Against Opponent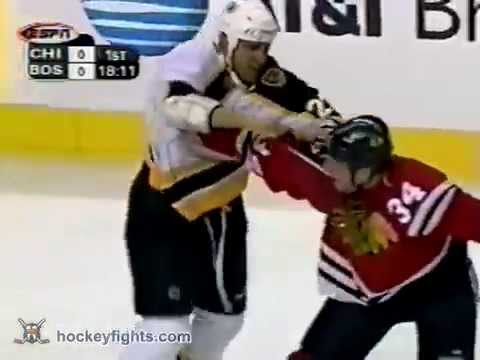 01/30/03
1 Pd 1:49
@BOS
CHI
Jason Strudwick
Right off of a faceoff they drop the gloves. Strudwick was a little slow early and Brown threw a few that missed. Strudwick leaned away and Brown made a weak attempt to reach him, but missed that as well. Now Brown is off-balance and Strudwick regains control. No devastating shots but, Brown went to the knee and Strudwick could have buried him, but just held back. Lots of respect for not taking the cheap shot.
Date/Time For Against Opponent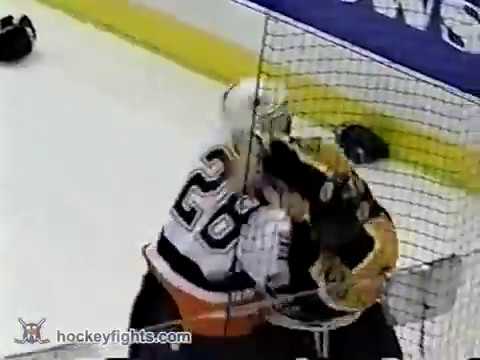 02/23/03
2 Pd 13:14
BOS
@NYI
Jason Wiemer
Camera's late, they're in the corner (to Steve Shield's left). Brown's got Wiemer tied up and getting in his shots. Takes Wiemer a bit and he gets a punch off, then they're tangled, Wiemer's jersey comes up and goes down while he's starting to throw his own, landing them. Wiemer then gets loose and chucks a couple of more putting Brown down. Brown early, Wiemer late. Brown's hunched over going to the box (probably exhausted).