1995-1996 Regular Season Fight Card
NHL Fights: 10
Date/Time
For
Against
Opponent

11/02/95
1 Pd 16:10
@SJS
NJD
Bill Guerin
Date/Time
For
Against
Opponent 11/07/95
2 Pd 11:12
SJS
@HFD
Glen Featherstone
Date/Time For Against Opponent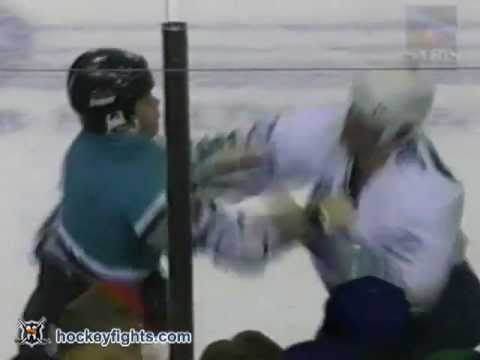 11/07/95
1 Pd 4:16
SJS
@HFD
Mark Janssens
Voted winner: Jim Kyte (26.7%) - Voted rating: 7.3
Date/Time For Against Opponent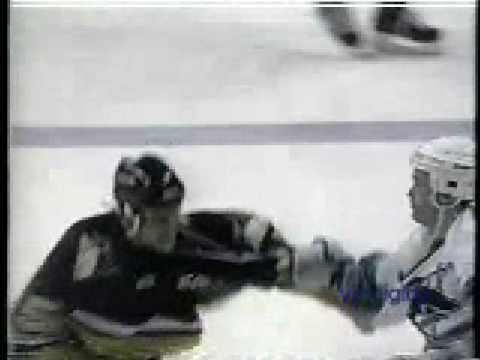 11/10/95
2 Pd 15:28
@SJS
PIT
Dave Roche
Date/Time For Against Opponent 01/13/96
2 Pd 12:47
SJS
@PIT
Neil Wilkinson
Date/Time For Against Opponent
Date/Time For Against Opponent

03/01/96
1 Pd 15:0
@SJS
TBL
Jason Wiemer
Other Penalties: Kyte received a game misconduct.
Date/Time For Against Opponent

03/08/96
3 Pd 2:30
SJS
@EDM
Kelly Buchberger
Date/Time For Against Opponent
Voted winner: Rob Ray (100%) - Voted rating: 7.9
As play stops Kyte pushes Ray down in the corner. Ray gets up and the two immediately drop their gloves. Kyte gets the upperhand, throwing a series of wild rights that are mostly blocked by Ray's left arm as he is bent over. Ray then rights himself and unloads a vicious right that lands flush, sending Kyte to the ice. Ray stands over Kyte, motioning for him to "stay down." Meanwhile, Kyte does remain on the ice, clearly dazed from the impact.