Gladiator Profile – Todd Fedoruk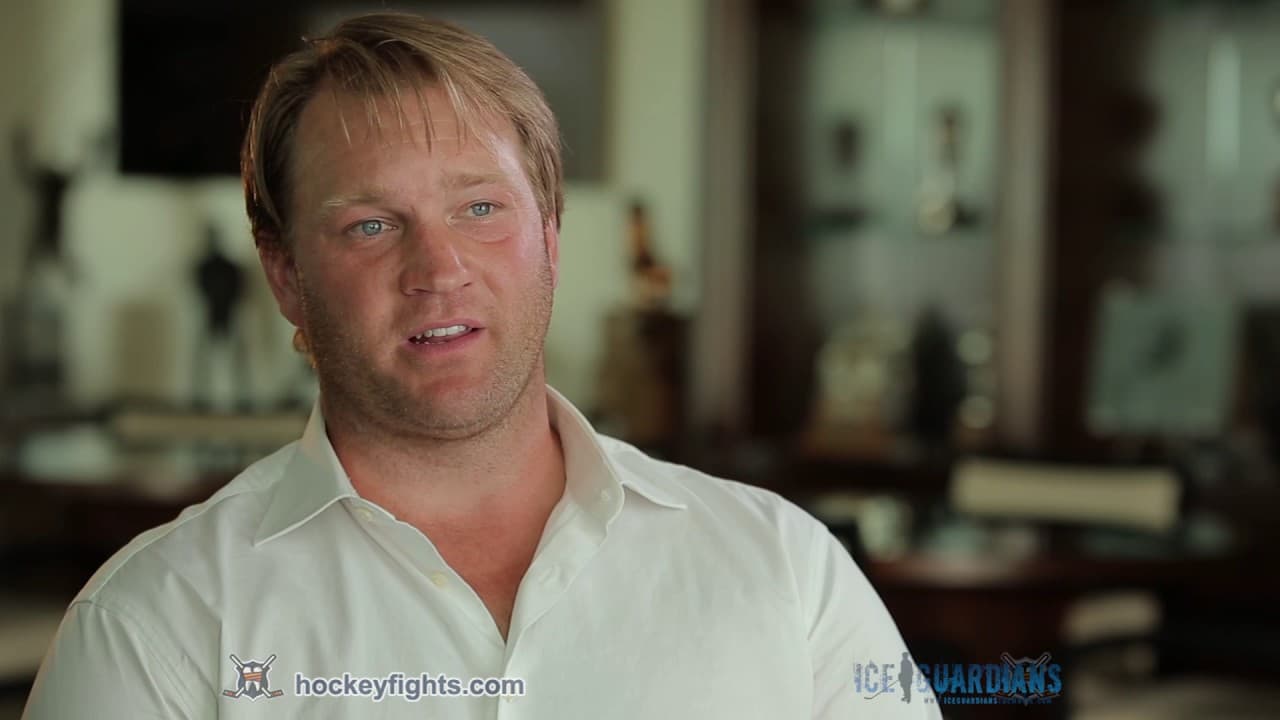 While I've never had the privilege of meeting the man they call The Fridge, as a fellow Albertan, I'm pretty, pretty, pretttttttty sure it would be an awesome time. Hell, it takes a pretty self-aware guy to joke about having his orbital bone mashed by Eric Cairns, or having his cheekbone broken by the late great Derek Boogaard. But alas, that's Todd Fedoruk. This is exactly why I was looking forward to writing about one of the toughest dudes I had the privilege of watching growing up. Throughout his 10-year NHL career, whether it was Georges Laraque, Tie Domi, or Colton Orr, Fedoruk always tossed hands without hesitation. It takes a certain sort of courage to fight for six teams, rack up over 1000 penalty minutes, and 100 fights during the NHL's toughest era. But Fedoruk did it. And while he may not have been on the original cast of 'The Broad Street Bullies', his time on the sequel squad was special.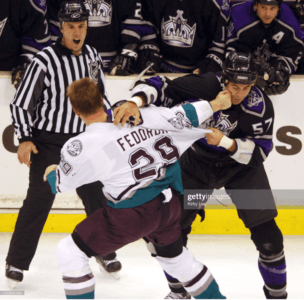 Nickname: The Fridge
D.O.B: February 13, 1979 – Redwater, Alberta, Canada
Height: 6'2
Weight: 240 lbs
NHL games played: 570
NHL fights: 100
I think we often forget how these gladiators have slowly gotten stronger, faster, smarter, and improved their fighting-technique. To put it in perspective, Terry O'Reilly was an absolute menace…at 200 lbs. Fedoruk played at 240, Cairns 245, Laraque 280, these gladiators were doing things that we've never seen before. This is what makes what they do even more special. Let's be real, Floyd Mayweather is a great boxer, but he fought at super featherweight to light-middleweight. Like, come on….Fedoruk and the other gladiators fought guys 20 lbs heavier, 20 lbs lighter, reach advantage was different every night, back-to-back fights,  oh ya…and on skates. Fedoruk started his career with the Kelowna Rockets in arguably one of the toughest leagues, the Dub. He followed that up with a brief stint in the ECHL, where we all know fighting wasn't a matter of if, but when. However, to be serious for a second, credit to the Redwater native for continuing to fight (literally) both on and off-the-ice by detailing his battles with substance abuse to help others avoid the same pitfalls. As I mentioned, the former 7th-round pick would definitely be an awesome hang because anyone that can not admit the error of their ways but does so to help others, is definitely someone I'd like to chill with for a night. Personal note – I've heard Fedoruk is a hell of a golfer. Me? Definitely not. BUT, I am an incredible mini-golfer. Windmills, Dragon mouths, Bridges, it doesn't matter to me. I have gotten so many free games from the hole-in-one at the end that I will openly challenge ANYONE to a game of mini-golf. No long game, but my short game is absolutely proper. But if enough about my random wishes, let's get to a hell of a fight. 
Favorite Fight – Todd Fedoruk vs Brad May  – November 18, 2005 – 1st Period – 5:30
It always amazes me how calm these gladiators can be before entering the arena. Fedoruk and May both showcased their ability to go southpaw or orthodox which proves how serious these two warriors took their craft. May started the fight strong with two quick rights, but Fedoruk seized the opportunity to knock off his lid and then the Fridge let off some vicious left hooks. Credit to May for hanging on as long as he did, and kudos to Fedoruk for not teeing off when the former Sabre was in a vulnerable position. These studs gave the raucous crowd at Arrowhead Pond a reason to get out of their seats on a Friday night…what more can you REALLY ask for as a hockey fan. Avalanche snagged the win the 3-2 win, but Fedoruk was quietly showing that even though he was on a new team, his 6'2" and 240 lbs frame wasn't something to be taken lightly.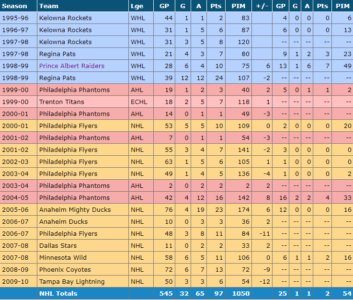 Writing these profiles always provides me with the humility that I think many of us need….now more than ever. It's easy to critique players in the rafters, but if you actually try to put yourself in their shoes, you are instantly humbled, because let's be honest, the VAST majority of us couldn't be an enforcer. I feel the same way when I see the guys cleaning windows of  100-storey buildings, singing in front of 20,000 people, or painting a masterpiece. I CAN"T DO IT. Well, what Todd Fedoruk did for 10 years in the NHL, I sure as hell know I couldn't have done it either. And with that, I give The Fridge his well-deserved flowers. Please let us know who else you'd like to give flowers to, because, we know damn well there are a lot of warriors that deserve it.
IG – @Jonesinthezone
Twitter @Jonesinthezone