Gladiator Profile – John Kordic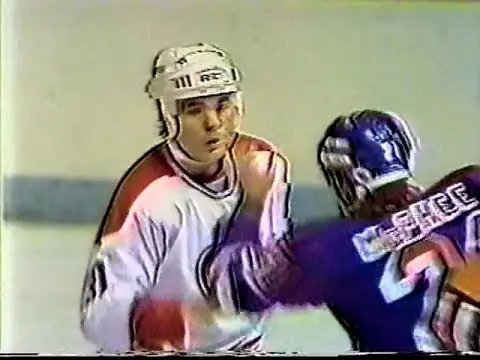 Before I begin, I'd like to give a shoutout to @boone052 on IG for suggesting John Kordic as our next Gladiator profile. I am lucky enough to be able to research and share their stories, so please let me know if you have any requests, the more the merrier!
Alright, during the 80s and 90s, cocaine use was rampant across all walks of life. At the center of it all: Hollywood and Sports. The deaths of Len Bias and Chris Farley dominated headlines, but the tragic passing of John Kordic shocked the hockey world. The former Montreal Canadiens draft pick battled addiction his entire career, and his alcohol, cocaine, and steroid use all contributed to his sudden passing. In addition to being one of the toughest enforcers to ever drop the gloves, Kordic was also a damn good player.  The former Portland Winterhawk stood 6"2, 200 lbs, but threw bombs like he was the Boogeyman. I am truly jealous of those that got to watch 'Rambo' toss hands live, because the highlights will never truly do him the justice he deserves. He was endearing, entertaining, and a true enforcer. The Edmonton native punched his way to a Stanley Cup in '86 and didn't stop fighting until his death at only 27 years old. 
But as Mitch Albom said –
"
There is no fair in life and death. If it were, no good men would die young."
This is quote is exactly why we need to celebrate the Gladiators that laced 'em up with no hesitation about the consequences. Ladies and gentlemen…John 'Rambo' Kordic.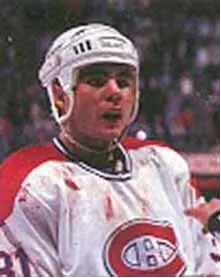 Nickname: Rambo
D.O.B: March 22, 1965 – Edmonton, Alberta, Canada
Height: 6'2
Weight: 220 lbs
NHL games played: 285
NHL fights: 187
Please take a second and imagine a packed house in the famed Montreal Forum chanting your name in unison. Regardless of what you were doing, or how you were doing it, I can only imagine how addicting that feeling would be. And to be blunt, I would do anything and everything to keep it going. I can only assume John Kordic felt the same as the fans chanted 'Kordic, Kordic, Kordic!" However, the caveat was, they weren't chanting his name for goals and assists, they were chanting it for his entertaining scraps. Besides, is there a better nickname than Rambo in the 80s? Hell, I did a rewatch of 'First Blood' during the height of the pandemic, and sorry Sly, but Kordic was my first thought…
Favorite fight –  John Kordic vs Craig Coxe – Dec 2, 1987 – 3rd period – 02:39
Nothing screams the 80s more than seeing referees without helmets, fans in suits, and those slick Nucks' jerseys. Craig Coxe accepted Kordic's invitation to scrap and, while it was honourable that he tossed his lid off before the bout, he ended up paying the price. Even though the Canucks big man stood 3 inches taller and 15lbs heavier than Kordic, Kordic's left hand was the ultimate equalizer. This tilt took a little while to get going because neither player wanted to be the first to engage. Coxe ended up striking first with a straight right jab to Kordic's jaw that didn't faze the Canadiens enforcer. If anything, Coxe just poked the bear, because Kordic responded with 3 huge left hooks. Coxe was able to land a couple good right-hands until Kordic got a firm grab on the big man's jersey. That gave the shorter Kordic the leverage he needed to land a flurry of left hooks that sent Coxe to-the-ice. The Edmonton native's thunderous left hook was legendary, which is why it was no surprise to see Coxe heading to the dressing room for repairs after the battle. Hockey fans will remember that December 2nd for the fabled 334 Devils fans that braved through 20 inches of snow to watch their team beat the Flames at the Meadowlands. Craig Coxe will remember it as the last time he would ever take off his helmet before a fight against John Kordic.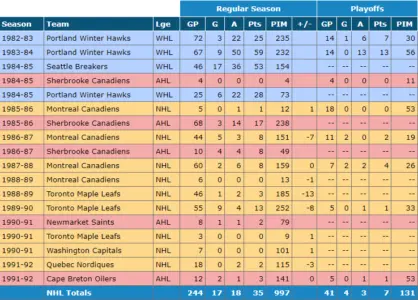 John Kordic's addiction issues have been well documented. Cocaine and alcohol aside, it was Kordic's steroid use that was most alarming. The secret was out after he showed up to the 1986 training camp 15 lbs heavier… but nobody did a thing. At the time, the NHL maintained an archaic drug policy that upheld more of a 'don't ask, don't tell' mindset than an actual policy. This fuelled Kordic to spiral out of control until everything came to a head on August 8, 1992. The police were called to a Québec hotel room after the front desk believed Kordic had overdosed. Following a physical struggle with the police, the former Canadiens draft pick died in the ambulance on the way to the hospital. In hindsight, Kordic's death could have been avoided if the league had implemented the proper protocols. Former players have told stories about coaches catching Kordic and a few other teammates doing cocaine on road trips, saying, "I didn't see anything" and leaving the room…
But let's be real, if you applied revisionist history to John Koridic, you'd hope that if he were playing in the modern-day NHL he would have the support and therapy available to help him avoid the road he traveled. The idealist in me hopes this is true, but the cynic in me thinks that maybe that path was always meant for him. He did one of the hardest jobs in the world, and as a result, he dealt with the adversity associated with it. Would he change a thing? Probably. Kordic once expressed that he had ambitions of playing a Bobby Orr-like style, but in the end, he saw fighting as the best path for him to remain in the show. I can only imagine being put in that position, and I respect the absolute hell out of it. We all make our decisions, do not fault him for his. Instead, have empathy for him having to fight to provide for his family. Because in the end… wouldn't you if you had to?…
Twitter:@Jonesinthezone