Gladiator Profile – Darren McCarty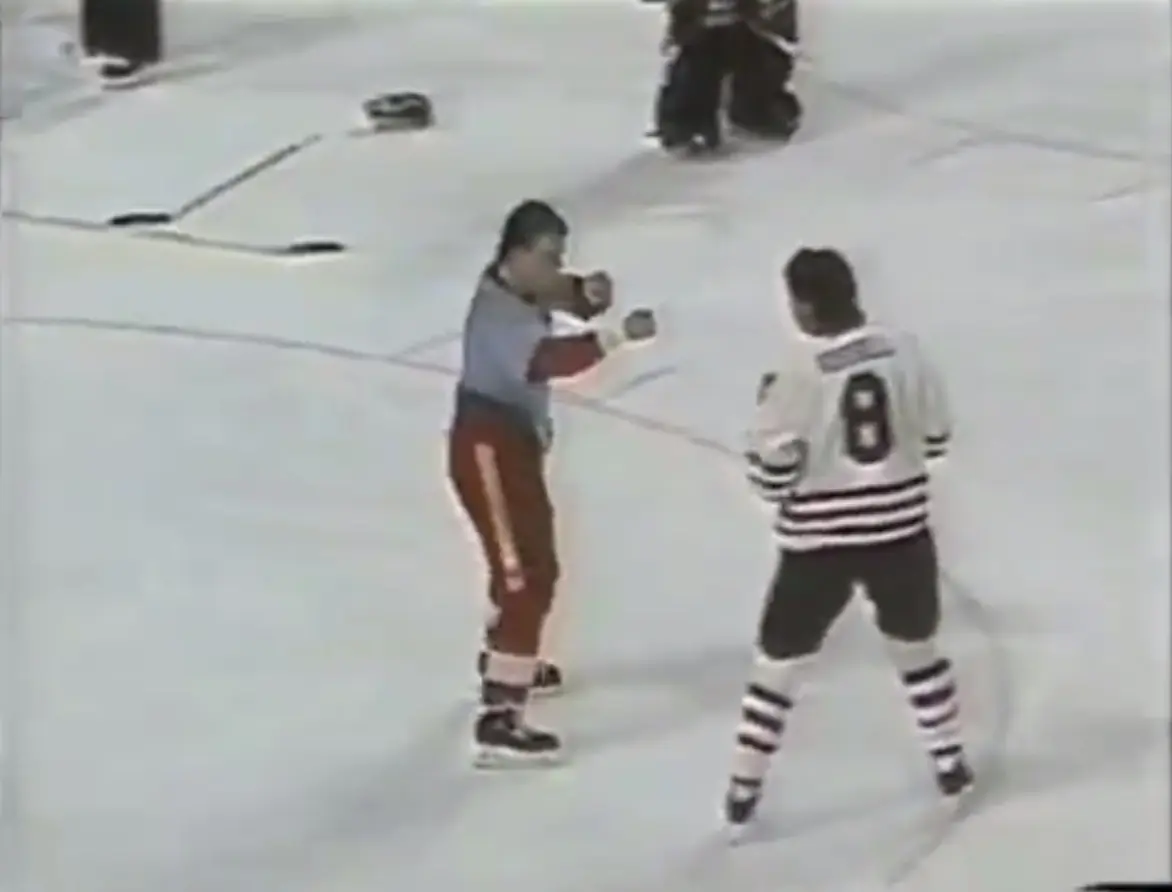 In honour of recently finishing the AMAZING Unrivaled: The Detroit Red Wings vs Colorado Avalanche documentary (no recency bias I promise, it's awesome!) I felt this would be the perfect time to write about one of my favourite NHL players – Darren McCarty. I won't play the spoiler role, but damn, they did a great job giving the younger generation a glimpse into one of the fiercest rivalries of a generation. To put it in perspective, we all have flashbulb memories, and this was definitely one of mine. I watched the 'Brawl at the Joe' on my 11th birthday, and I will forever remember where I was when Uwe Krupp scored the triple overtime goal to seal the Cup for the Avs after the infamous Draper hit…Mainly because my late Aunt for gifted me an Avalanche Starter jacket a few years prior, which sealed them as my second NHL team. IYKYK – Starter jackets. 👌 But enough about me, let's learn a little bit about a true Gladiator. 
"I'm very fortunate to have grown up in the town of Leamington, Ontario which is a melting pot. So, you learn that it doesn't matter what colour, race, or religion you are. If you're an asshole, you're an asshole." –
– Darren McCarty
Nickname: Big Mac
D.O.B: April 1, 1972 – Burnaby, British Columbia, Canada
Height: 6'1
Weight: 219 lbs
NHL fights: 187
Yes, Motor city has seen its fair share of legendary enforcers throughout its 94 years in the NHL. Probert, Kocur, and Lindsay to name a few, but truthfully, for any kids born during the 80s, their formative years were spent watching Darren McCarty and the Wings. During the 90s and with the help of McCarty, Detroit mercilessly beat down the Norris division and later Central Division. McCarty joined the Wings after an unreal season in the OHL with the Belleville Bulls that included 55 goals, 72 assists and 177 penalty minutes and that was capped off with the Jim Mahon Memorial Trophy, which recognizes the league's top-scoring right winger. Naturally, his scoring dropped off when he made the jump to the NHL. But he regained the Midas touch in the 1996-97 season when he netted a career-high 19 goals, none more special than his dirty deke on Ron Hextall to score the Stanley Cup-clinching goal. Before we get into his bouts, it would be blasphemous if we didn't start with the legendary "Fight Night at the Joe." There is no point discussing this fight because it was an absolute beat-down of Claude Lemieux that caused mayhem at the iconic Joe Louis Arena. The madness resulting from the hit Lemieux laid on his linemate, Kris Draper during their last playoff series left Draper with a broken jaw and a shattered cheek and orbital bone. McCarty later revealed that when he visited Draper in the hospital, he simply said, "Don't worry, I'll take care of it." It took a year, but he and the rest of his teammates definitely took care of it.
Favorite Fight –
Darren McCarty
vs
Matthew Barnaby
– March 25, 2004 – 1st period – 10:13
Obviously, the beat down McCarty gave Lemieux is an iconic moment in not only the Red Wings' history but in hockey folklore in general. The old heads like myself will watch the aforementioned documentary and clamor for the way things were… and to be honest… I genuinely do. Whether it's McDavid, MacKinnon, Crosby, or Ovechkin, the skill and talent of today is beautiful and entertaining to watch. But I miss the days of radio stations waking players up in their hotel rooms, 'Screw Lemieux' shirts being handed out to fans, smashing a prop car with your rivals logo emblazoned on the hood, and my personal favourite – the good ol' F***  your team chants. I think that's why this is one of my favorite fights because maybe McCarty knew his time in Detroit was coming to an end, maybe he didn't. The only thing for certain was that he hated the Avalanche and seized his opportunity to have one last scrap before his eventual exit to Calgary. Unfortunately for Matthew Barnaby, he got the dance invitation and left the tango worse for wear. The two locked up immediately after Paul Kariya's slapshot and neither enforcer wasted any time throwing punches. Barnaby threw the first flurry of punches but missed his first few shots…all enforcers know that when you miss a shot, you usually end up eating one. McCarty made Barnaby pay with a storm of left hands that immediately cut Barnaby above his right eye. As a warrior, Barnaby kept trying to go, but when McCarty landed a left that knocked off the former Sabres draft pick's helmet off, he saw how badly Barnaby was gashed. That's when McCarty relented on his attack and let up so the linesmen could jump in. McCarty stood at 6'1," 215 lbs and, while Barnaby stood 6'0″, he gave up 30 lbs to the Wings enforcer, which is likely why he skated off to get stitches. Letting Barnaby off the hook when he was visibly hurt, McCarty showed tremendous poise during this fight. I can't help but wonder if this was a result of him getting kinder with age because it's safe to assume Claude Lemieux or Adam Foote wouldn't have received the same treatment.
I am blessed to be able to write about guys that I grew up not only watching, but admiring. McCarty embodies the protector role to the fullest, and goddamn, I respect the hell out of it. It's easy to say it's just a game, but for those that play, it's more than that – It's a brotherhood. Which is why I've always cheered for him (even though he played for the Flames). He's a real dude, and that unfortunately seems to be the last of a dying breed. 
McCarty's battles with alcohol addiction have been well-documented and he has publicly stated that medicating with cannabis saved his life. In a heartfelt interview, McCarty thanked all the Wings and Flames fans as well as the people around him for saying a prayer for him and credited this love as the reason he was able to overcome his alcohol addiction. McCarty had battled addiction for decades and stated that he spent over $1 million dollars and 4 trips to rehab trying to defeat it. The Wings legend has been vocal about cannabis education and, upon the release of his 'Daren McCarty Pucker up Pre-rolls,' he stated – "I believe there's more people like me that have suffered for so long, so that's why having my own brand is so important." We are all McCarty's teammates now and I don't think we could ask for a better one to have in our corner. And I know the list may be endless, but please let us know who you'd like to see profiled next. It'll be our pleasure to show the Gladiators we love …get some love…
IG: @Jonesinthezone
Twitter: @Jonesinthezone